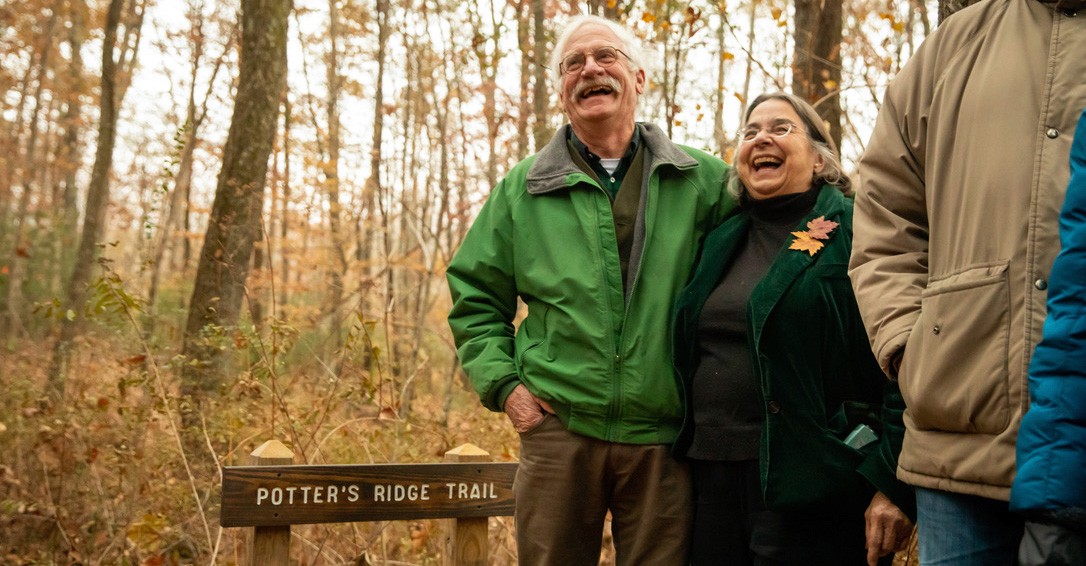 Bran and Cindy Potter at the dedication of Potter's Ridge Trail in November 2019. The newly established Cindy & Bran Potter Field Studies Endowment will support field studies within Sewanee's Department of Earth and Environmental Systems.
The Potter Effect
Generations of Sewanee students recall lifelong lessons learned from a legendary geology professor, while a new endowment supporting field education is established to honor his decades of inspirational teaching.
By Tom Sanders, P'16, and Vanessa Moss, C'20
---
Students who have participated in Sewanee's biannual Western Geology field trip—widely known as "Western"—have likely witnessed Geology Professor Bran Potter running headlong down SP Crater, just north of Flagstaff, Arizona. The visit to this cinder cone volcano takes place at the end of the first week of the trip, and the hike up the crater, though short, is grueling. Plowing through loose cinders that were, until the hikers' footsteps disturbed them, sitting at the angle of repose, gives a firsthand understanding of the volcano's physical presence. Add to that the hard-rocked and sharp-edged splatter zone at the top of the rim, and the inner crater, plunging as deep into the earth as the mountain is tall, and students have all the evidence they need to engage with the subject and remember it for the rest of their lives. That exuberantly joyful run down the crater's slopes puts an exclamation point on an instance of field education that focuses on key elements:
Observation. Seeing the physical world firsthand, taking note of the details (preferably by recording observations in word and pictures in the moment).
Hypothesis. Proposing theories for why the physical world appears as it does.
Testing the theory using whatever tools are available, first, as a beginning student, through study of the work of others, and, as students grow in knowledge and ability, through experimentation, recording of data, and analysis of results.
"The Western trip will always stick in my mind as something truly special. I find myself talking about bits and pieces of it to people even today, 10 years after the trip. I still feel grateful that I was able to go on the trip in the first place, for the minor duty of keeping the trip receipts! The hike down and back up out of the Grand Canyon is probably the most memorable hike I've ever taken, and I don't know that I'll ever again have the opportunity to walk out into the desert with only a compass—jogging to keep up with Dr. Potter." —Leila Donn, C'11
Recognizing that powerful legacy of field education on the occasion of Potter's retirement, a group of "Friends of Cindy and Bran Potter," led by Scott Weber, C'94, of Houston, Texas, are in the process of establishing a new endowment that will support field studies within Sewanee's Department of Earth and Environmental Systems. The Cindy & Bran Potter Field Studies Endowment will be used to support students by helping to pay for academic field experiences, including trips to areas around the country and throughout the world.
"I really hope that those who are managing this fund in the future keep it flexible and make sure that students know that support for field studies is available to them," says Potter. "Even though I led the Western Geology field course for decades, I don't think of this fund as being attached to a particular course or field experience. Student needs related to all kinds of field study—from a course to their own independent projects—should be the guiding factor for deploying this fund."
While Potter recognizes that the new fund is named in his honor, he thinks the more important inspiration for the fund is the needs of students. "I noticed that on the very first Western trip there were people with literally no money," he says. "They wanted to attend, and I wanted them there, and we found a way to make it happen. The class was enlivened by their presence, and whatever investment was made was well worth it."
---
Geology at a Liberal Arts College
"Western" tends to dominate the conversation when it comes to thinking about Potter's field work, but that biannual trip is just a more charismatic version of work that dominated the way he taught during his career. Potter is an heir to (and longtime practitioner of) a tradition of field work that has broad and interdisciplinary reach at Sewanee. "Soon after retirement, I wrote two letters of thanks," Potter says. "One to Laurence Alvarez for the many years of support he gave to me and the geology program and one to George Ramseur." While Ramseur was a professor in the Biology Department, Potter saw him as a real mentor in how he took students out of the classroom and into the field. "When I arrived at Sewanee, he showed me how to do field experiences with students. Early on, he included me in his class trips to the Smokies, and after the Gatlinburg fire a few years ago, I took him back to old haunts to see how the area had recovered. We were there, near Newfound Gap on the Appalachian Trail, looking at rhododendron blossoms and remembering those early days."
For Margaret Polyak, C'02, a field science educator who is now director of marketing for NatureBridge, an education program with national reach, that approach to teaching and learning was transformative. "Starting with my first Intro to Geology course in the first semester of freshman year, I was hooked on the experiential nature of Dr. Potter's classes," she says. "Walking the Domain with him created an excitement for learning that I had never possessed. Ever since, I have wanted to make sure that other students get that transformative learning opportunity."
In addition to creating the Western Geology course, Potter put in long service to Sewanee's interdisciplinary Island Ecology Program, started by longtime Psychology Professor Timothy Keith-Lucas. And he has been an inveterate explorer of the Sewanee Domain and surroundings. Geology labs involve inside work, but they also require a hands-on approach to exposed outcrops, mapping of paleocurrents in the Sewanee Conglomerate, tracing the long history of the Plateau's depositional environment, and discerning how uplift and erosion reveals the forms we see today.
Since 2002, Potter has also taught a course called Walking the Land. "Walking" comes in two versions: one for first-year students and, for those who want to look more deeply into the intersection of science and literature, one for more advanced students. "My teaching got a real jolt when I first offered the Walking the Land course," says Potter. "It was a really stimulating experience to move through the landscape with students and talk about geology but also have the opportunity to talk about the literature of place. The experience with those students really sustained me, and it actually improved the science teaching as well."
Potter is particularly drawn to field work where the professor is in a position to learn from his students. He tells a story about checking out the Dotson Point rockfall in the 1990s with three students. "I made the mistake of telling them what I thought had happened," Potter says. "I've learned over the years to get students to put their ideas out there first. They went on to study the rockfall more in-depth, and they came back to me some time later and said, 'Well, you got it half right.' In that situation, getting it half right was the way to go. It became a shared experience where the teacher can be taught."
---
A Learning Community
Over the last decade, faculty and administrators in higher education have begun labeling some modes of education as "high impact practices," and those "HIPs" have become a kind of gold standard. An important example of these is the notion of "living and learning communities," and the entire department housed at Snowden Hall can be thought of as a prime example of one. Students and faculty are all extraordinarily close, and the experiential nature of the Snowden education is surely one reason.
"Dr. Potter is one of the most special souls I know. He is gentle and passionate, caring and wise. I loved getting to know him as a professor and also through programs at All Saints'. I had the pleasure of spending not one but two summers with him, as I also did the Island Ecology trip just after my freshman year. To this day, I still think about how lucky I am to have known him in several different capacities at Sewanee, and I still yearn to hear the Agents of Erosion play Townes Van Zandt's "Pancho and Lefty" on a warm evening in a Sewanee courtyard." —Liz Hatzenbuehler, C'03
Western Geology and Island Ecology, as flagship programs off the Domain, add a dimension of time to the community. Students and faculty participate in a learning community not only of those in the present but in the past as well. On St. Catherine's Island, the classroom built for the Sewanee program has filing cabinets full of research conducted by students throughout the decades, and current students are able to design independent study that is in conversation with that earlier work. That means building long-term data sets as well as intergenerational conversation. Students participate in a continuum of shared experiences. Discoveries are placed on the shoulders of already-answered questions, held up by revelations from curious minds from weeks or decades in the past.
For Western, Potter's memory takes the place of the filing cabinets on St. Catherine's. The trip is about much more than studying rocks; it is a community that is recreated every two years, with each new installment tied to the previous one. Potter will say, "Here is where Emily Puckette gave her talk on lava tubes," or "There is where we were caught in a thunderstorm," or "Here is where James Dunaway made a great presentation on the Henry Mountains," or "There was where that trailer blew out its wheel bearings." Think of Western as a stratigraphic column—each year's experiences added to the previous until there is a body of material that is a rich and complex Sewanee story.
And much of that experience becomes indelible and transcendent for its participants. One of the earliest Western students, David Kurapka, C'84, reflected on his field notes from more than 30 years ago. "Among the scribblings and roughly sketched diagonal lines under which I wrote the obvious 'cross bedding,' there is a single line that jumped out at me. 'Reason for existence,' I jotted down right before a section on the Great Sand Dunes explaining how they formed. That line resonates for me now because that trip certainly helped me understand how and where I wanted to live my life and what kind of person I wanted to be." Kurapka is a financial writer and head of content strategy for the investment firm BlackRock in San Francisco.
Katie Murdock Edwards, C'96, put it this way: "Bran Potter taught us—even invited us—to explore, through an almost childlike love of the earth, not only geology, not only history, not only outdoorsmanship, but the enlivening adventure of seeking awe and passion for learning and, really, life. And this lesson has never left me."
"In 2004, Bunny Boyd, a student on the trip, gave a presentation on Fremont cottonwoods, aspens, junipers, and other trees and plants. I loved the Fremont so much I sketched a few in my book and then stuck a leaf in the back of my field book. I had no goal when I stuck it there, but years later I found the stained imprint had beautifully been left on 10 pages. Just like the Western trip itself, you are pleasantly surprised by beauty that springs up. You did not anticipate this beauty but it happens organically because of Potter and the way he leads that trip." —Sewanee Outing Program Director John Benson, who staffed Western on more than one occasion
Yet experiential and field education work only because the professor invests so much personal energy in making it work. For Kelsa Warner, C'15, what stands out most in her memory, "probably because it was as reliable and as comforting as sunrise and sunset, was how Dr. Potter bracketed our days in the desert. Music every evening, around the campfire or a picnic table. Voices and instruments twining together in the flickering light of the fire or headlamp beams. And in the mornings, coming to consciousness cocooned snugly in my sleeping bag within my hammock, listening as Dr. Potter moved through camp, rousing each of us to meet the day and the new adventures he had prepared for us."
Clearly, field education requires a good bit of serenity and patience as well. Will Grant, C'02, recalls his headlong plunge down Checkerboard Mesa, a prominent chunk of Navajo sandstone at Zion National Park. "That was not a safe move," he remembers, "but you put up with it, tolerated it, let the horse have its head. ... We made it through the trip without bloodshed. Somehow, you managed to keep the class, about half of whom were pilgrims without sunburn or callous, in good working order. … And that's what I think you deserve the mountain of credit for: year after year, shepherding your cadre of willing followers into the desert and out without major incident. One part babysitter, others parts guide, cook, navigator, driver, medic, financier (you loaned me $100 on the trip), and instructor." Grant, a freelance writer who has spent many hours with horses, is writing a book, The Last Ride of the Pony Express.
"Cindy reminds me that Will once named a horse Bran Potter, so he could train him," Potter says of Grant.
---
Succession
Call up the Potters today, and Bran may very well have time to take a walk: perhaps down Potter's Ridge Trail into the head of Lost Cove. At the creek bed, he points out the different colored stones: brown ones washed down from the sandstone caprock above and grayer ones from the Mississippian limestones on the slope. "As you go downstream, there will be fewer brown ones and more gray ones," he says. For a geologist, there are stories everywhere.
"I got lost on the way to the campground in Missouri. Since the Potters' phone number was vaguely imprinted in my mind, because of the countless times I called their home ... I was able to call Cindy Potter and connect with the group. The first time I called from the phone booth, I got Shenanigans. After being painfully reminded of how hungry I was for a spicy turkey melt, I realized I only needed to change one digit to get directions from the predictable support of beloved Cindy." —Nancy Seiters, C'95
Over the years, Potter has thought a lot about succession. In a poem that has yet to see the light of day, he likens the faculty, seated by rank in the All Saints' choir benches, meandering from the aisle to the final seat in a "death row" over the course of their careers, as part of the "never-failing succession" of the University Prayer. Another form of the succession: generations of Sewanee hikers toiling out of the Grand Canyon, exuberant as they reach the rim. "These successions embody the strength of Sewanee," he says.
Cindy and Bran Potter's old Subaru long sported a bumper sticker with a quotation from Thoreau, "Surely joy is the condition of life." That joy has made them touchstones of the Sewanee experience for many students over decades and has transformed the University and the community. The endowment that Friends of Cindy and Bran Potter are creating will promote that relational, experiential whole cloth of education that is animated by joy and care. As Robin Rotman, C'04, puts it, "Bran and Cindy Potter teach and live from a place of curiosity, authenticity, and compassion. I am so grateful for all that they have poured into me, in geology field studies and a myriad of other ways. It is my joy to be able to contribute to this endowment in their honor and for the benefit of future Sewanee students."