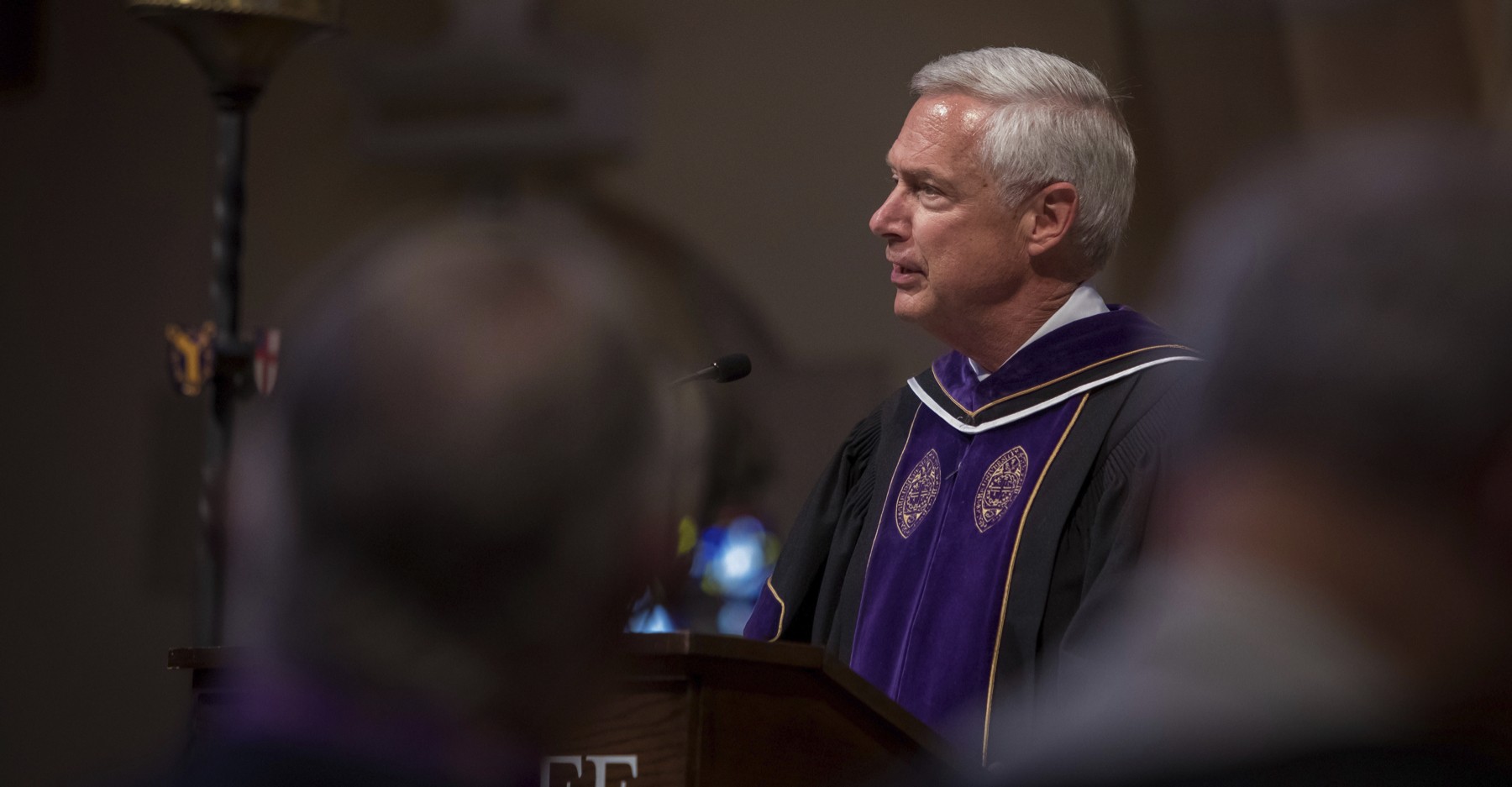 The McCardell Years
Through a decade of leadership, an historian presides over an historic period of growth and change at Sewanee.
By Buck Butler, C'89
---
The final months of John McCardell's vice-chancellorship did not go as planned. As the University was preparing to celebrate his 10-year tenure at Sewanee and the successful conclusion of a record-breaking capital campaign, news of a deadly virus began dominating conversation in college boardrooms.
Most Sewanee students left campus for spring break on March 11 and 12, just as McCardell was assembling an Executive Management Emergency Team to consider a variety of scenarios for addressing an unprecedented threat. News moved fast in the early days of the COVID-19 outbreak, and as colleges around the country began moving to online learning for the remainder of their spring terms, McCardell and his team soon followed suit. On March 14, students were informed that they would not be returning to the classroom before the end of the semester. For McCardell and his fellow administrators, that decision was just the beginning of a months-long lesson in institutional triage that just happened to coincide with his final days in office.
Even as McCardell and his wife, Bonnie, were moving out of Chen Hall to make way for his successor, Ambassador Reuben Brigety—named to the position just weeks before the outbreak—the outgoing vice-chancellor was facing one of the most difficult tests of his career in higher education. In the weeks to follow, McCardell's response to COVID-19 would prove to be an apt reflection of his responses to a wide variety of challenges he and the University have faced over the last decade: adapt and innovate.
---
That style of leadership has led to steady progress for Sewanee during the McCardell era in a number of areas including fundraising, civic engagement, capital projects, and, perhaps most significantly, admissions.
In the last 10 years, the University has seen applications to the College of Arts and Sciences more than double. The student body has both grown significantly and seen increases in metrics like GPA and standardized-test scores. "It's happened in a way that makes us more selective than we were before we started," says McCardell. "It makes us more diverse than we were before we started and has raised the academic profile of the entering class."
In 2011, just a year after he arrived in Sewanee, McCardell started innovating on the admissions front, leading an effort that resulted in a 10% reduction in the cost of a Sewanee education. In 2012, the reduction was followed up by a four-year tuition freeze for incoming students. In 2018, the University introduced the Sewanee Pledge, a three-part guarantee for every incoming student: funding for an internship or research opportunity, access to a semester-long study abroad program at no additional tuition cost, and graduation in four years or the fifth year is tuition-free.
Finally, in 2019, the University announced that it was expanding its financial aid program to meet the full financial need of incoming students, starting with students who arrive in fall 2020.
Meeting students' full need was a long-held goal of the McCardell administration and a return to a practice that had benefitted Sewanee students for years until it had to be set aside 20 years ago. "We have been determined for quite some time to restore Sewanee's historic commitment to meeting 100 percent of our students' demonstrated financial need," McCardell said at the time of the announcement. "Over the years, and by a variety of actions, we have shown a dedication to keeping the cost of a top-quality college education as affordable and predictable as possible. I am delighted that our efforts will culminate in meeting full financial need for the Class of 2024."
Each of these decisions garnered widespread attention, including national media coverage in some cases, which led to increases in applications. McCardell says that because the decision to meet full need was announced well into the annual admission cycle, there was little expectation that applications for the class entering in fall 2020 would see a significant uptick. "What's really interesting and mostly if not entirely attributable to the full-need decision is that we went from 4,500 to about 5,000 applications, a significant increase, far outstripping other schools, many of whom have been lucky to hold steady."
---
For the past five years, McCardell has spent a significant amount of time on the road, representing Sewanee at events all over the country and raising the money necessary to move the University forward. A major reason the University has weathered the COVID-19 storm as well as it has and been able to offer to meet incoming students' full financial need is that the University finds itself on firm financial footing at the end of a record-breaking capital campaign.
The Stronger Truer Sewanee campaign raised a total of more $290 million, sailing past its $250 million goal with time to spare. In fact, the individual goal for each of the campaign's funding priorities, from scholarships and internships to new campus facilities and the School of Theology, was surpassed.
McCardell credits the devotion of the Sewanee family for pushing the campaign over the finish line and for making his job enjoyable. He says he won't miss spending as much time in airports as he has in recent years, but he'll miss the frequent contact with enthusiastic alumni and friends of Sewanee at campaign and Sewanee Club events. "People don't come to these events because they hate you," he says. "They come because they love the University and they want to hear about the University. They want to know how they can help the University."
That help has come in the form of thousands of gifts—rather than a handful of very large gifts—and McCardell says that's good news for the future of the University. "We didn't have a blockbuster $25 million gift," McCardell says. "We didn't have one or two boulders; we had a whole lot of stones and a lot of building blocks. You talk about the long-term health of the University—would I want to have two or three donors who collectively give $100 million, or would I rather have 100 people who each give, and have been giving generously over a period of years, in lesser amounts? This campaign has built a much stronger and more durable foundation for the next generation than would have been the case had we been dependent on two or three donors."
While the campaign supported many vital programs on campus, McCardell says the lasting legacy of the effort will be seen in student support. "The most transformative area of the campaign was gifts made for student aid," he says. "The money that's come in for any purpose has been valued and valuable, but the expendable funds for scholarships and internships is having a dramatic effect."
---
If you've been away from Sewanee for 10 years, another legacy of the McCardell era—in the form of new facilities—will become apparent almost as soon as you pass through the gates for a return visit.
The new Sewanee Inn at the north end of University Avenue not only welcomes prospective students and their families in style, but also a variety of visitors who might not have otherwise set foot on campus. "Any inn would naturally bring in people who had already decided to come visit the University for some reason, but this is bringing in people who discover it because they attended a conference or retreat," McCardell says. "That's been the incremental value from the Inn."
Two new large residence halls and two sets of townhouse-style theme housing buildings were built to accommodate the University's growing undergraduate enrollment. Smith Hall and Ayres Hall, opened to students in 2013 and 2016 respectively, incorporate state-of-the-art green design elements with a variety of indoor and outdoor gathering and study spaces. The two coed halls house mostly first-year students in prime central-campus locations.
A plan to create a "distributed commons" for Sewanee students led to a new Learning Commons in duPont Library that responded to growing needs for more collaborative spaces and up-to-date technology for practicing class presentations, while retaining the library's traditional study and social spaces.
And a new Wellness Commons on the site of the old University Bookstore is in the final stages of construction, and will be ready for students arriving in August. Focusing on student health and well-being, the University Wellness Commons will house the University Wellness Center, a fitness facility and accompanying programs, the Sewanee Outing Program, and an outpost of the University Bookstore.
"We're viewing wellness broadly," McCardell says, noting that the University's Counseling and Psychological Service offices will be housed in the Wellness Commons. "It isn't just physical, it's also psychological. On most campuses, you'll find prominent fitness centers, but you won't see counseling services. Those are often hidden on the margins. We know students need these services, and we're acknowledging that."
One aspect of McCardell's vision for Sewanee has been a desire to bring student foot traffic back to the Quad and University Avenue. In recent years, that traffic has moved away from the heart of campus to an area behind the Quad, as students walked from McClurg Dining Hall to the library, Stirling's Coffee House, and academic buildings like Woods, Spencer, Snowden, and Gailor. Soon, he says, a visitor on University Avenue will not only see students coming and going, but will see a wide variety of forms of wellness arrayed before them—academic wellness (Walsh-Ellett), mental and physical wellness (the Wellness Commons), spiritual wellness (All Saints' Chapel), and nutritional wellness (McClurg).
In addition to the building projects already completed, more are on the way, including a renovation of Carnegie Hall to house the Politics, Economics, Business, and Philosophy departments, as well as the Career Center, an improved advising program, and the Babson Center for Global Commerce. A renovated Wiggins Hall will be the new home for Sewanee's photography program. And the last piece of the distributed commons plan is a new social commons that will occupy Thompson Union, the once and future student union.
At the other end of University Avenue, a new University Bookstore will be open before students return in August and will serve as an anchor for the ongoing Sewanee Village Project, drawing students, Sewanee residents, and visitors downtown. Moving the bookstore provided an opportunity to think about what a college bookstore should look like today and McCardell says this one will be a "model modern bookstore," from the comfortable seating on its welcoming front porch to its well-considered and spacious interior. "It's not going to be a textbook store," he says. "It's going to be a place where one can browse, one can spend some time, one won't feel rushed, and it'll be an environment that is much more conducive to what bookstores, as presently understood, seek to be."
---
Under John McCardell, the University's relationships with its closest neighbors—local communities atop the Cumberland Plateau—have grown stronger thanks to concerted efforts by a variety of faculty, staff, students, and alumni. The work of the Office of Civic Engagement under Director Jim Peterman has been strengthened and expanded. A now-thriving partnership with VISTA has been led by Sewanee alumna Nicky Hamilton, C'99. And McCardell's wife, Bonnie, has been instrumental in establishing and working with the South Cumberland Community Fund, which focuses on capacity-building grants for local nonprofits. "I'm very proud of how the University's relationships with the communities on the plateau have developed and the part that Bonnie has played in that," he says. "The relationships up and down the plateau now are stronger than ever, but there's still work to be done." One key to strengthening those relationships has been an effort to overcome an us-and-them approach to working together. "We're no longer saying 'We're here from the University and we're here to study you," McCardell says. "We're saying 'We're here to work together.'"
A similar philosophy guided a 2012 decision to take the University's outsourced dining operations in-house. No longer would dining-service workers be employees of an outside food service, but would be University employees, treated as part of the Sewanee family. The move gave the newly founded Sewanee Dining staff the flexibility to support local food suppliers and create innovative food-education programs for students. "I don't know of any other place that does as much in food awareness and in providing a market for local providers as we do," McCardell says. One of the most important of those local suppliers is the University Farm, which has also grown and thrived in recent years, providing fresh produce to the dining hall while offering countless educational opportunities for Sewanee students.
---
After wrapping up the Easter 2020 semester with most students taking courses online from their homes due to COVID-19, McCardell looks back on the final months of his vice-chancellorship with a historian's sense of perspective. While he would have preferred having students on campus for classes and a Quad full of happy families for commencement, he is proud of the way students, faculty, staff, and administrators pulled together to make the most of the situation.
"Our faculty have just been tremendous troopers through all of this," he says. "There was no complaining. Everybody—everybody—just stepped up, got it done, and learned a lot."
Having his scheduled departure from office take place now—while he and his colleagues are still working hard to plan for a variety of scenarios for the fall semester—is obviously hard for a leader who enjoys the heat of battle.
"There's a part of me that would really love to stay and fight this out to the end because Sewanee is going to come out of this strong," he says. "But there are a lot of good people here who are going to be staying and slugging it out. They're going to do fine, and Sewanee's going to do fine. And Ambassador Brigety's going to do fine, partly because he has all these really good people who will represent the continuity between when the battle started and when it will end."
---
John and Bonnie McCardell will spend most of the next year in their Beaufort, South Carolina, home, with occasional visits to the Mountain. When they return for McCardell to teach as a professor of history starting in the 2021-22 academic year, they'll live in a bungalow they recently purchased in the Bobtown area of Sewanee. And McCardell will turn his attention to the field of study that first propelled him into the academic world.
When McCardell first went into academic administration, he was in his late 30s. He became president of Middlebury College when he was 42. He's always told people who ask why he went from academics to administration at an early age that it's because historians do their best work in their mature years and that being an administrator might help him understand that decision-making is often more complicated, less black-and-white, than historians might think. In other words, being a college president could be good training for being an historian. "I said that 29 years ago," he says. "Now I'm going to have to prove it. I'm going to see if I can be an historian. I definitely believe that being an historian has helped me be a president. Whether being a president has helped me be an historian remains to be seen."
John McCardell is reluctant to give advice to his successor because he knows that every college president is different and that the challenges he or she will face are unique. But when pressed, he agrees to offer a few words: "Be yourself—do things in a way that comes naturally. You take a risk anytime you try to do something that isn't really you. Sewanee embraces and respects individuals who are authentic. Look around this community: Authenticity has at least as many faces as there are people here. There's no single recipe or single set of instructions, so do it the way you're comfortable doing it, whatever it is. Don't think you have to do it the way somebody else did it. You'll come to understand that this is a community that cares deeply and cares deeply about you."