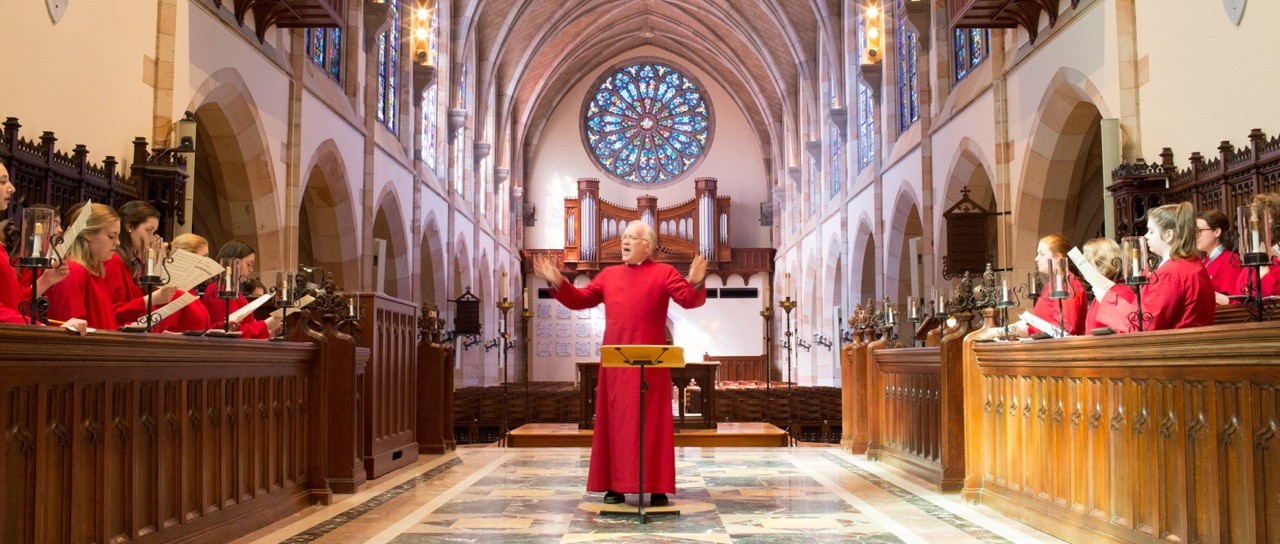 The Long Red Line
As University Choirmaster Robbe Delcamp prepares to put down his baton, we take a look inside the program he's built over 37 years.
BY JIM TURRELL
---
T his spring, Robert Delcamp, professor of music and University organist and choirmaster, will retire. Since 1978, he has directed the University Choir, a diverse ensemble of students from a variety of backgrounds and majors, united by their love for music and their commitment to a demanding schedule of rehearsals and performances. The choir sings each Sunday the College is in session at All Saints' Chapel, offers the annual services of Lessons and Carols, and has made 12 tours of English cathedrals, singing the service of choral Evensong in more than 27 cathedrals, abbeys, and parish churches.
Delcamp looks back with satisfaction on the program he has built, citing Lessons and Carols and choral Evensong services, which he started directing in 1978, as two high points. "Evensong is the quintessential Anglican service," he says. "It's not done much anymore, and we've kept it alive here."
But it's the weekly Sunday services that bring Delcamp the most pride. "It's a lot of Sundays," he says. "I look back and think of all the music we've done and the number of students. West Point has the long gray line, and I've got the long red line of choristers, stretching to infinity."
During this, Delcamp's final semester at Sewanee, Jim Turrell has been documenting some of the University Choir's rehearsals and performances to put together this photo essay.
The Rev. Canon Dr. James Turrell is the Norma and Olan Mills Professor of Divinity and associate dean for academic affairs at the School of Theology. He also happens to be a great photographer.