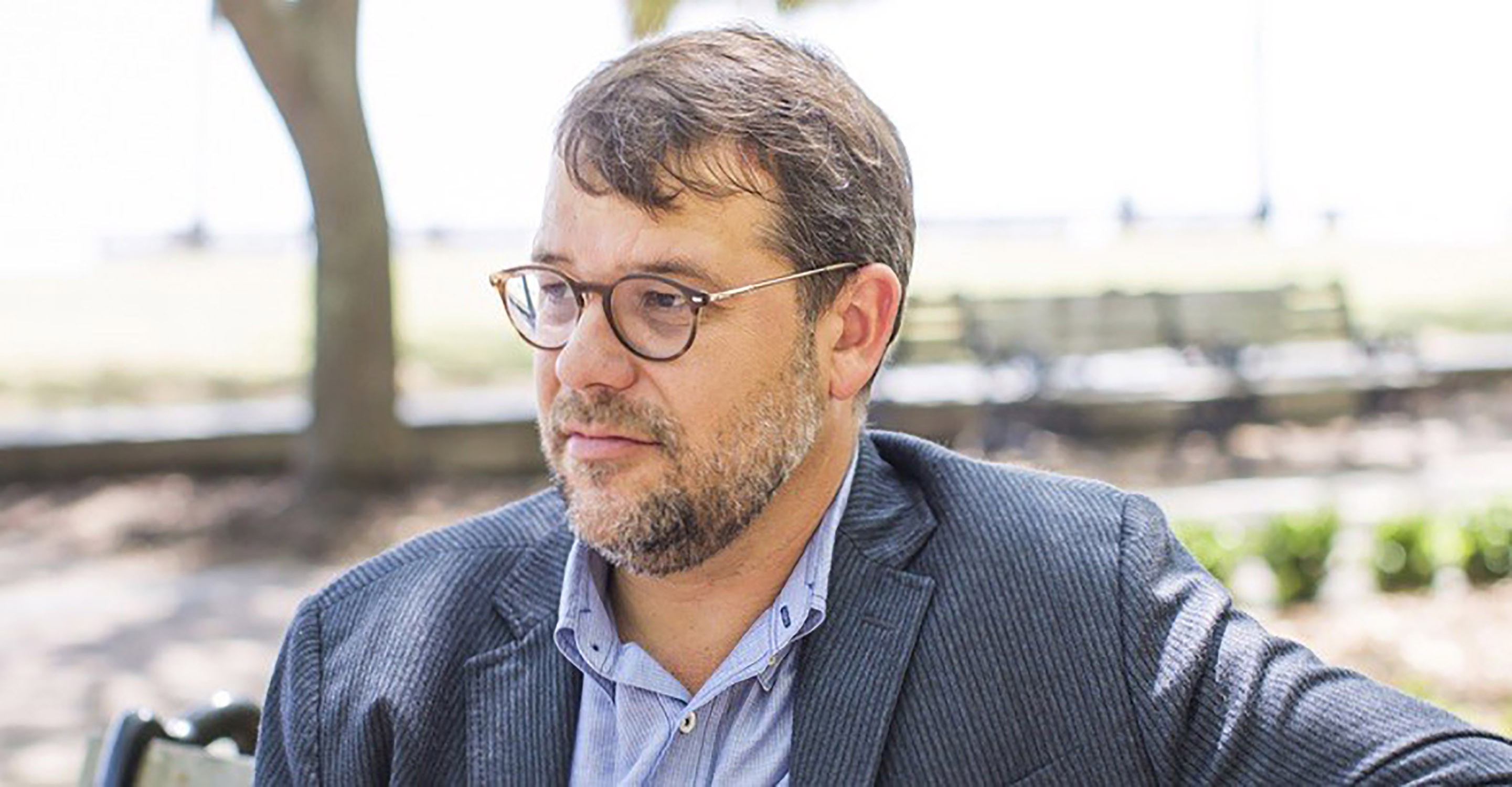 "We think [independent restaurants] are the lifeblood of communities," says Harry Root, C'97.
Restaurant Rescue
In the face of an economically disastrous pandemic, Charleston wine distributor Harry Root, C'97, leads a nationwide effort to save independent eateries.
By Kate Parrish, L'19
---
At 9 a.m. on March 17, Harry Root, C'97, joined 50 other members of the local independent restaurant scene in Charleston, South Carolina. Gatherings of 50 or fewer people were still allowed, and Root made it a point to stand just outside the door. The group was convening to discuss the fate of their businesses in a quickly deteriorating economic landscape thanks to the arrival of COVID-19 in the United States. Root, owner of Grassroots Wine, an independent wine distributor operating out of Charleston and Birmingham, Alabama, was concerned. Sixty percent of his sales came from restaurants.
But there was something greater at stake. With the health and well-being of the Charleston community, including their own employees, on the line, the group made the decision to shutter their restaurants voluntarily. Just hours later, their decision was moot. That same day, South Carolina Gov. Henry McMaster issued a mandatory shutdown of all dine-in-service restaurants and bars across the state.
The $2 trillion Coronavirus Aid, Relief, And Economic Security (CARES) Act with its $350 billion Paycheck Protection Program (PPP) for small businesses was still a week and a half away—a lifetime in the restaurant industry. (On average, restaurants have only about 15 days' worth of cash available.) Something would need to be done sooner. So Root, along with some of the industry's biggest names, helped create the Independent Restaurant Coalition (IRC). Their mission: to save restaurants.
---
A year ago, Root would have found himself ill-equipped to forge a strategy to address a national stimulus package. He was a wine distributor, not a squeaky wheel. But when a 25% tariff on all wines from the European Union was introduced last October, and then ramped up to a proposed 100% in December, Root could not sit quietly.
Because of the three-tier alcohol distribution system—importer, distributor, retailer—required by law in the United States, the tariff would hurt more American businesses than European ones. Grassroots Wine included.
For six weeks, from the beginning of January until mid-February, Root flew back and forth between Charleston and Washington, D.C., meeting with members of Congress and lobbyists to enlist their support to stop the proposed tariff increase. Root founded the U.S. Wine Trade Alliance and quickly collected allies up and down the supply and distribution chain, as well as on both sides of the aisle. Sen. Lindsey Graham, R-S.C., and Rep. Joe Cunningham D-S.C., were both early supporters.
On Feb. 14, U.S. Trade Representative Robert Lighthizer announced the tariff would remain at 25%. It was a win for the moment. Barely a month later though, a new and unimaginable challenge emerged. The independent restaurant industry—responsible for directly employing more than 11 million people, contributing $1 trillion to the U.S. economy, and accounting for 4% of the country's gross domestic product—was paralyzed. But Root wasn't. Now he knew how to get started.
---
Joined by world-class restaurateurs and chefs like Sean Brock, Ashley Christensen, and Frank Stitt; organizations like Food Policy Action and the James Beard Foundation; and his own daughter, Isabel, C'22, Root and other newly recruited members of the Independent Restaurant Coalition started building their army after South Carolina bars and restaurants were closed.
"We were pushing all the right buttons early on," says Root, who kicked off the IRC via Facebook, a strategy similar to the one he took in his tariff work. Isabel, home from school for the rest of the semester, provided digital boots-on-the-ground by reaching out to restaurant owners via email with a request to get involved and contact their local representatives. Root's deep connections in the Southern restaurant community and some initial press meant more chefs and restaurateurs were coming forward every day to offer aid.
"They had resources, and we had a plan. It melded together pretty quickly," Root says.
At first, the plan was to bring awareness to Congress that the independent restaurant community would be devastated by COVID-19. With many independent restaurants already running on impossibly thin margins—and frequently kept afloat by alcohol sales—closing their doors for even a short time could crush them and force some to close permanently. But with everything pandemic-related moving at a lightning-fast pace, it was only a matter of days before the IRC had to pivot to address the newly passed CARES Act, and more importantly, the PPP.
"The [CARES Act] passed so fast there was not a lot of time to coordinate really specific policy. It was more or less reacting, saying we need help," says Root. "[The PPP] didn't fully address the unique needs of the restaurant industry. We identified some issues with the PPP that we've been lobbying to get fixed."
Designed to provide small businesses across all industries with forgivable loans to cover employee payroll, the PPP, run through the Small Business Administration and first made available on April 3, ran dry of its $349 billion in just 13 days. Independent restaurants accounted for only 9% of the total loans secured by small businesses.
Even if many of the local independent restaurants the IRC was created to advocate for had been able to secure a PPP loan, the fine print could have made it more of a burden than a relief. For the loan to be forgiven, at least 75% must be used to keep employees on the payroll.
Many independent restaurant owners were forced to lay off their staff weeks ago. And with stay-at-home orders still in place for most of the country, bringing employees back to serve empty restaurants or restaurants operating at half capacity creates another problem. There's still little to no new income to pay rent, suppliers, taxes, and insurance.
Should a second wave of the virus hit and states mandate an additional stay-at-home order, restaurant owners could be forced to lay off their staff again, leaving them back at square one only further hamstringed by a loan they'll have to repay. So the IRC wants the PPP changed.
"We think [independent restaurants] are the lifeblood of communities," says Root. "They're the restaurants that drive people to go to places like Charleston and New Orleans. They're a source of pride for every community in America, whether it's the barbecue joint in Winchester, Shenanigan's in Sewanee, or FIG in Charleston." For the IRC, advocating for independent restaurants means protecting the places that define a community's spirit.
IRC leadership wants to see the maximum loan amount extended to three months after restaurants can legally reopen at full capacity. They want to see the $500 million gross revenue cap reinstated and the length of time restaurant owners have to repay their loans changed from two years to 10 years. They want to see new tax rebates created that incentivize employment so restaurants can keep their staff employed and pay rent while business starts to return to a pre-COVID-19 pace. The IRC is also advocating that business interruption insurance be required to cover losses caused by the virus.
And now with the first wave of PPP funds gone and a second round of $320 billion released on April 27, the IRC is shifting its focus to ensuring a restaurant stabilization fund is created. In a letter addressed to congressional leaders on April 29, the IRC requested at least $120 billion in funds to provide relief to the more than 500,000 independent restaurants in the United States, offering first priority to women and minority owners.
"In order for us to serve your communities again and to assist in reigniting the economy, independent restaurants need critical support from the federal government. ... We need Congress to act or we will not survive," the letter states. The IRC cites a report from the National Bureau of Economic Research, which grimly estimates that only 15% of restaurants anticipate reopening if the pandemic lasts six months.
"There need to be very specific and targeted funds provided for independent restaurants," says Root, who remains optimistic that help will arrive for restaurants. "Regardless of which side of the aisle you're on or what part of the country you live in, everybody has a favorite place to go eat. And chances are it isn't Red Lobster."