Reminders of Home
We asked members of this fall's freshman class to share one thing they brought to Sewanee to connect them to where they came from. Here's what they showed us.
PHOTOS BY BUCK BUTLER, C'89
---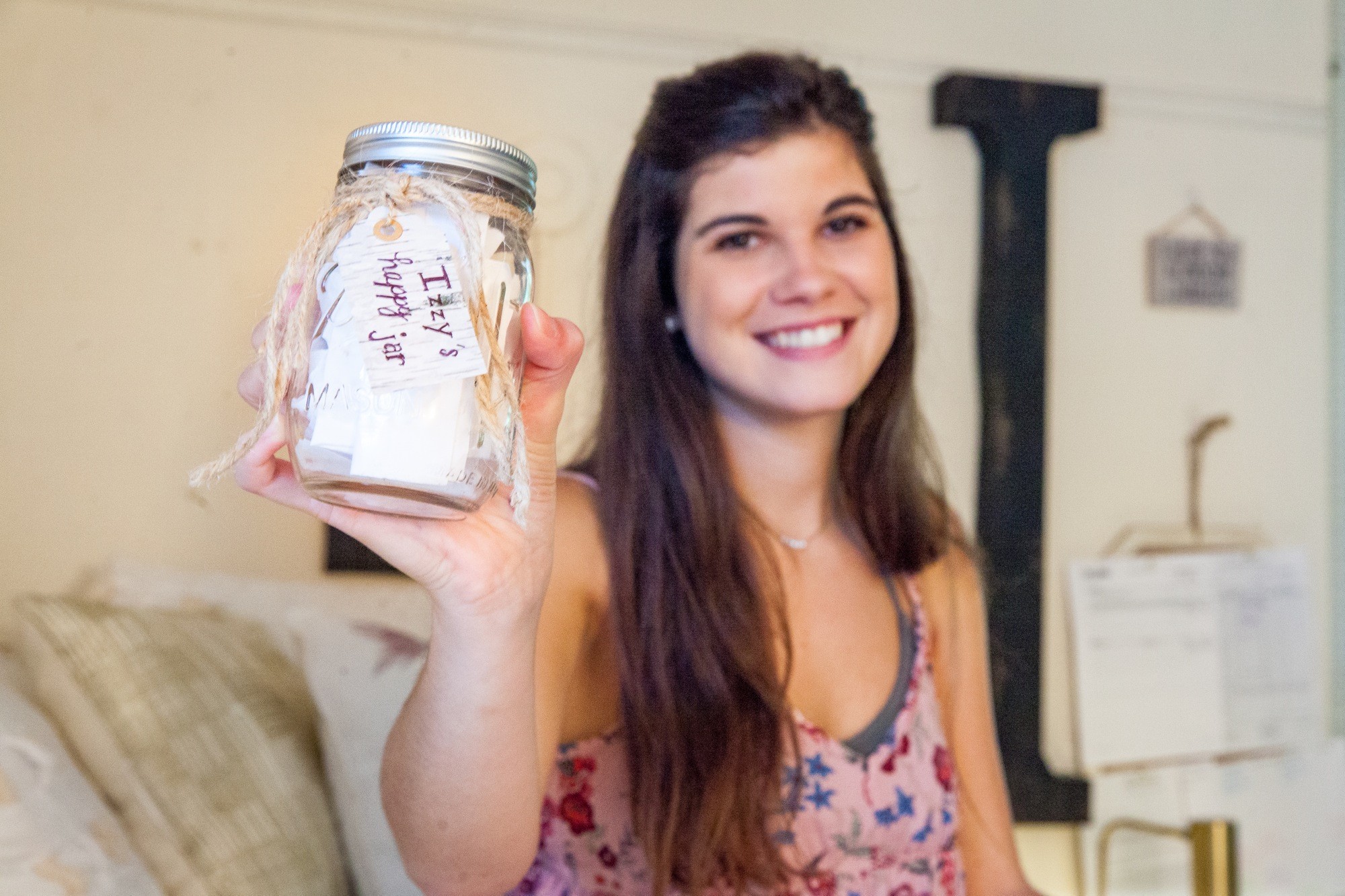 Isabella Wood, Cookeville, Tennessee
"My family is really close to three other families in Cookeville who have kids my age. We do everything together—vacations, holidays, birthdays. Before we all left for college, everybody in the families, even the little kids, wrote notes and put them in jars for each of us. Whenever I'm having a rough day, I can pull out one of the notes and remember how much they all care about me."
---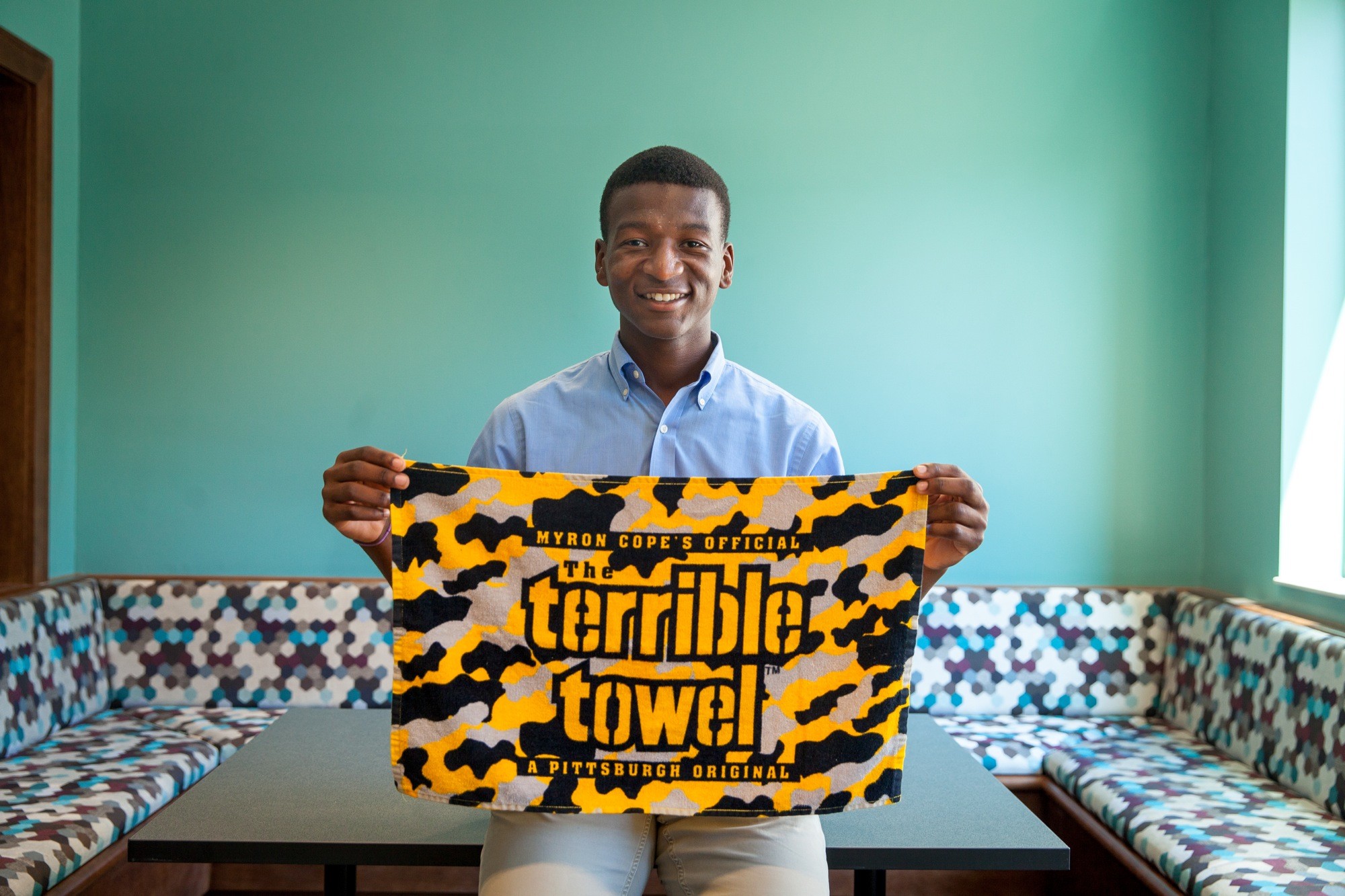 Miles Martin, Pittsburgh, Pennsylvania
"When I was in middle school, I went to a sports camp hosted by former Pittsburgh Steelers halfback Jerome Bettis. I have asthma and Jerome Bettis has asthma, and that's the focus of the sports camp: getting kids active and letting them know how much they can do even if they have asthma. So I got my Terrible Towel from Jerome Bettis himself. My family has Steelers season tickets and I go to every home game I can, with my Terrible Towel in hand. In Sewanee, I'll be watching Steelers games on my laptop, and the towel will be right there with me."
---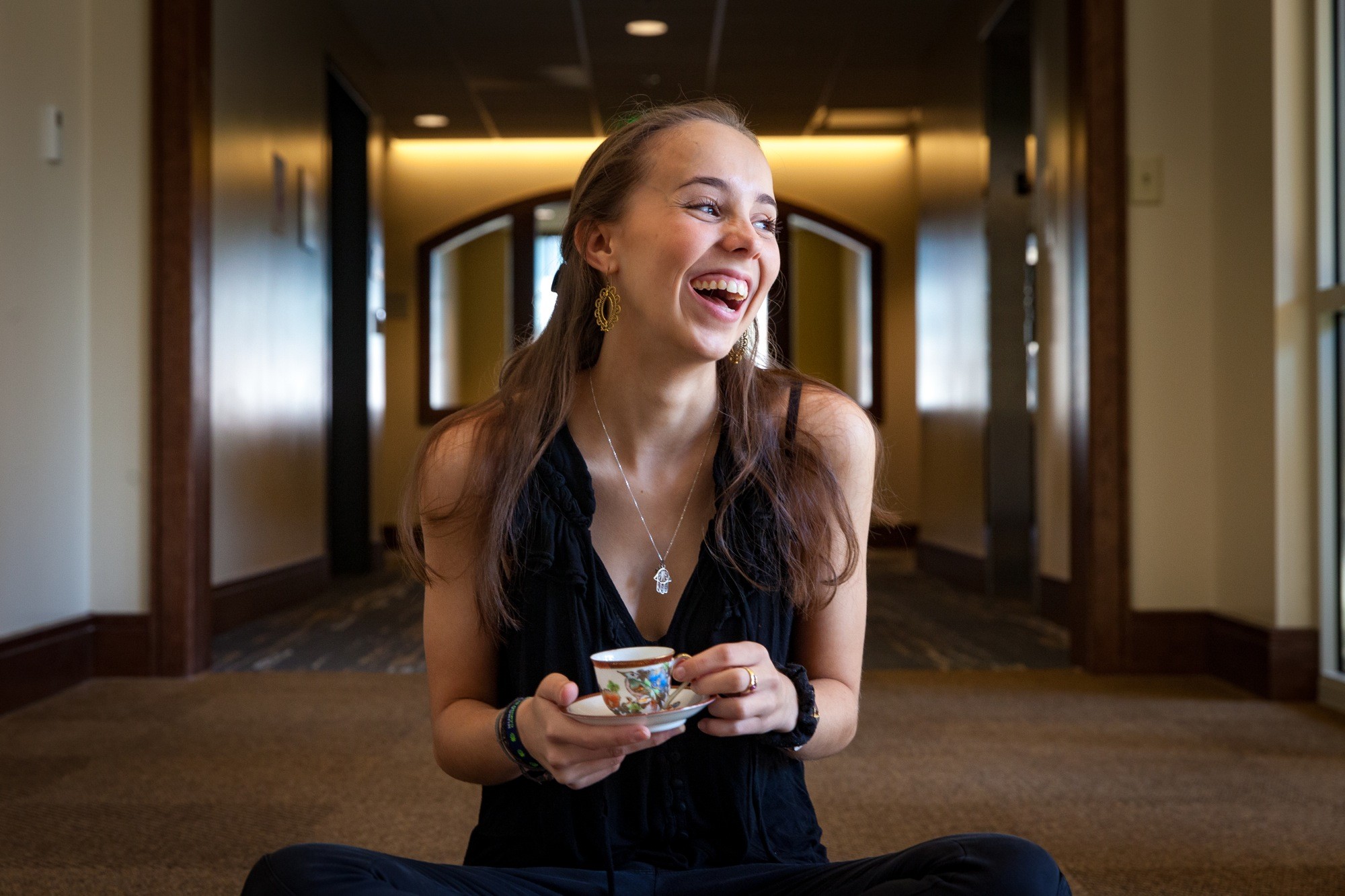 Aranzazu Ruiz-Blake, Mallorca, Spain
"A couple of years ago my family went to Turkey, and I loved the coffee there so much that my parents got me a Turkish coffee pot and demitasse cups. They're pretty delicate, so I couldn't bring them from Spain, but my aunt in Nashville had a box of my great-great-grandmother's demitasse cups. She collected cups for years and had dozens to choose from, so I picked two that I liked to bring to Sewanee. My mother's family is from Alabama, and one reason I came to Sewanee was to get to know my Southern heritage better. This was a first step toward connecting with that."
---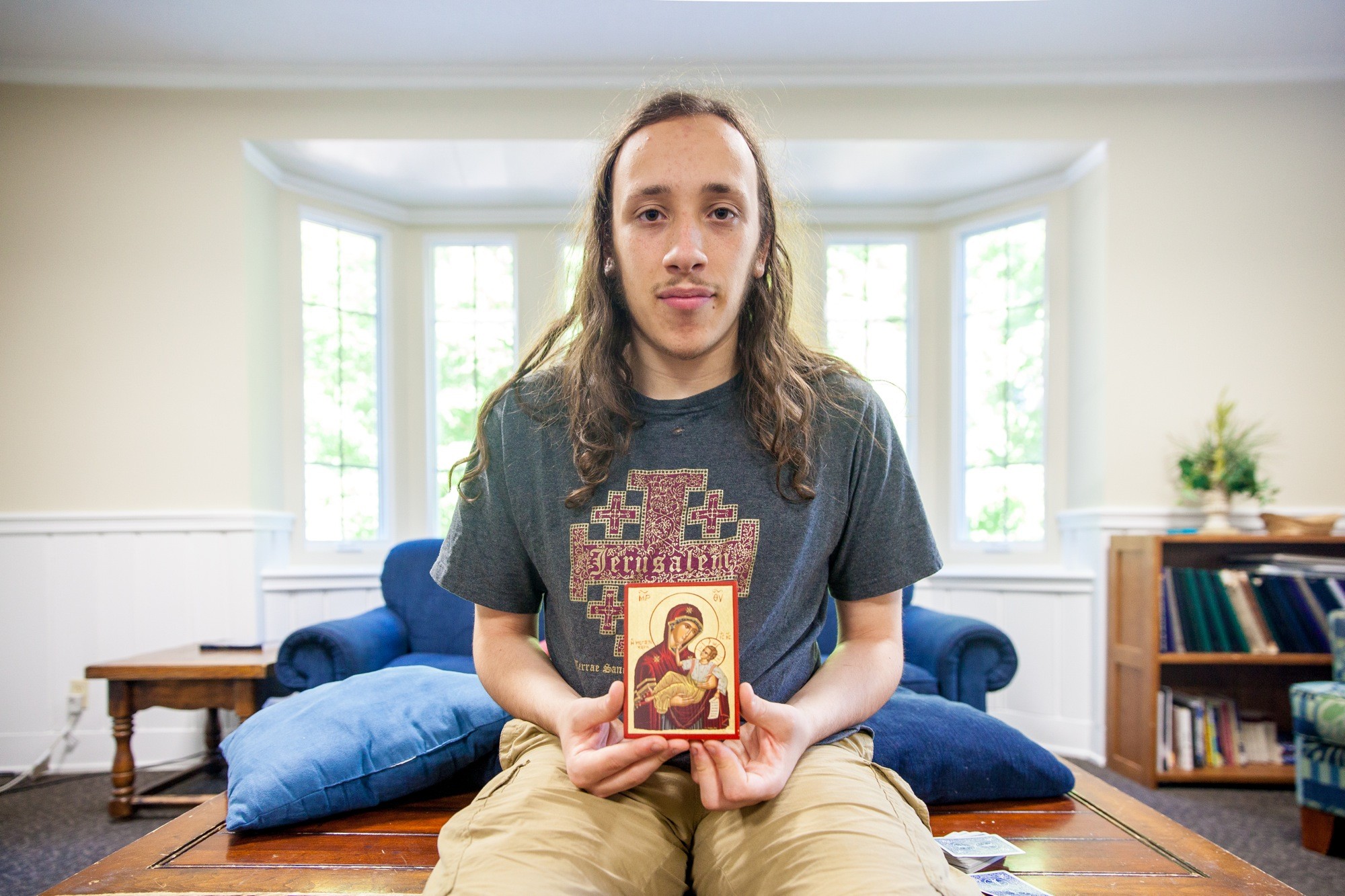 Richard Pryor, Kent, Ohio
"I bought this icon this summer during a family trip to Greece. One of the highlights of the trip was going to different Greek Orthodox churches. We went to a church in the mountain town of Mystras, where our tour guide chanted part of the Divine Liturgy. I felt heaven and Earth meet, and I knew I needed to bring something home to remind me of the experience. Not only does the icon remind me of that experience and give me a spiritual picture to focus on for prayer, but it reminds me of my time in Greece with family and great friends."
---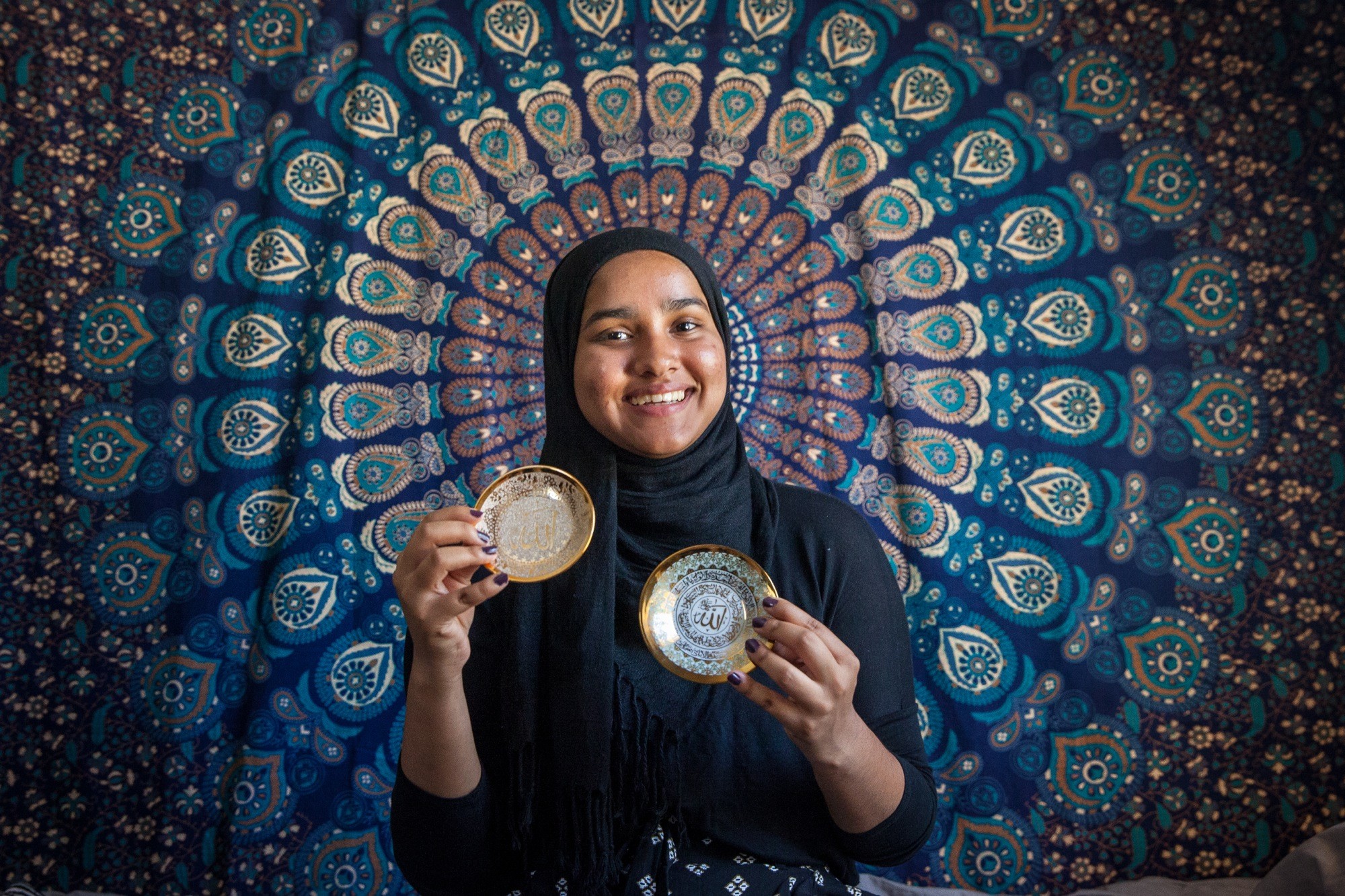 Zahnib Kalsoom, Falls Church, Virginia
"My family is from Pakistan. I'm the youngest of my siblings and the only one born in the United States. When I was in seventh grade, we went to Pakistan and got some decorative plates like these. Those are still at home, but I brought these two plates, which I got at the wedding of one of my sister's friends at a beautiful Turkish mosque in Maryland. They used to be on the mantle over our fireplace with the two from Pakistan, so they're a little piece of home—seeing them is like being home."
---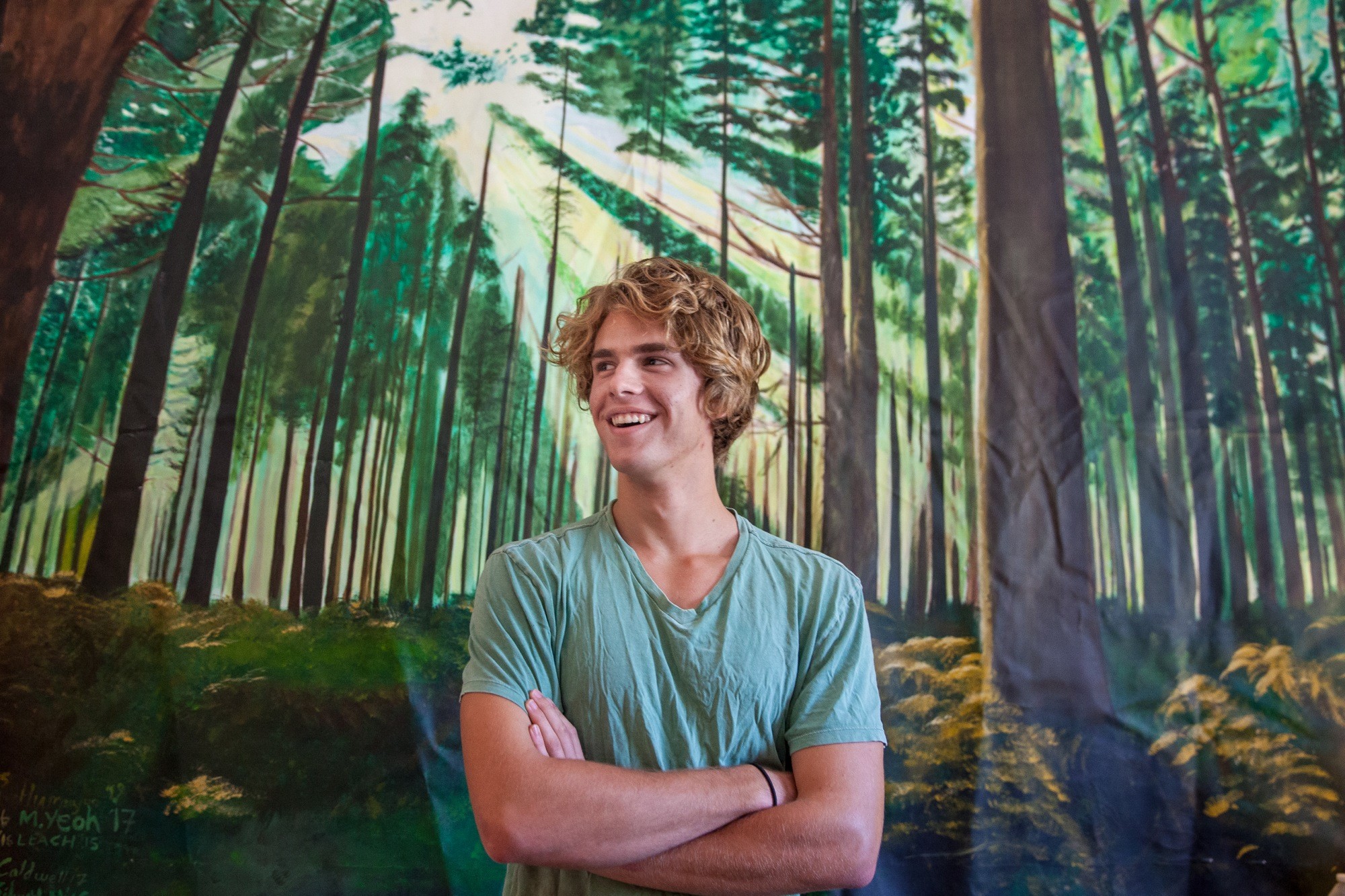 Benjamin Mills, Chattanooga, Tennessee
"This canvas mural was a collaborative project for my AP two-dimensional-art course during my junior year in high school. Each student in the class painted a section of the forest. By senior year, nothing had been done with it, and my teacher offered to let me have it. It sat on the back porch of my house for the rest of senior year, and it reminds me of calm, low-lit Saturday nights sitting out back and Wednesday afternoons wheeling in after a long day of school. It came to feel like a part of the house. My mother disagreed."
---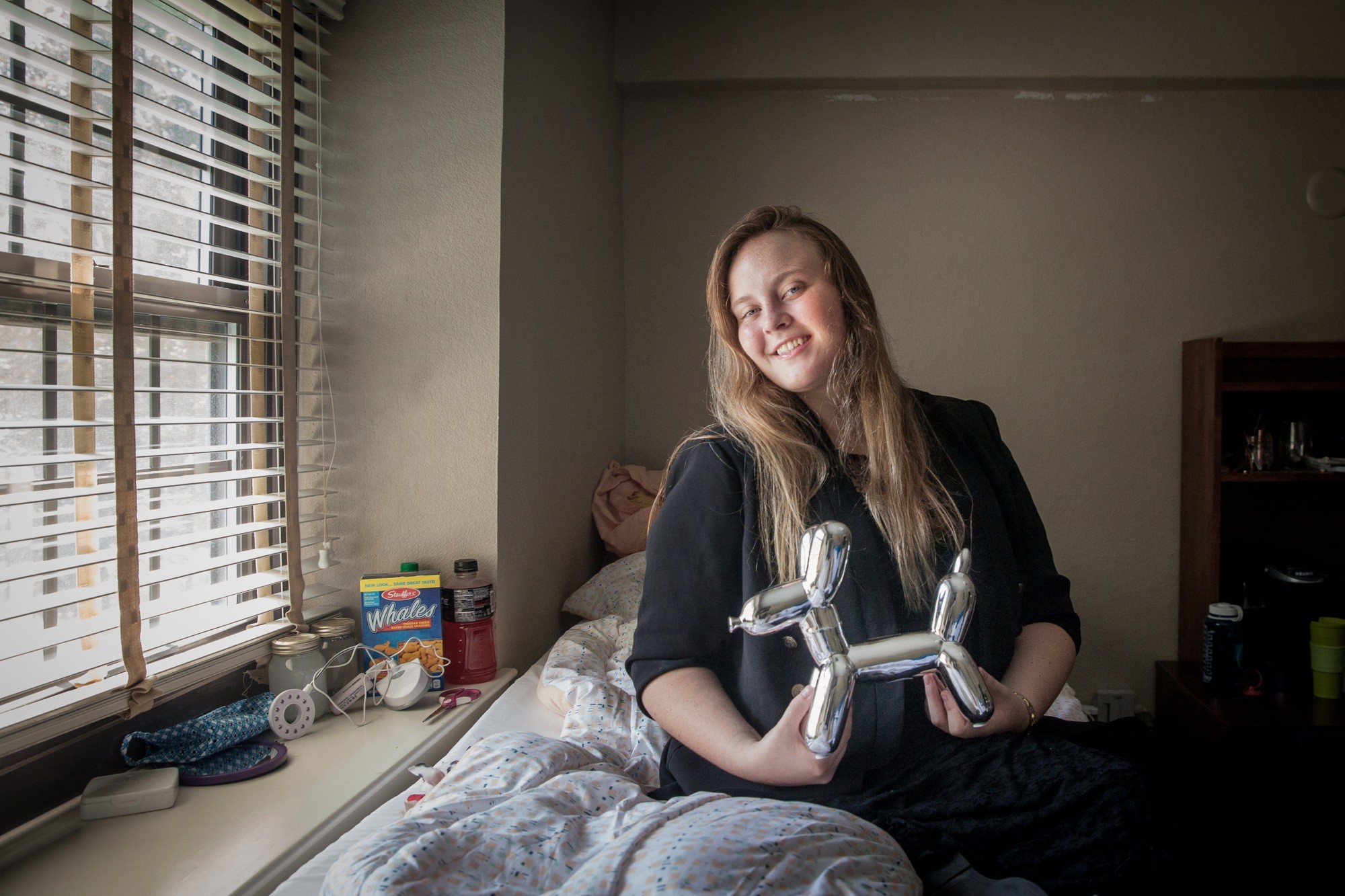 Taylor Lanier, Franklin, Tennessee
"This summer, after I found out that my work-study job would be in Sewanee's Studio Art Building, my mom bought two of these dogs modeled on Jeff Koons's famous balloon-dog sculptures. I had been looking online for cool dorm supplies, and one day she said, 'Found 'em!' She got two of them so they could be a pair and I could have some study buddies at college."
---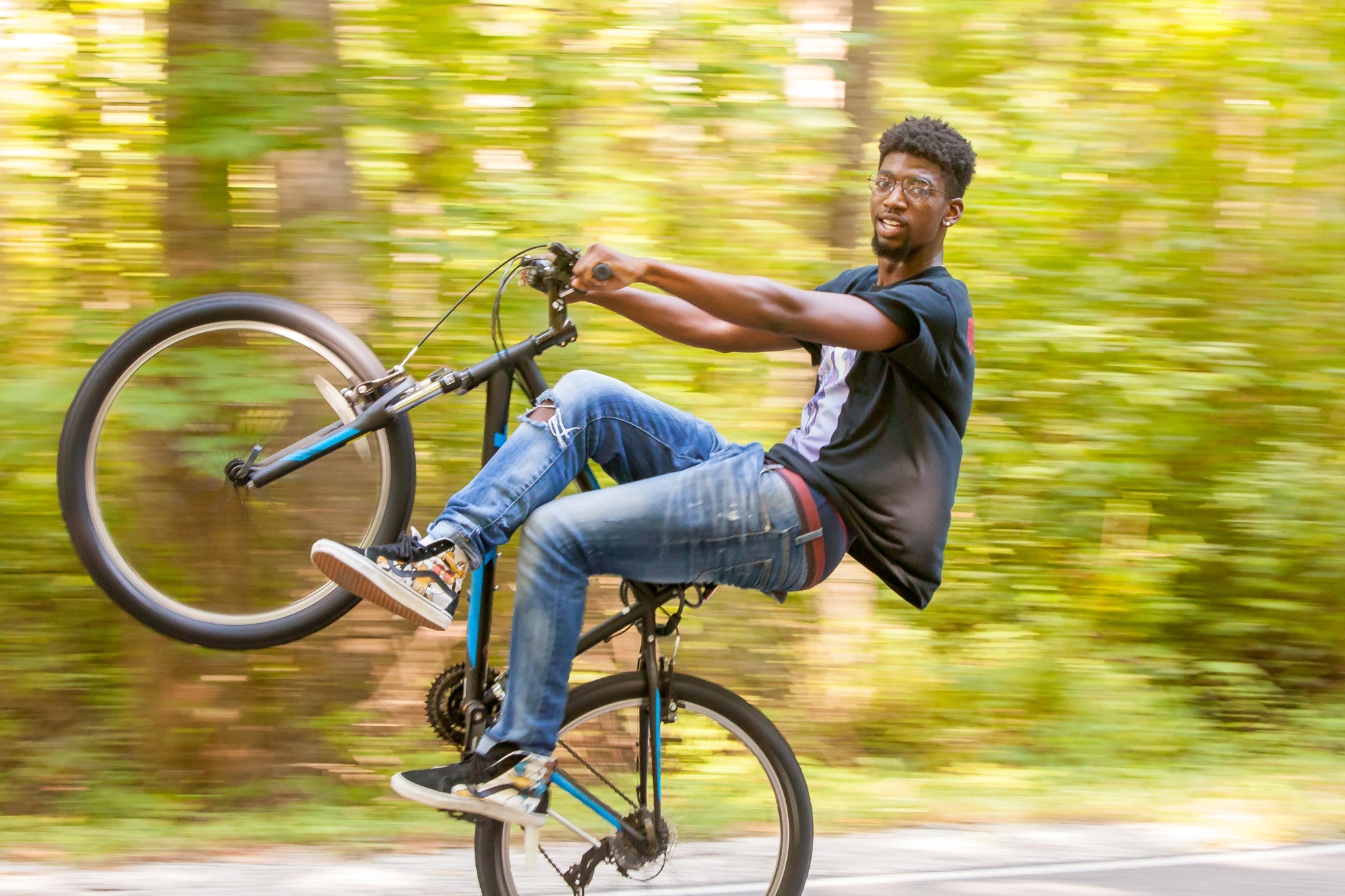 Chauncey Cannon, Washington, D.C.
"You can't see it in this picture, but the front of my T-shirt says 'DC BIKE LIFE.' I brought the T-shirt to Sewanee because it reminds me of my group of biking friends back home. We can get on any bike and do all kinds of stunts and tricks. And with D.C. Bike Life, we give kids of all ages an outlet to have fun riding bikes instead of getting into trouble on the streets."
---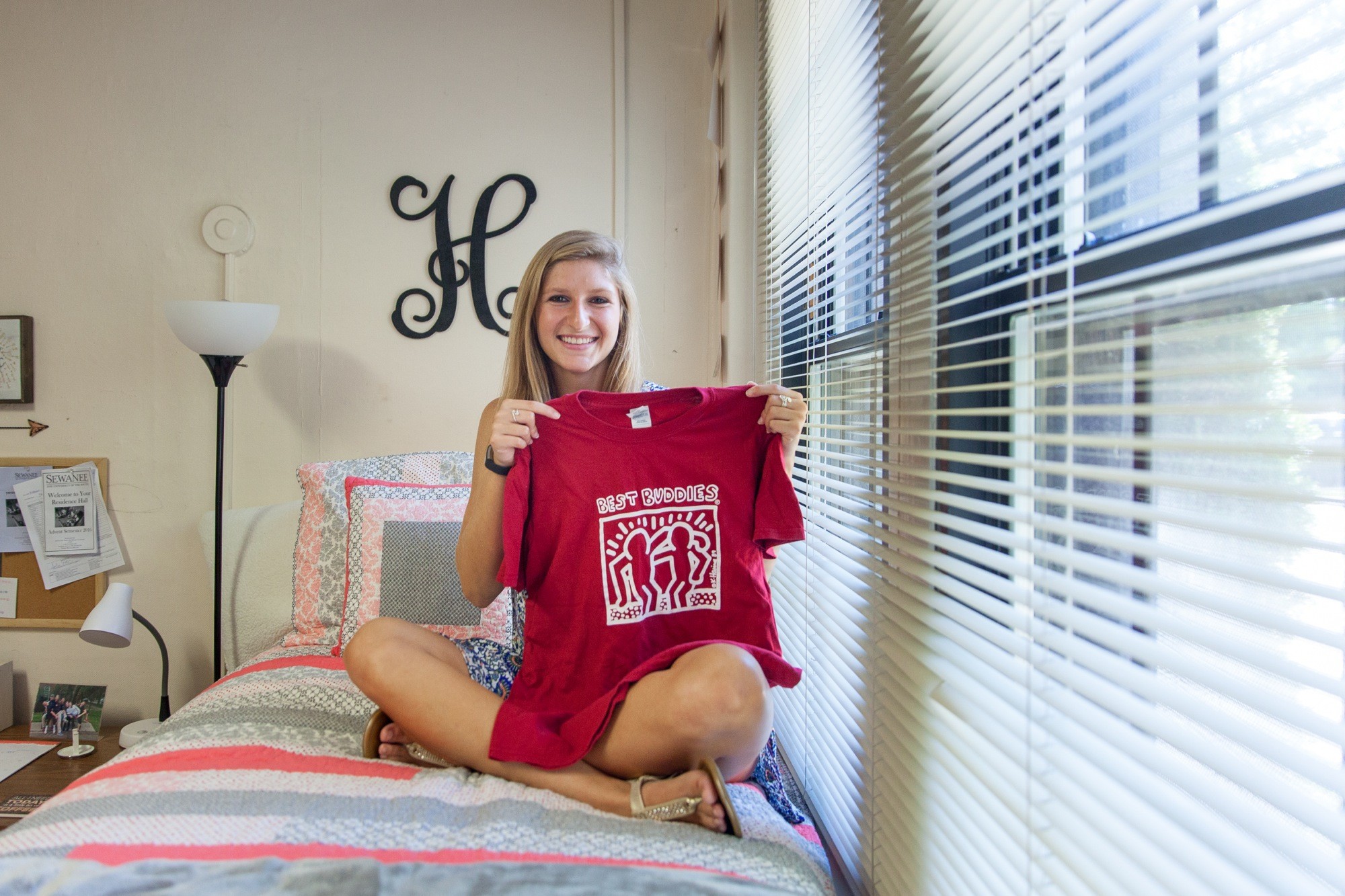 Haylee Ferguson, Murfreesboro, Tennessee
"Best Buddies is an organization that promotes social equality for people with intellectual and developmental disabilities, and it's one of the most important things in my life. Best Buddies works with high schools and colleges so students can have more interactions with people with disabilities. I started a Best Buddies club in my high school, and I saw people grow in their love for others and I wanted to bring that to Sewanee. I brought this shirt to publicize the club and eventually try to start it here."
---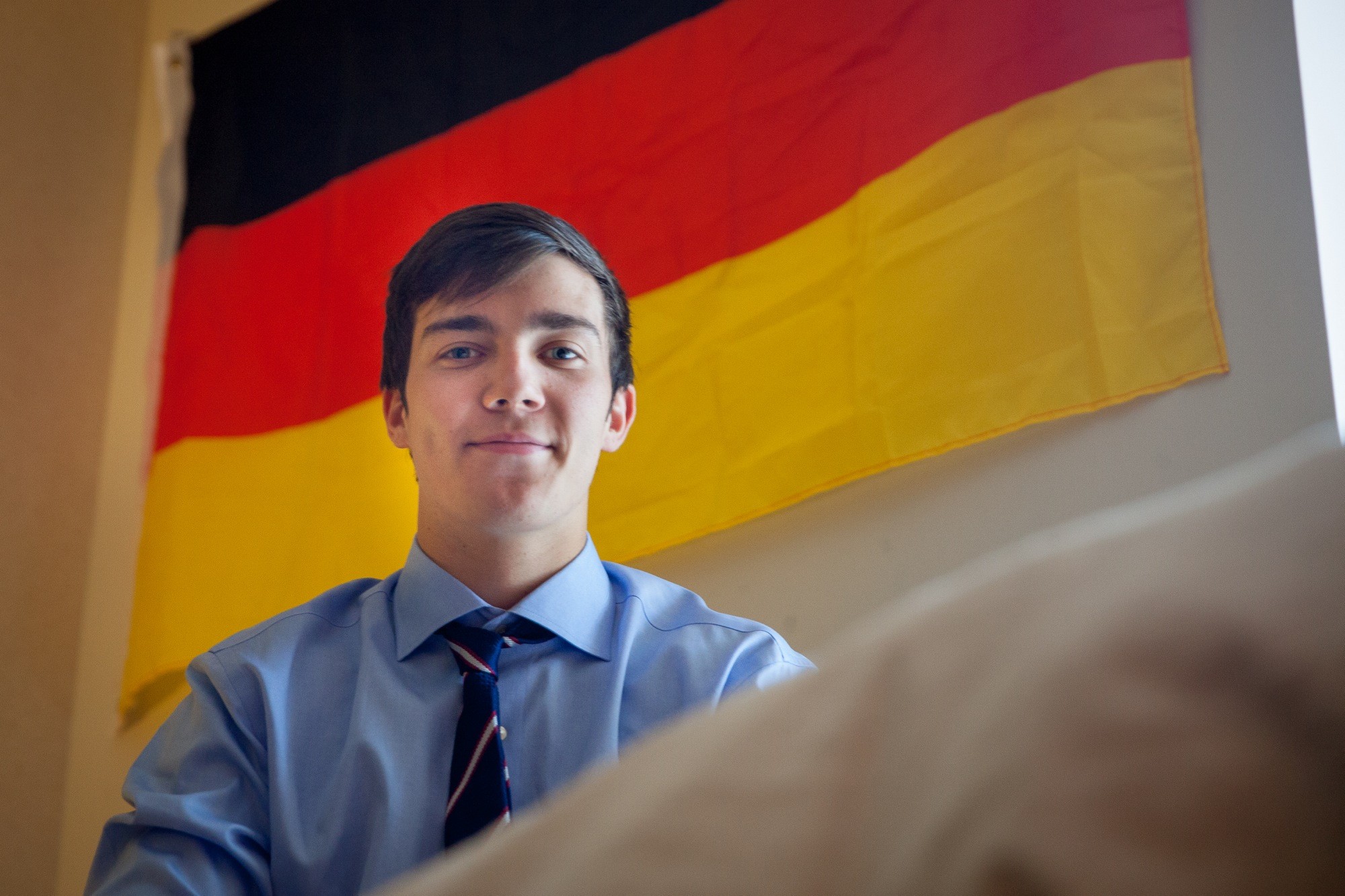 Gillan Junglas, Bonn, Germany
"I bought this flag during the 2014 FIFA World Cup tournament, which Germany went on to win. It was the only time Germany has won the cup as a unified country, and it was a great time to be a German. Every time I look at it, it kind of takes me back home. I'm far away, and I feel that sometimes, so it reminds me who I am."
---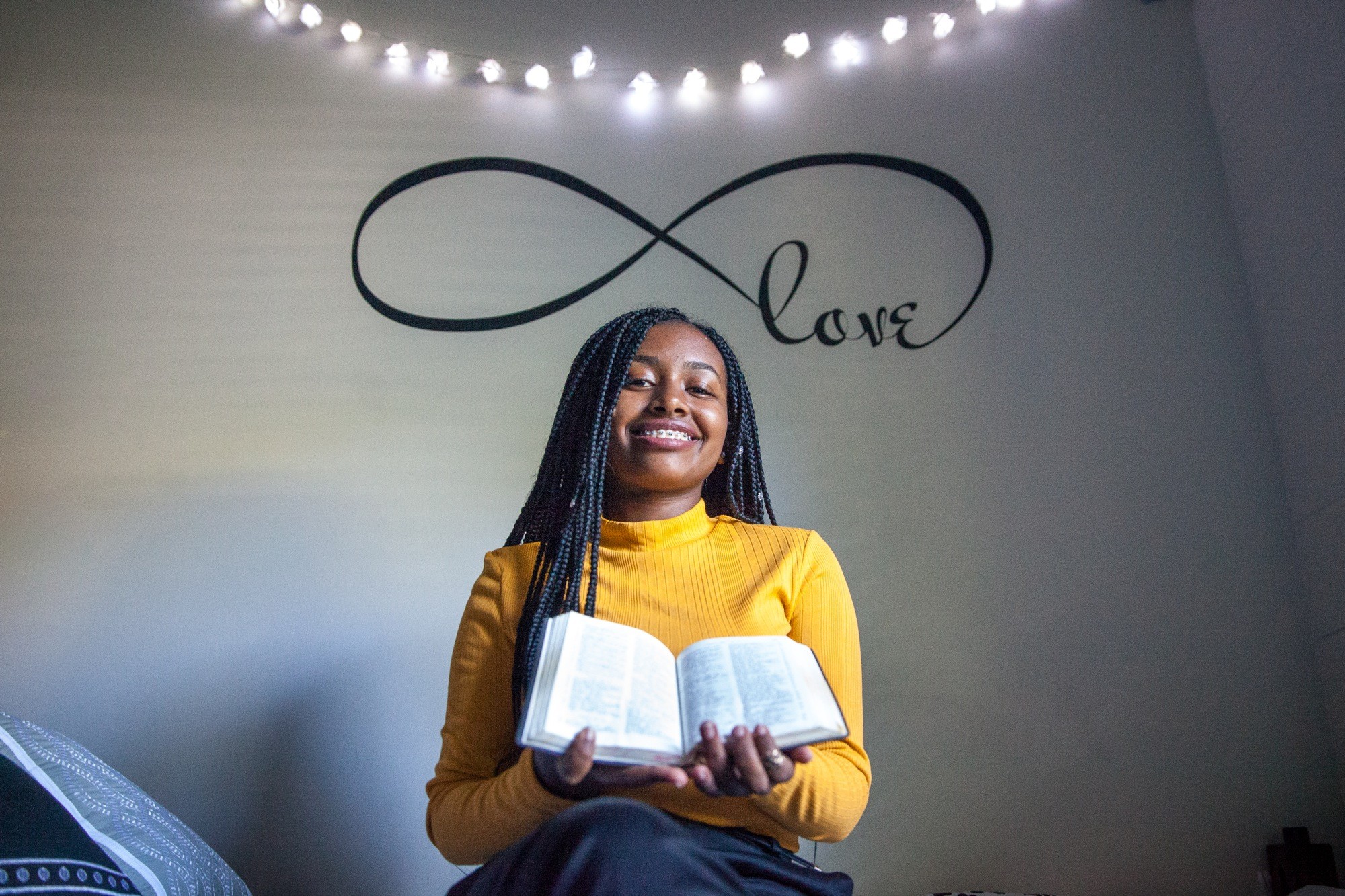 Mesgana Dagnachew, Washington, D.C.
"My family moved from Ethiopia to the U.S. when I was 13. Before we left, the pastor at my church in Addis Ababa gave me this Amharic Bible. Amharic is the language of Ethiopia, and it's a language that speaks to me. The Bible reminds me of everything that I love about Ethiopia—the language, the culture, the food, my church, my family, and my friends."
---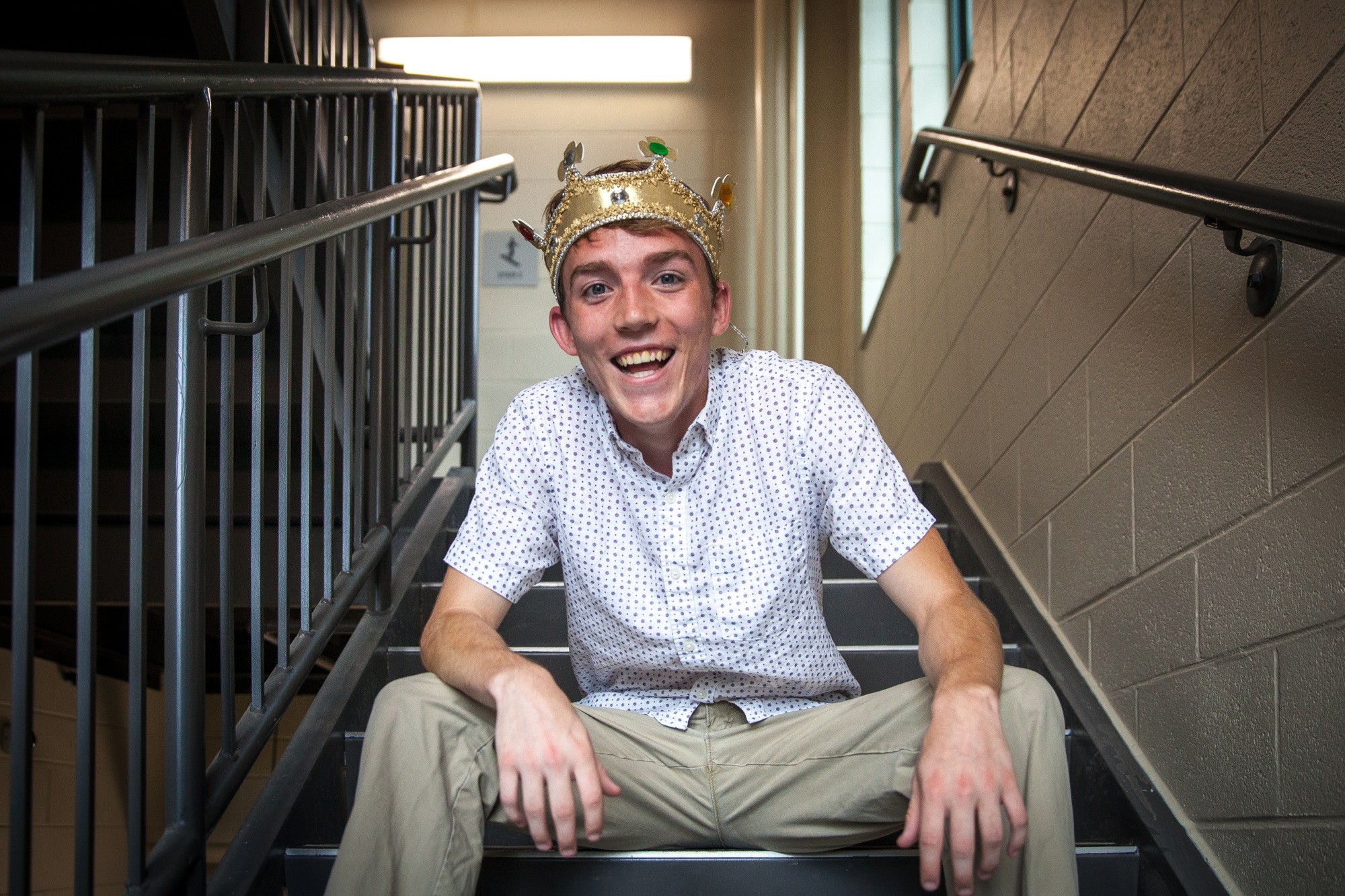 Caleb Thorn, Flat Rock, North Carolina
"For most of high school, I was really quiet. A few of my friends thought it would be funny if I entered a mock male beauty pageant at school and encouraged me to sign up. During the contest, I wore a friend's old prom dress, an old dance costume, a bikini top and high heels. I never really thought I had a chance to win, but I performed Beyoncé's 'Love on Top' and took the crown. It was a highlight of my senior year and now when I see the crown, I think of the friends who convinced me to leave my comfort zone."
---