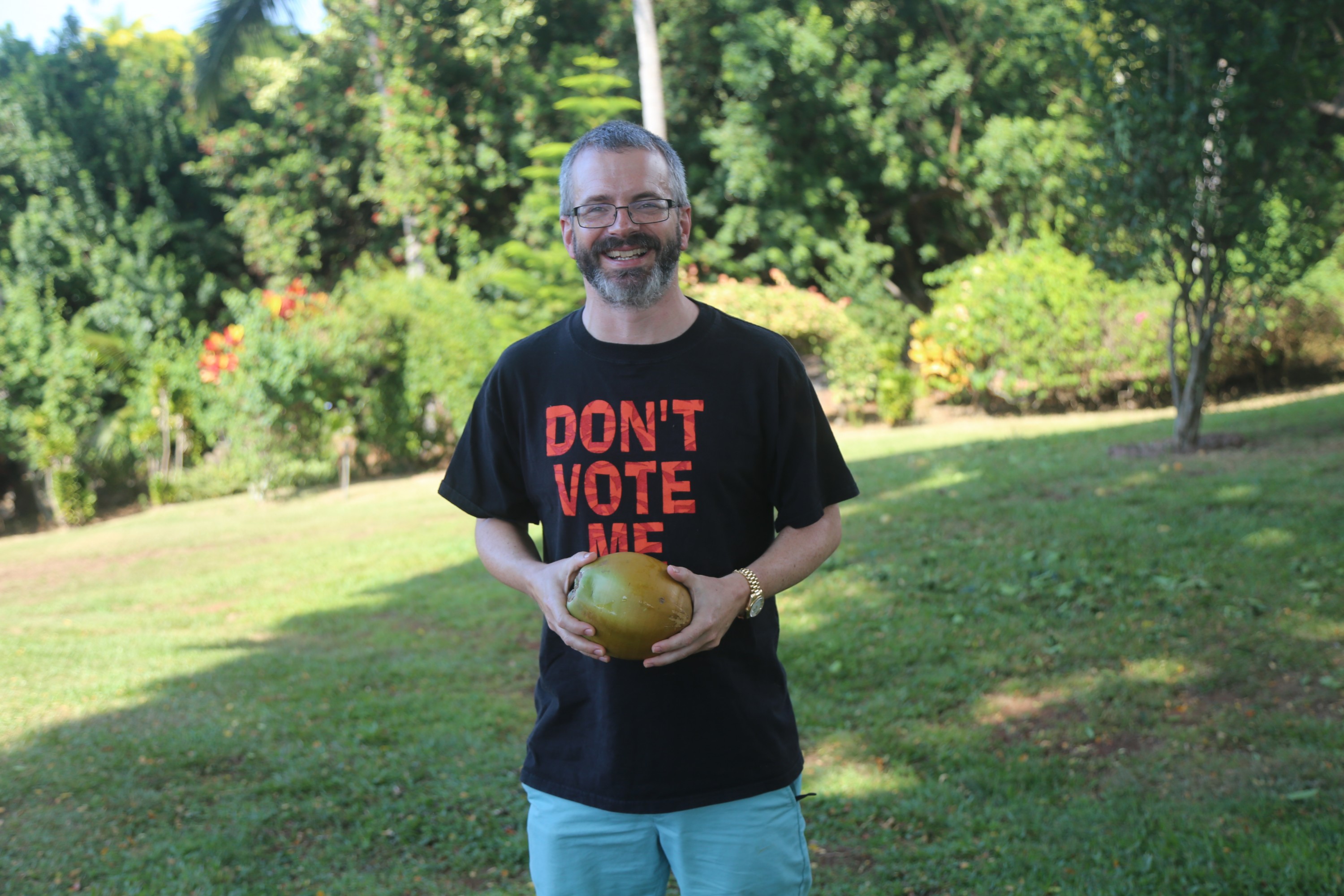 Notes from the Wild Frontier of Mobile Gaming
Video game designer Brian Reynolds, C'90, makes a career out of interesting decisions.
BY TOM SANDERS
---
A ccording to his email signature line, a message from Brian Reynolds, C'90, comes "from the wild frontier of mobile games :-)." In the analog world, that wild frontier is suburban Baltimore—the town of Lutherville. In the digital world, the frontier is all mobile, and Reynolds' outpost is Big Huge Games, developer of DomiNations, a strategy game where players begin in the stone age, building stick huts and hunting deer, and then progress to a civilization that projects global power and wages war.
Reynolds' message from the wild frontier? "The best games haven't been made yet." And he should know: Reynolds built his first game as a teenager, a student at Randolph School in Huntsville, Ala., where he and some classmates (including Jimmy Wales, founder of Wikipedia, and William Kennedy, vice president for Office at Microsoft) became fascinated with the relatively new phenomenon of computers in the home and classroom. It was the dawn of the age of personal computers, and knowledge of programming for the hobbyist was disseminated through print. Reynolds made his first $100 creating a game for the TRS-80, the most widely selling personal computer in the late 1970s and early 1980s, and sending the code to Softside magazine, which published the code for other enthusiasts to program their own computers.
When time came to attend college, Reynolds was set to go into computer programming, maybe working for a blue-chip company like IBM, but he hit a roadblock at the University of Alabama at Huntsville, where he was studying computer science. "It was just boring," Reynolds says. "Like many colleges, UAH required you to take prerequisites for more advanced courses, so I had to take courses on subjects I had mastered years before. In fact, I was being paid to be a tutor in courses that I was not eligible to take because I didn't have the pre-req."
That's when Reynolds made the decision to do something completely different: pursue a humanities degree at Sewanee. On the Mountain, he was caught up in the study of history and philosophy and graduated summa cum laude in 1990, earning Phi Beta Kappa honors. For his senior thesis, he defended solipsism as an organizing philosophy. A year later, he was at the University of California, Berkeley, preparing to be a philosophy professor.
But he couldn't help hearing the call of the wild frontier. "I pretty much hated Berkeley," he says. "My professors did not pay the kind of attention to me or have the interest that Jim Peterman and Jim Peters had back in Sewanee. Berkeley was also politically unfamiliar. Sewanee has a nice balance, leaning left but plenty of people on the right. And it was expensive. To cut costs, I lived in Oakland and commuted. And on top of that, I was surrounded by so many nice things I couldn't afford. I remember walking down the street and passing by these restaurants and smelling amazing foods that were too expensive for me.
"It just struck me that I was not going to be teaching philosophy at some college and I had better figure out what I was going to do."
The answer this time was to return to games, at first as a diversion and then with a growing realization that gaming could be a livelihood and not just a pastime. "About that time, I finished playing a computer game, and at the very end, the game displayed the credits," he says. "People's names were flashing by, and it hit me what I must have always known: People get paid to do this. Why couldn't I be one of those people?"
Reynolds put together a sample game, writing the music, developing characters and art, and sent it out to several game developers, including MicroProse in suburban Baltimore, far away from Berkeley. A few days later, he had a call from MicroProse, flew back east, and the future was cast.
My mentor always defined a game, or at least a good game, as 'a series of interesting decisions.' ... Of course the reason games are fun and stimulating is that our brains evolved to help us make better decisions: At a certain level, we just like to make decisions.
At MicroProse, he worked on Civilization II on the Windows 95 platform, which, he says, "made my name in the industry." Then he and colleagues left MicroProse to form Firaxis, where he had his second multimillion-selling hit, Sid Meier's Alpha Centauri. Then he formed a new company, Big Huge Games, and produced Rise of Nations before leaving the company he founded and becoming chief game designer for Zynga, whose games were distributed through Facebook. In 2013, he left Zynga and started to develop a new game company. That's when he was able to reacquire Big Huge Games. New owners had not done well with the company, and he was able to purchase it from a bankruptcy trustee at pennies on the dollar. In April 2015, Big Huge Games released DomiNations, and Reynolds' team is hard at work, developing game content to stay a few steps ahead of the users.
"DomiNations is like the history of the world—or a world that is inspired by the history of our civilization," Reynolds says. "As people move forward in history, we have to add new content, enrich the world of the game. It's just like any media content. The users are hungry for the content, and we have to continually supply it, which means writing and designing and programming and testing."
The connection between a history-inspired game and a Sewanee history major might seem natural, and Reynolds says that there is some link. "If you are developing content on the wonders of the world, you need to know what some real-world wonders are," he says. But the liberal arts has been more important to Reynolds as a human being than a game developer. "The liberal arts degree hasn't necessarily made me a more successful person, but it has definitely made me a happier person," he says.
Looking at Reynolds' history, it is hard to escape the idea that the skills a person might use to master a game like DomiNations could have helped Reynolds as he negotiated the gaming frontier. Is life a game?
"That may be true," he says. "My mentor, Sid Meier, always defined a game, or at least a good game, as 'a series of interesting decisions'—so to make a game more fun we would try to put more decisions and make them more interesting. Obviously there's a strong metaphor for life there—life certainly presents a series of decisions, tactical tradeoffs, and so forth. And of course the reason games are fun and stimulating is that our brains evolved to help us make better decisions: At a certain level, we just like to make decisions."
Reynolds' own decisions have led to financial rewards, but his real motivation has been keeping things interesting. "I gradually became more educated about how to get paid for my work. But many of my career moves related to opportunities to make new kinds of games. At Big Huge Games 1.0, I got to make real-time strategy games as opposed to the turn-based stuff I'd been doing before. Similarly, going to Zynga meant a chance to do mass-market games on Facebook, at a time when Facebook was very new to the mainstream."
Today, Reynolds leads a team of 40 artists, engineers, programmers, and producers who are maintaining DomiNations and thinking about the next frontier. Who knows what that frontier will look like? For his part, Reynolds is confident that the best games, and the most interesting decisions, are yet to be made.
Reynolds is always happy to hear from Sewanee friends at brian@brianreynolds.com.