Sam Kern, C'19, interned at Springbot, an e-commerce company in Atlanta.
The Useful Summer
Meet a handful of the more than 250 students who spent the sunny season gaining valuable experience in Sewanee-supported internships.
BY MEREDITH GARRETT
---
Every summer, hundreds of Sewanee students pack up their dorm rooms and head out to points all over the globe to take internships and research positions at private companies, nonprofit organizations, universities, and government agencies. And every summer, Sewanee provides hundreds of thousands of dollars to make these experiences—many of them unpaid otherwise—possible.
In the summer of 2018, 257 students were awarded over $592,000 so they could spend the summer learning, contributing, and making a real difference in their respective organizations and communities.
As we await the arrival of the next incoming class of students, the University has announced some exciting news. As part of the Sewanee Pledge, and thanks to the generosity of the Sewanee family, every student in the Class of 2022 (and those that follow) will be guaranteed the opportunity to take part in at least one Sewanee-funded internship during their college career. It's an unparalleled offer, and one that will help guarantee our students will leave the Mountain with a better understanding of themselves and the gifts they have to offer the world.
Here are just a few of the Sewanee students who enjoyed an opportunity this summer to test-drive their skills in a real-world setting and to earn the kind of valuable experience that's coveted by future employers: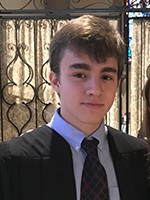 Diego Rojas, C'19

Diego Rojas, C'19, spent his summer working with Episcopal Relief and Development (ERD) in New York. As part of the marketing and communications team, Rojas was in charge of updating the organization's website. He talked with representatives of programs around the world and turned statistics into compelling and informative stories for the website.
"Episcopal Relief and Development has programs all over the world," Rojas says. "There are diverse teams and offices everywhere, so I get to collaborate with people all over the world. We discuss how each region is being affected by climate change or agricultural issues, and I translate those conversations into a format that's easier to digest on the website."
During summer 2017, Rojas interned at a for-profit company. He made the shift to nonprofit this summer because he wanted to see the contrasts between the two models.
"I wanted to see what I would prefer," Rojas says. "Nonprofits focus on the social impact whereas the other side focuses on furthering a product. They're both worthy causes, and I've been glad to experience the spectrum of opportunities available."
In addition to working on ERD's website, Rojas has dabbled in other areas of operations. Writing press releases and working with fundraising and other financial functions have helped him see how a complex organization works. His international and global studies major has also helped him manage and understand a range of responsibilities.
"My major has exposed me to a lot," Rojas says. "This internship has allowed me to hone what I really like in that field—writing and digital marketing. Not to mention, the global perspective of my major has also helped me learn more about sustainability in this new context of relief."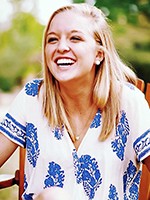 Abigail Straessle, C'20

When Abigail Straessle, C'20, took the Politics of Poverty & Inequality course during her freshman year, her mind was made up.

"I knew then that I wanted to work with marginalized groups," Straessle says. "And I feel like the only way to make real change is through the political system."
Straessle is a politics major at Sewanee, and her internship this summer was a reflection of her studies and passions. As a fellow for the Syrian Emergency Task Force in Little Rock, Arkansas, Straessle lobbied for Syria-focused legislation to be passed in Congress.
In addition to monitoring social media for the task force, Straessle coordinated a community-wide fundraising event for Wisdom House Kindergarten, a school operated by Arkansans to serve refugee children who have lost parents in the war in Syria. Straessle's event raised money to collect English-as-a-second-language books for the students of Wisdom House.
"I'm from Little Rock," Straessle says, "so it was hard going back home when internships are usually off somewhere new. But when a Sewanee graduate in Arkansas told me about this network, I knew I couldn't pass it up. It has been an amazing opportunity."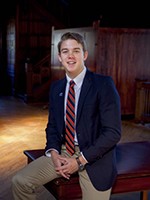 Sam Kern, C'19

Sam Kern spent part of the summer as an intern at Springbot in Atlanta, Georgia, after spending the entire spring semester there. The company liked him so much, they couldn't let him go.

Springbot is a data-driven e-commerce company that helps small businesses market their products online by helping them decide how best to invest their marketing budgets. Kern's internship was a component of the Carey Fellows program, the honors track for business minors at Sewanee, but he did more than just check an item off a list of requirements.
"Because it was a smaller company, I got to perform a lot of different roles," Kern says. "I wanted to become acquainted with all the departments, and this internship allowed me to do that. It was the perfect fit."
Kern joined the Springbot team eager to learn, but he didn't approach the internship with an apprentice mindset. He came with curiosity, but he also came to add value. By working in product vision, strategy, account management, and more, he was able to really contribute to the company's goals.
"I wanted a smaller environment where I'd be depended on to make an impact," Kern says. "I wanted to contribute to a team and fulfill projects, not just learn."
At Springbot, Kern proved that he could generate real results for the company. He was able to gather data, analyze it, make connections, find trends, and relay the information in useable ways.
"Being behind a desk and just analyzing data would be a nightmare for me because I love making connections with people," Kern says. "But if I can collect that data and present my findings in an accessible way, that's the most fulfilling thing to me."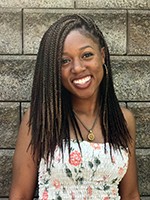 Haven Watson, C'20

Haven Watson came to Sewanee with a plan. Even during the college application process, she had her eye on a specific internship in which Sewanee partners with the Yale Child Study Center. Watson is a neuroscience and psychology double major with a keen interest in the human brain. The Sewanee-Yale partnership was a real draw, and in the summer following her sophomore year, Watson was able to fulfill that dream as an intern at Yale.
"I've always been fascinated with how humans interact," Watson says. "And now I've been able to learn about what makes it all happen—the human brain."
Watson was assigned to Haskins Laboratories, a branch of the study center that works with children who have cognitive disorders related to reading. The lab studies neurochemicals and the role they play in these disabilities. Watson assisted in behavioral assessments and auditory processing tests, scored results, and even learned to read brain scans.
"Ultimately, I'm interested in neurology and medical school," Watson says. "One of my mentors set me up with a colleague of her who's a neurologist. I got to meet with him to talk about that profession."
The Yale Child Study Center is doing more than offering summer-long internships. The program is helping students like Watson explore a variety of career avenues. During a typical week, in addition to her clinical responsibilities, she met with mentors within the department and attended a journal club with peers to discuss scholarly articles. At the end of the summer, interns presented a poster session, summarizing their work in front of peers and mentors, a project Watson says required professional-caliber work.
"We were doing a lot of different things," Watson says. "And mixing odd disciplines was actually helpful because it's all connected. Using different lenses helps me understand concepts in a broader way."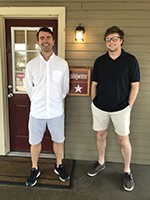 Reece Jamison, C'19

Reece Jamison, C'19, had an internship this summer that combined the two things he's most passionate about: music and journalism. Jamison is the opinion editor for the Sewanee Purple. He also plays the guitar and drums and is a member of a student band in Sewanee. An internship with American Songwriter magazine in Nashville was a perfect fit for his interests. The bimonthly publication features album reviews and articles about singer-songwriters and local music happenings.
"The magazine really gets to the heart of songwriting," Jamison says.
Jamison did some day-to-day editing, but he was also able to conduct interviews and get published on the magazine's website. Jamison also got a media pass for the Bonnaroo Music Festival and got a chance to cover various stages and write stories about the event.
"This internship has really made me think about my major and its potential," Jamison says. "I'd tell any other student looking for internships not to be afraid to put yourself out there. Try lots of things. At Sewanee, we ground ourselves not just in one field but in an eclectic range of knowledge."
Jamison wrapped up his internship by working at the National Association of Music Merchants Show in Nashville, where he and his supervisors showed off American Songwriter. The NAMM show is the world's largest trade-only event for the music industry.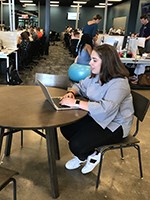 Brianna Young, C'19

When Brianna Young, C'19, attended Beyond the Gates, an annual program presented by Sewanee Career Readiness that helps prepare students for life after Sewanee, she was introduced to JumpCrew. This relatively new business in Nashville helps its clients manage content, generate leads, and learn valuable social media strategies.

Being among the first interns the company has invited to come aboard, Young was excited to join the content team and learn social media management in a professional setting. Young already helps manage social media for residential life at Sewanee, and she knows the importance of an online presence.
"We live in a digital age," Young says. "Sometimes people neglect their social media pages or run out of content ideas."
There is value in a creative online presence, and Young is certain that majoring in art at Sewanee has helped map her career trajectory. She feels she can bring an artistic touch to a digital craft.
"Without a doubt, Beyond the Gates prepared me for this," Young says. "It not only connected me with the internship in the first place, it also taught me skills that I could take with me."