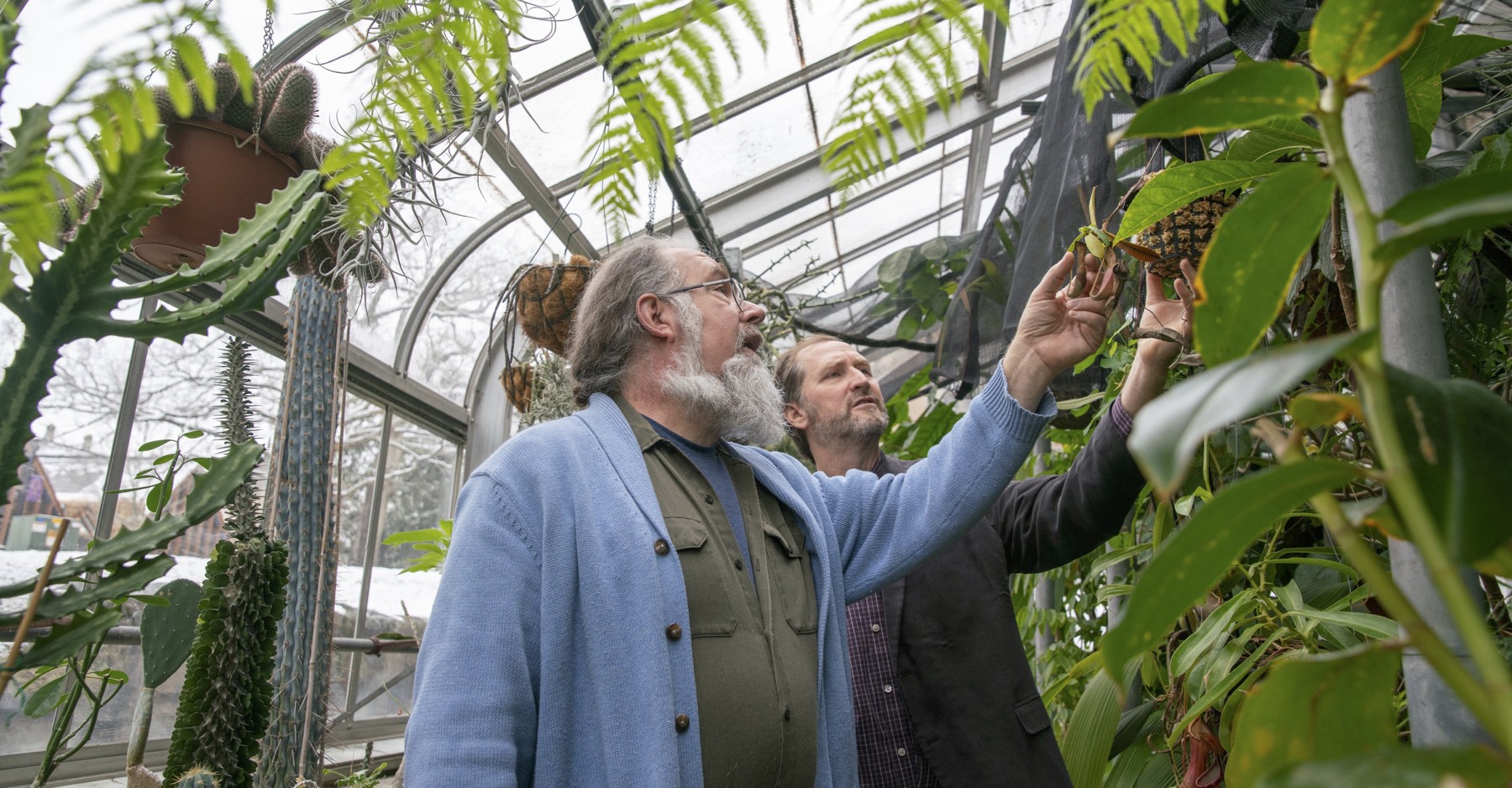 Jonathan Ertelt, C'78, (left) and Herbarium Director Jon Evans check out plant specimens in the collection that came to Sewanee from Vanderbilt. Photo (taken before the COVID-19 outbreak) by Isabel Butler, C'20
The Jungle Inside
An alumnus shepherds the unexpected gift of a major plant collection that promises unparalleled learning opportunities for Sewanee botany students.
By Kate Parrish, L'19
---
[Editor's note: This article was originally published before Sewanee's corpse flower bloomed in July 2020. Read all about it here.]
Rarer than a blue moon, the blooming of a corpse flower (Amorphophallus titanum) is the type of event that draws a crowd. It's the sort of thing that Jon Evans, biology professor and director of the Sewanee Herbarium, jokes is worthy of a write-up in the local newspaper. The corpse flower spends up to a decade gathering the energy to bloom, and when it does, it's a sight—and a smell—to behold.
Now, thanks to a donation from the recently shuttered Vanderbilt University greenhouse, one corpse flower, whose next date of bloom is unknown, has found new life at Sewanee. The native of the Sumatran rainforest has joined around 250 other plant species from around the world, all previously part of Vanderbilt's living collection, in Sewanee's greenhouse where they can be used to further the University's botany curriculum. And it was a Sewanee alumnus, Jonathan Ertelt, C'78, who made it happen.
---
A week before Thanksgiving 2019, Ertelt was informed that Vanderbilt's greenhouse would be closing in 60 days. And with its close, his job as longtime greenhouse manager would be ending too.
"It was very surprising, very shocking," says Ertelt, who'd been with the greenhouse since the start of his M.Ed. program at Vanderbilt's Peabody College in 1995. "I had tried to make it a sanctuary. It was more than just a collection of plants. It was a very special place and then it was just all of a sudden gone."
The greenhouse, housed on the roof of one of the university's science buildings, was closed as part of a larger renovation of the building set to begin later this year.
"This experience has produced a lot of silver linings for me," he adds.
One of those silver linings was that he would get to be the sole driver in determining where the collection would go. But with only 60 days to rehouse more than 1,200 species and hybrids, Ertelt knew he didn't have a moment to lose.
Earlier in the year, he'd visited Sewanee and noticed that the greenhouse attached to Woods Labs that had been largely empty when he was a student in the 1970s was still largely empty. He contacted the curator of the Sewanee Herbarium, Mary Priestley, to put out some feelers. Priestley immediately got in touch with Evans.
"Right away I could see that [the collection] would be an amazing addition to our teaching program," says Evans, who teaches tropical ecology.
The greenhouse, which Evans had tried in recent years to use for experimentation, sits in the shadow of a large oak tree.
"It's not great for experiments that require consistent light conditions, but it's kind of perfect for a greenhouse collection," he says. "When we were given the opportunity to acquire a collection, it made sense."
But even though it made sense for Vanderbilt and would make sense for Sewanee, Ertelt needed to know that the collection he'd spent more than two decades cultivating and caring for was going to the right home.
Ertelt joined Priestley, Evans, and George Ramseur, director emeritus of the Sewanee Herbarium and one of Ertelt's early teachers, in Sewanee to decide if it was a good fit.
Upon meeting Evans, Ertelt knew it was a match. When he described to Evans one particular specimen in Vanderbilt's collection—a strangler fig with a bromeliad growing at the top and several other species climbing up the plant and surrounding the base—he called it a "tropical ecology lecture in a pot."
Not only did Evans understand what Ertelt meant, but he was genuinely enthusiastic about the possibility of the fig and its companions coming to Sewanee and playing a role in his future curriculum.
"This was a kindred spirit," says Ertelt.
With Ertelt assured that the collection would be in good hands in Sewanee, the clock was ticking. Evans needed to get the underutilized greenhouse in shape quickly while Ertelt, back in Nashville, worked on divvying up the collection.
In choosing which plants would go to Sewanee, Ertelt considered the overall importance of each plant and its ability to be a valuable teaching tool, along with its viability and long-term chance at growth. He estimates Sewanee received one-quarter to one-third of Vanderbilt's entire collection. Other parts of the collection were sent to the Atlanta Botanical Garden, the Nashville Zoo, Austin Peay State University, and other institutions.
To prepare for the plants' arrival, Evans had an alarm system installed with internet-based temperature and humidity sensors to ensure the greenhouse could provide the heating and cooling the plants would need to survive.
Over a two-day period, including Christmas Eve, Ertelt helped Evans load a U-Haul to bring 250 plants indigenous to Madagascar, Ecuador, Africa, Australia, New Zealand, and other exotic locales home to the Cumberland Plateau.
With 13,000 acres of diverse flora, Sewanee's Domain is a one-of-a-kind location to study botany. Over the last 20 years, Evans, along with colleagues and former students, has inventoried all 13,000 acres, identifying 1,120 different species of plants. That makes Sewanee the most plant-diverse campus in the world and more species-diverse than the entire country of Finland.
"That's amazing botanical diversity to have at your fingertips to use for teaching and for getting students excited about botany," says Evans.
In fact, it's that diversity that accounts for some of why Evans hadn't focused on plant collections sooner. A backyard like Sewanee's is hard to beat. But even Evans is quick to admit that the dead of winter can make for a tough botanical adventure.
"Having a greenhouse full of tropical species that represent families we don't have around here really rounds out our ability to showcase botanical diversity to students," he says.
And there's something else that makes Sewanee's botany program so special. Following the tragic death in 2016 of one of Evans' former students, Ashley Block, C'13, Block's family set up an endowment in her honor. Each year, four undergraduate students who are passionate about plants are named Block Fellows and awarded a scholarship through the Herbarium.
"[The fellowship] is probably the reason our program is so unique," says Evans. "I don't know of any other undergraduate liberal arts program that has this set of opportunities for botany—being able to work with a living plant collection, a press plant collection, and do plant research while having access to a Domain that is so incredibly diverse."
It was also the fellowship that helped Evans make the decision to move forward with the huge undertaking of setting up the greenhouse to house the Vanderbilt donation. Helping Evans manage the collection, including tracking the plants' care, is now one of the primary responsibilities of the Block Fellows.
"They'll get this experience and then they can go work at any botanical garden in the country," he says.
Evans also plans to incorporate the greenhouse and its collection into introductory biology classes. Students will be able to examine insectivorous plants like pitcher plants, plants with unique pollination syndromes like the Dutchman's pipe, or some of Evans' personal favorites like the orchids and succulents.
And of course, there's the corpse flower. Though it's dormant now, when it blooms it could be upwards of eight feet tall. Ertelt might just be there to see it in person, too. He and his wife plan to retire to Sewanee in the next couple of years. When they do, it'll be a reunion of sorts—Ertelt and the plants he's known for a quarter-century.