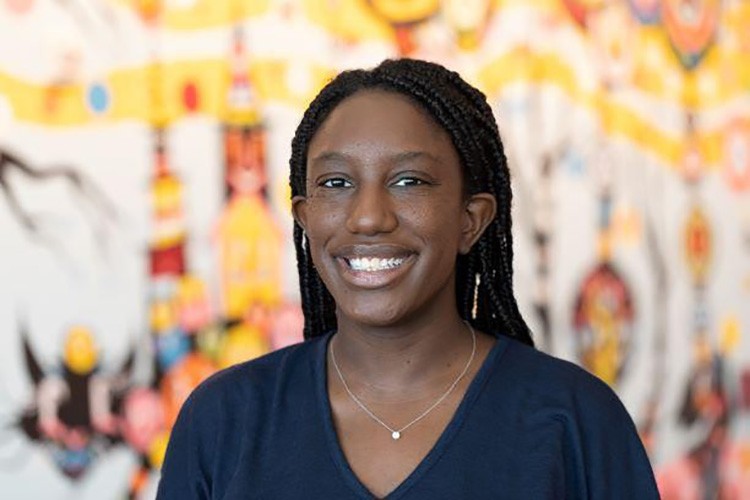 Beauty Queen
As we continue marking 55 Years of Black Alumni at Sewanee, we celebrate a young entrepreneur who's helping change the way the world shops for skin-care products.
By Mandy Moe Pwint Tu, C'21
---
May 1, 2020, was a monumental day for Tariro Kandemiri, C'18. After years of struggling to find products to address her own hyperpigmentation—a harmless condition that causes dark spots on skin—Kandemiri was about to solve the problem. She'd used her own funds, she'd worked with a developer to build a website, even coding parts of it herself, and now it was ready.
Her business, Hama Beauty, launched in the middle of a global pandemic. A web platform that uses data science to recommend beauty and skin-care products to consumers based on their age, skin type, skin tone, and skin-care needs, Hama Beauty addresses a gap in the market that allows consumers to buy products that they like and that work for them without having to navigate the entire array of skin-care products available on the market.
During the COVID-19 pandemic, as online shopping became more popular than ever, Kandemiri's startup provided a necessary service.
"It's just amazing to see my dream realized," she says. "I'm learning that it's not always easy, but you do what you need to do, and you get it done."
Soon, she started seeing the numbers. In the first couple of months of operation, Kandemiri's platform racked up thousands of views. Her skincare quiz was taken 13,500 times by some 11,000 unique users. Hama Beauty was featured in InStyle and Women's Wear Daily, and touted as a "revolutionary way" to find skin-care products. Interested brands are reaching out to her, hoping to be featured on her site. She currently oversees an intern.
Having graduated from Sewanee just two years ago, Kandemiri has come a long way in a short time. In addition to running Hama Beauty, she continues working full-time at her day job as a senior analyst at Accenture, a Fortune Global 500 company, in Atlanta. Operating within the company's data management practice, she works with clients to manage product data for consumer goods. Kandemiri sees her work as existing at the intersection of her computer science major and her business minor.
"I'm on top of my stuff because I have to be, and the standard that I'm setting for myself is one that I want to keep up because I know it will pay off," she says.
Kandemiri has always been driven and goal-oriented. In her sophomore year of high school, she started @OfficialLaxGirl, using social media to share her love of lacrosse. Now with 18,700 followers on Twitter and 14,400 followers on Instagram, Kandemiri uses her platform to inspire young athletes, especially young female athletes, across the globe to continue pursuing their dreams within the sport and in their lives. She covers a lot of ground, from conversations about women in technology to travel opportunities to exploring different ways to grow as an athlete and a person.
She brought all this and more to Sewanee. Having been awarded a full tuition scholarship from the Posse Foundation, she arrived at Sewanee in the fall of 2014. As part of Sewanee's eighth Posse cohort, she had been nominated by her high school, had undergone the three-stage interview process, and was chosen from among thousands of students in the D.C./Maryland/Virginia area. Far from home, she was determined to make the most of her time at Sewanee.
It wasn't always easy. As a Black woman at a predominantly white institution, Kandemiri found that Sewanee at times could be "really isolating." She was the only Black player on the women's lacrosse team and found that she sometimes had trouble connecting with her teammates.
"Everyone was nice," she says. "But they always had shared experiences—being in sororities or the same private schools or at the same vacation spots—so I didn't connect with them on those levels to further those friendships."
Lacrosse, she explains, is in itself "a traditionally white sport," and playing on the team at a Southern, majority-white institution made her "an anomaly." This feeling of alienation was not confined to lacrosse, however: She recalls avoiding places on campus where she didn't feel comfortable going if she knew no one there. Coupled with the isolation of being on a mountain in the middle of Tennessee, Kandemiri soon realized the importance of "finding the places that [she] felt comfortable and welcome."
At multicultural events around campus, she befriended people who did not have the exact same experiences as she did, but who were eager to learn about one another and "be happy together."
Now the founder of a successful startup business, she hopes to continue innovating to make Hama Beauty "the best that it can be." It was at Sewanee that she learned how to organize, to multitask, to work with people, and how to be a good boss. While Kandemiri isn't certain of her exact next steps, she knows that Hama has potential, and she is committed to building on and reaching that potential as best as she can.
"Being tenacious—I learned that at Sewanee," she says. "And celebrating and sharing success with family and friends, I feel like that's something that's really big at Sewanee. It always felt like when something good happens, we always celebrate it."