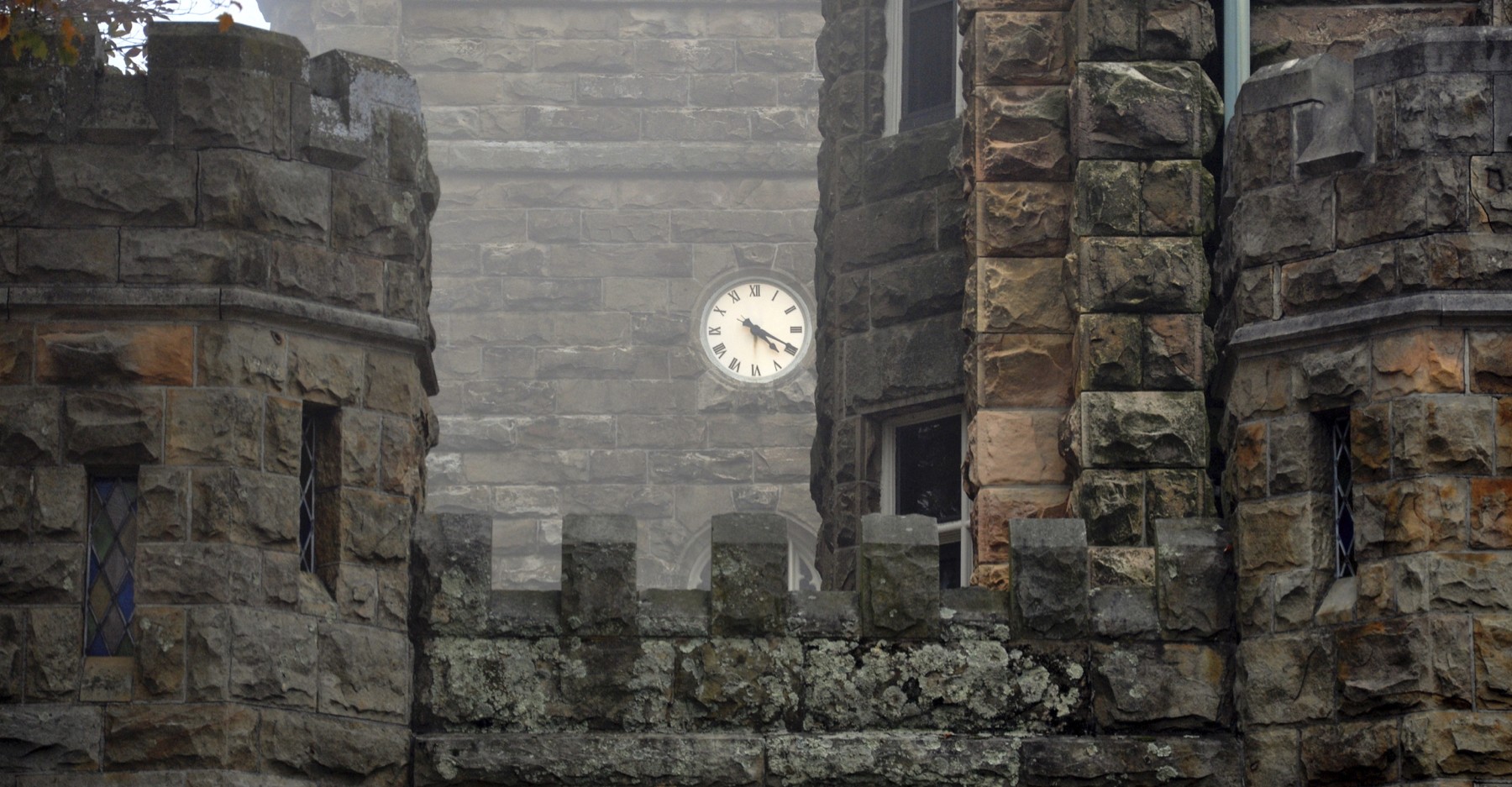 Photo by Ann Walker Phillips, C'87
Asynchronous in Sewanee
Classics Professor Chris McDonough grapples with the unexpected realities of remote teaching—and tries to remember what day it is.
By Chris McDonough
---
In the last week of March, although I can't really recall when, a friend posted a question on Facebook: "No peeking: What day of the week is it?" I had to laugh because I wasn't really sure. Monday? Thursday? My wife and sons and I are working at home remotely now, and the days and hours have started to run together. We are all staring into screens all the time now, with only a vague sense that we're getting anything done. Only the dogs have a firm grasp on what time it is, and they whimper to remind me to take them on a walk as the sun begins to decline. Besides that, though, they think this whole pandemic quarantine is simply grand.
It was on Saturday afternoon, March 14, in the middle of spring break, that the University announced we would be going online for the rest of the semester. The decision had been held off as long as it could be, but the accumulation of evidence had simply grown too great to ignore. Nobody wanted this, of course, but everyone had anticipated it. Earlier in the week, Harvard and Princeton had made the call, and hundreds of other schools would follow suit in the days that immediately followed.
In the last class I had with them before the break began, I spoke with my students in Sewanee about how we ought to proceed. What was their thinking on all of this? What were their concerns? What was their advice? I thought a lot about these conversations in the days that were to come. Sitting in our Gailor Hall classroom, the students all seem more or less equal on a day-to-day basis, but I came to realize that their home lives were nothing alike. Some assured me that, though they didn't like doing college work in their childhood bedrooms, they had sturdy desks and reliable internet connections and doors that could be closed.
Others had greater difficulties. "I live in a home with six younger siblings and my parents," a sophomore from rural Texas told me. "We're all going to be working or going to school from home." His family was going to be rationing the Wi-Fi, I realized. Another told me that his parents were getting divorced, so he would be splitting his sheltering in place between two different houses. A few others have needed to get jobs or help out on their family farms.
Thinking about these students and others like them in a variety of challenging conditions, I concluded that real-time "synchronous" teaching with remote video link-up would probably not be feasible for many. Instead, I opted for a more flexible "asynchronous" system, in which I would record lectures on audio as "blogcasts" that would use far less bandwidth. While I think it has been the right decision, I have to admit that not seeing my students on a regular basis has been a lot more difficult than I thought it would be. The recording has not been all that hard, of course. But talking to the blank wall in front of my desk into my phone has been dismal. There's nobody with whom to share the wit of Ovid, the pathos of Sophocles, or the brilliance of Jessye Norman singing Ariadne's lament. I want to break the silence with some humor, but there's nobody to laugh. Not even the dogs appreciate my jokes.
That last class before break, my students had had other questions as well. The seniors wanted to know if commencement would be canceled. "Everyone in higher education knows how important the graduation ceremony is. People have those photos on their mantelpieces and fridges and Facebook accounts for years," I said. "Things would have to be very serious before we would take that away from you."
Those remarks seem like a long time ago now.
Another student of mine joked, "For most of us, I think our real concern is about Sparty." I remember laughing at that. It did my heart good to think that, even as COVID-19 was beginning its inexorable deadly march across the globe, there was still room in her youthful spirit to think about spring party weekend. "Well, I hope that won't get canceled either," I said. "But, just in case, let me recommend that you order a copy of the Decameron."
Some of you will know that every year the Fiji pledges build "Fiji Island," which includes a sort of primitive stockade fence that gets torn down as the wood for an enormous bonfire on spring party weekend. The pledges had already begun building it when the students went away for the spring break from which they would not return. A week or two later, after our coronavirus exile had been declared, I saw a few facilities management workers taking down the fence.
There would be no bonfire on Fiji Island this year.
Except with the dogs, I have not been out all that much since this whole thing began. In addition to the worldwide pandemic, it's also April, the busy season for academics. There's been more than enough work to keep me busy indoors. And in these past few days, I've been checking, double-checking, and triple-checking on my students. Some have not had trouble staying in touch, others have had more obstacles. Occasionally, we've missed a Zoom call—"Oh, I forgot you're in Central Time!"—but I think even the ones who had gone AWOL early on are going to make it over the finish line.
For the past several weeks, it's been a windy and wet blackberry winter on the mountain, but having just finished up my last blogcast, I decided it was time to take a long walk. Putting on my sneakers and facemask, I headed out of the house, up through the deserted village, and on to campus, where the flowers and trees were in bloom. It was a Sunday, and though there were cars parked here and there, hardly a soul was about. Everything was lovely, but it's hard to enjoy it without a bunch of other people around to enjoy it as well.
At a certain point, I wandered over to Convocation Hall during my walk. I sat in Guerry Garth and looked up at the ginkgo there, a species that knows a thing or two about survival. Though it was mostly cloudy, now and again some sunlight would catch in one of the panes of stained glass. At 3 p.m., the Breslin Tower bells began to ring out, and I smiled, glad to hear what time it was.