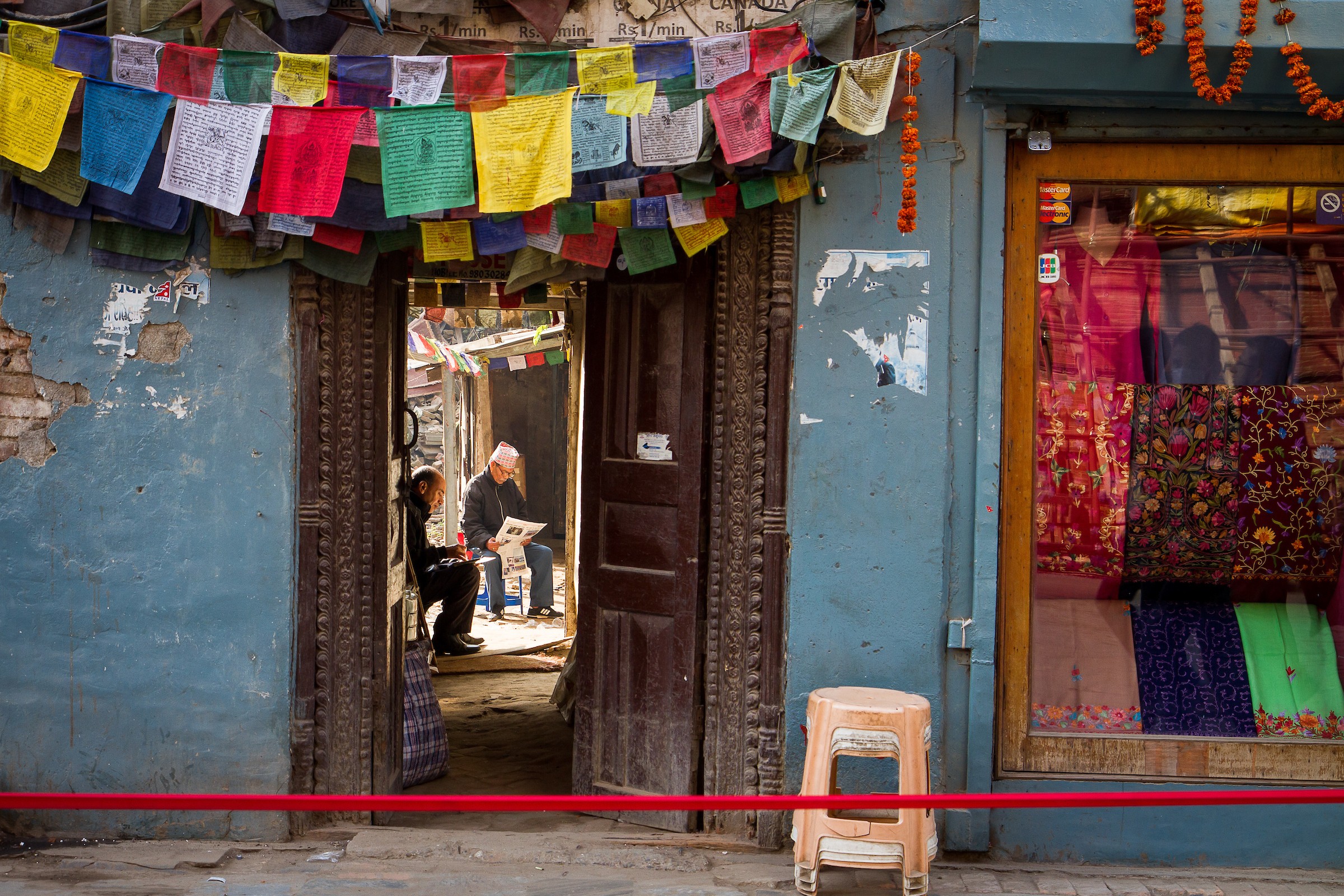 After the Quake
Photographer Preston Merchant, C'90, travels to Kathmandu to chronicle Nepalis' efforts to recover from disaster.
---
P reston Merchant, C'90, has spent years documenting the lives of South Asians, at home and abroad. His latest project took him to Kathmandu, Nepal, just seven months after the April 2015 earthquake that killed nearly 9,000 people and flattened hundreds of thousands of homes and religious structures, many of them World Heritage sites. Though the international community was quick to respond with aid, there has been little reconstruction.
"Nepal is the poorest country in South Asia after Afghanistan, heavily dependent on foreign aid," Merchant says. "But political paralysis and infighting have exacerbated a monumental tragedy."
The early stages of the crisis were well documented by the media, he says. "I wanted to focus on the ways in which Nepalis were helping each other, turning to their rich traditions of Hinduism, Buddhism, and Christianity, trying to find their own way forward."
See a slideshow of Merchant's Kathmandu photos below.
Preston Merchant is based in the Bay Area of California. He has recently completed Indiaworld: Images of the Global Indian Diaspora, which is seeking a book publisher. He teaches photography as an adjunct professor at Columbia University's Graduate School of Journalism in New York. He was the featured visual artist during the 2016 Sewanee Writers' Conference, and the photos in "Kathmandu: After the Quake" were on display in the Bairnwick Women's Center for the duration of the conference.
---
Worshipers perform puja, a Hindu act of devotion, at the ruins of the Char Narayan temple in Patan Durbar Square. The 17th-century temple, sacred to Vishnu and one of the oldest at the World Heritage site, was destroyed in the earthquake. Devotees placed a tarp above the Vishnu idol, which remained in place after the wooden pagoda above it collapsed.

---

With a group of his friends and family, Bikram Gosai founded Unite for Change, an NGO, to help needy people in the Kathmandu Valley. After the earthquake, he raised funds and organized volunteers as the work took on greater urgency. On evenings and weekends, he and his friends prepare food and distribute blankets and clothes to earthquake victims. His own home was spared major damage, but his immediate neighbors watched their buildings collapse. No one was killed or injured.

---

Baikuntha Manandhar (center), four-time Olympian and gold medalist in the South Asian Games, prepares for the Marathon for Peace to raise awareness for women's and children's justice and to show that Nepal is safe for tourists. According to UNICEF, human traffickers targeted desperately poor families to give up their children after the earthquake. Manandhar and a group of runners began at Bhaktapur Durbar Square, among the damaged temples, and continued to Kathmandu and Patan.

---

Men fashion a basket from lumber scraps in Bhaktapur Durbar Square. Ordinary earthquake debris, including lumber and bricks, is salvaged for reuse, while materials from historical sites are catalogued with an eye toward reconstruction.

---

The Taleju Temple, built in 1564 in Kathmandu's Durbar Square, suffered only minor damage during the earthquake.

---

Maru, the market area near Kathmandu Durbar Square, thrives with business as tourists have returned to the historical sites. The country is heavily dependent on arrivals from India, China, the United States, and Europe for access to foreign exchange.

---

A quiet corner in Kathmandu's busy Durbar Square.

---

Kathmandu's shopping malls are open for business, but the blockade along the Indian border reduced store inventories and curtailed restaurant menus. Many shops remained closed or keep shorter hours for several months until the dispute was resolved.

---

Before the earthquake, Ashish Gurung lived with his parents in a rented brick house, where they ran a church and orphanage. Today, they feel much safer, sleeping on the floor of the tin-sided church they built in Kavresthali, outside Kathmandu, which houses their ministries.

---

Activists participate in the Citizens March to Parliament to protest the Nepali government's lack of progress on earthquake reconstruction and its political dispute with the ethnic Madhesi people along the border with India. When a new constitution was adopted in September 2015, promising proportional representation for Nepal's many ethnic groups under a federal structure, the Madhesis believed themselves shortchanged. Agitation and violence in the border region prevented Indian trucks from entering Nepal, creating an extreme shortage of fuel, cooking gas, and essential supplies.

---

A Hindu priest lights candles at a shrine in Dhobi Chour.

---

Hotel linens hang to dry among Hindu shrines in Dhobi Chour, the section of Kathmandu that is home to the caste of washers and others who work in the laundry industry.

---

Men search for crawfish in the Bagmati river. Sacred to Buddhists and Hindus, the river flows among Kathmandu's temples, bathing areas, and cremation platforms.

---

Workers continue the demolition of a damaged home in Patan. Over a year after the earthquake, many structures remain unsound and must be strengthened or taken down. The Nepali government's failure to release funds donated by the international community has prevented timely assessment and action.

---

Buddhist priests take incense sticks as they process through the streets of Patan as part of a religious festival. The old city is home to the Newar community, who are the original inhabitants of the Kathmandu Valley and practitioners of an ancient form of Buddhism that contains many elements of Hindusim.

---

Buddhists in Patan march through the streets of the old city as part of a religious festival.