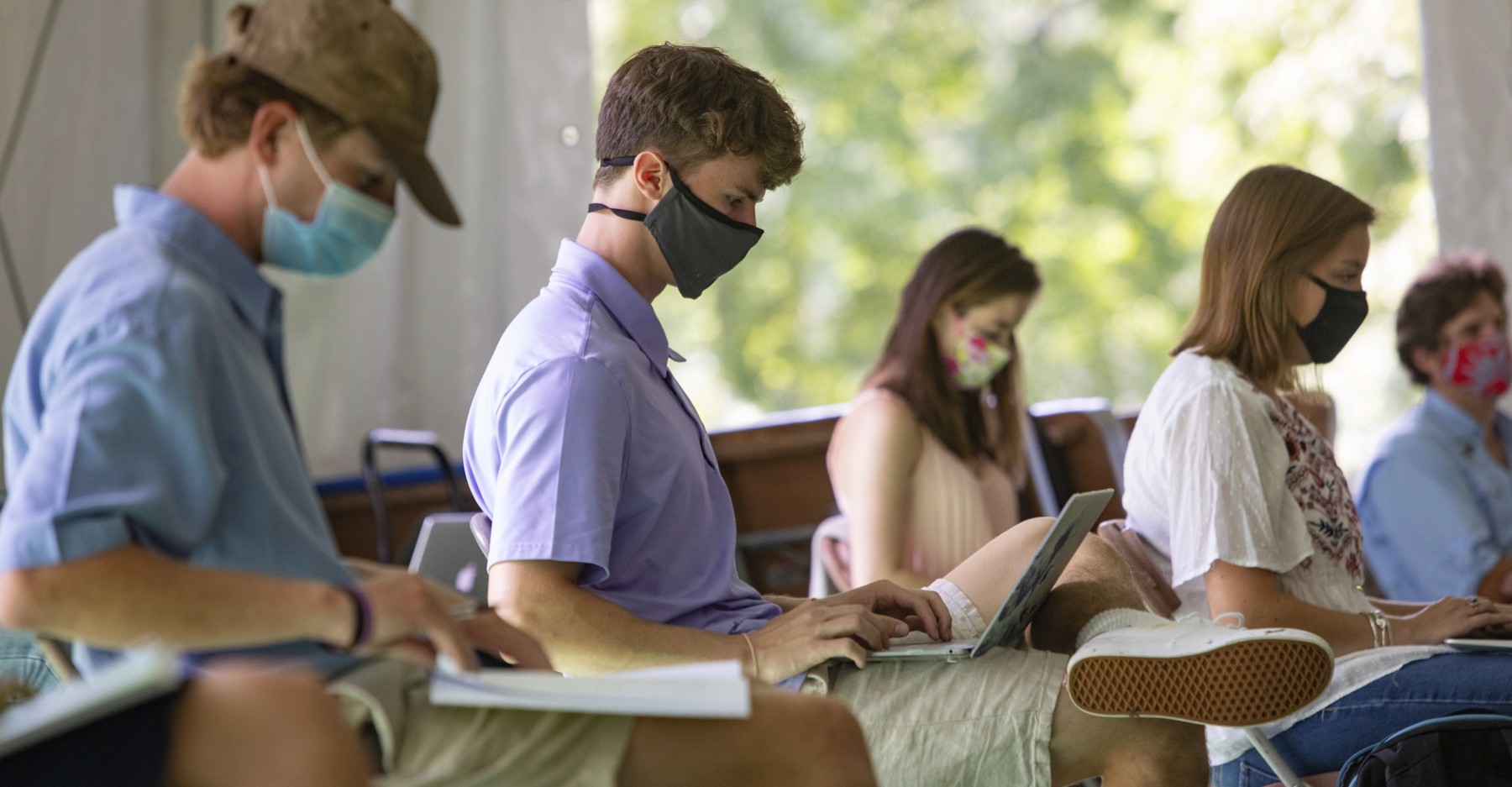 The new normal: All over campus this fall, masked students attended classes held in outdoor tents.
A Semester Like No Other
As COVID-19 swept the country this summer and fall, Sewanee welcomed students back to campus—and then kept them here—for a full semester of in-person education. Here's how.
By Buck Butler, C'89


---
Through the spring and summer of 2020—when the only certainty about the upcoming academic semester was uncertainty—Sewanee administrators faced two overarching questions: Can you offer an in-person residential liberal arts college experience in the midst of a global pandemic? And if you decide that you can, then … how?
There would be no easy answers. Because nobody had done this before.
To find answers to the big questions, administrators would have to face a thousand smaller questions, to make a multitude of decisions that would lead to yet more questions and more decisions. How do you offer a socially distant classroom experience? Would students even return to campus for the semester? How do you feed them? How do you entertain them? How do you engage those who choose not to return to campus? And most importantly, how do you prevent community spread of COVID-19 to keep the whole thing going?
The fact that the University was able to answer those questions and provide a full semester of on-campus education in the fall of 2020 was not just a minor miracle, it was a testament to the ingenuity, persistence, and adaptability of an entire community committed to a single idea: Making it work.
---
As the threat from COVID-19 grew nationwide in March 2020, University administrators made the decision to close the campus while most students were away for spring break. Faculty quickly adapted to teaching the remainder of their classes online, and students finished the semester learning remotely. Before the spring semester ended, planning for the fall began. Provost Nancy Berner assembled a Fall Operational Group (FOG), including administrators, faculty, staff, and students that would carry out most of the planning. The FOG was subdivided into smaller working groups for health and safety, academics, student life, and other areas that would be significantly affected by the new reality.
Berner says those early days of planning were about settling some of the big issues and letting everything else follow from there. "In terms of the decision-making, you really have to figure out which decision everything else flows from," she says. "Taking it day by day was really the key, not letting ourselves be overwhelmed because that would not have been helpful."
Two of the first big decisions the group had to grapple with were about modes of teaching and the academic calendar. Could the University hold in-person classes or would the entire semester be remote? If students were going to be on campus, how could the calendar be adapted to prevent them from leaving for breaks and potentially returning with an infection?
The answer to that second question was to eliminate breaks altogether and to start the semester two weeks early. That meant classroom sessions could wrap up before the normal Thanksgiving break and that most students could go home in late November with only final exams to complete after Thanksgiving weekend.
During the summer, the FOG made plans for four different teaching scenarios—one in which all students returned to campus, one where teaching was completely remote, and two hybrid plans that split the difference—before landing on a hybrid model. Some classes would be taught in-person on campus, but all classes would be available to remote learners. Faculty members were given the choice of whether to teach in the classroom with new technology allowing remote learners to participate, or to teach completely remotely.
With the big questions settled, administrators turned their attention to making the classroom experience safe for students and faculty. Tents of varying sizes were set up all over campus to create outdoor teaching spaces. Seventeen classrooms across campus were outfitted with new technology—cameras and large video monitors—to allow remote learners to participate. With an increased reliance on technology, the University's Wi-Fi network was upgraded to the tune of $1.5 million to accommodate the surge in the number of devices that would be connecting to the network every day.
As decisions were being made and plans settled over the summer, the University was also welcoming a new vice-chancellor. In June, Reuben Brigety took the reins from 16th Vice-Chancellor John McCardell, whose leadership saw the University through the campus closure in the spring and laid the groundwork for a successful fall. Brigety came to the Mountain from Washington, D.C., with a set of experiences that highlighted the dangers of COVID-19. The Brigety family lost a close friend to the disease, and Brigety's wife, Dr. Leelie Selassie, worked with COVID-19 patients exclusively for months as a critical-care physician with a focus on advanced life support and ventilator management.
One of the first steps Brigety took when he arrived was establishing a Public Health Office to help advise administrators on the University's preparation for and response to the pandemic, and to put into place protocols for bringing students back to campus safely—and then keeping them here. In one of the many serendipitous circumstances of the University's battle against COVID-19, the two public health professionals who were hired to staff the office were already members of the Sewanee community. Dr. Mary Heath and Mariel Gingrich both hold master's degrees in public health and brought extensive experience to the job.
As the University prepared to welcome students to campus in August, Brigety wrote to students and their families to let them know what they could expect: "Sewanee's strategy relies on both individual responsibility and our collective response. Individual responsibility will involve each one of us being diligent about practicing the 'three Ws'—Wash your hands, Wear a mask, Watch your distance. The University's collective response will include a vigorous program of testing and tracing. We will have cases on campus this fall, and when we do, we must track and stop the spread of the virus."
Berner says one of the major concerns during the summer planning was whether students would decide to sit out the academic year and wait for things to return to normal, and whether families would trust Sewanee to keep their students healthy. "We had no idea what to expect," she says. "Across the country people were saying, 'Enrollment's going to be down 20% or 40%, and first-year students are never going to show up because they're not going to want that kind of college experience.'" But when it came time to make that decision, 98% of Sewanee students decided to participate in their education, with 89% opting to come to campus for an in-person experience.
By the time students began showing up in August, a plan was in place. Student arrivals would be staggered to allow them to be tested for COVID-19 before they could move into their residence halls. Once they were on campus, students would stay on campus in an effort to create a metaphorical bubble, and every effort would be made to "protect the bubble." Beyond these established rules, much in the original plan would change as the University sought to streamline processes, respond to the latest public health guidance, and take advantage of new opportunities.
At the beginning of the semester, for instance, students and University employees were asked to log in daily to a web-based health tracking platform that asked them to take and record their temperature and respond to a series of questions about potential COVID-19 symptoms. After a few weeks of use, it became apparent that the data from daily self-reported surveys was of minimal value in assessing possible COVID-19 outbreaks, and the platform was scrapped in favor of the one measure that proved most effective in stopping the spread of the virus: frequent testing.
---
Before the semester started, every University employee and every student who would be studying on campus was tested for COVID-19. After that initial onboarding process, the original plan was to transition to a program of surveillance testing in which 10% to 15% of students and employees would be tested every week to monitor community spread of the disease. But after the initial tests, the entire student body was tested again over the course of a week. And then they were tested a week later… and again a week later … and again a week later. As the virus became more prevalent across the country, it became clear that weekly testing was going to be the best tool in the University's battle with the virus.
"We very quickly moved to a comprehensive test requirement every week for all students," says Vice President for Risk Management and Institutional Effectiveness David Shipps, C'88, who oversaw the University's testing program. "And we onboarded students in a way that kept them from moving into their dorms before we knew their test results so that we could ensure that we had a baseline view of the health of the students who were arriving. Both of those strategies proved to be very effective."
The logistics of weekly testing were daunting, but the University had established a working relationship with the Baylor Esoteric and Molecular Laboratory in Chattanooga to process all of Sewanee's tests using state-of-the-art PCR technology and turn results around in short order. Key to the relationship were Sewanee biology professors Alyssa Summers and Clint Smith, who had worked with the Baylor lab since it was founded and continued processing COVID-19 tests throughout the semester.
"Sewanee got blessed for sure. I don't know how you have at a school this size a specialist in coronaviruses," Public Health Officer Mariel Gingrich says, referring to Clint Smith. "I also don't know how you have somebody who can do molecular diagnostic testing. Very luckily, Sewanee had those connections, which made all of this possible because I don't think any of this is possible without testing."
After onboarding, the Sewanee testing site was set up under a large tent in the parking lot behind Fulford Hall, a short walk from the Quad, so that students could get to it easily on their assigned day of the week for testing. When the weather turned cold, the site was moved into the Fowler Center.
With no experience running a medical testing lab, Shipps, the two public health officers, the two biology professors, and a team of faculty and staff volunteers essentially had to found a small company with a complex supply chain process to conduct nearly 2,000 tests per week, transport samples to Chattanooga, record and report results, notify patients who tested positive, and quarantine or isolate anyone who tested positive or who had close contact with someone who did.
Test supplies were stored in the conference room of Sewanee's Babson Center for Global Commerce, the same room in which Shipps held his seminar class for junior business students. From there, they were carried to the test site each morning, where, for 13 weeks, every student who was on campus lined up once a week to fill a vial up to a marker line with their own saliva. The sample was then labeled with a pre-printed sticker that matched each test-taker to the appropriate plastic tube. The vial was dropped into a bag and collected by test-site personnel, and when 94 of these samples had been collected—a "flex," the number of samples that could be tested at one time by Baylor Lab's PCR testing equipment—the whole batch was tagged and prepared for transportation. Boxes of samples were left in the Babson Center building, where Alyssa Summers would pick them up each morning to drive them to Baylor to be tested.
"It all worked out because we had this process design that just came together naturally and as a result of people thinking very creatively," Shipps says.
It also worked because volunteers from offices all over campus—Student Life, Athletics, Human Resources, the University Wellness Center, the Career Center, the University Childcare Center and more—came together to staff the site, to work directly with students, and to refine processes. Meanwhile, the students became more and more adept at testing. "People were so scared at the beginning," Gingrich says. "They were reading the test instructions over and over again because they wanted to make sure things didn't get messed up. Later, we had students who would get in and out of the test site in two minutes because they were actually holding their spit in their mouth while they were waiting their turn."
When they weren't waiting in line to be tested, students were adapting to a semester of campus life like no other—not traveling off campus, wearing masks constantly, dealing with restrictions on the size of social gatherings, and adjusting to outdoor classrooms and new technology. For the first time ever, the Honor Code signing ceremony was held outside, on the football field, and new members of the Order of the Gown were inducted in a ceremony on the Quad. Student Life staff arranged for food trucks to come to campus several times a week to offer hungry students a change of pace. Sewanee Dining adapted to social distancing restrictions by opening Cravens Hall as a second dining hall and offering a well-received variety of pop-up dining options in tents around campus. Students could also choose to eat at Stirling's Coffee House and the Tiger Bay Pub at no additional cost. Toward the end of the semester, two festive campus-wide events—a Gratitude Gathering and the Vice-Chancellor's Maskerade—gave the entire University community a chance to celebrate all that had been accomplished.
The end result of all the effort that went into testing and protecting the bubble was impressive. More than 19,000 tests were performed on students over the course of 13 weeks, which turned up a total of 15 positive results—for a positivity rate of .08% and a full semester of on-campus education.
"The way that so many people mobilized knowingly or unknowingly toward the task is a wonderful thing to reflect back on and see," says David Shipps. "We learned things real-time as they were happening and that was because it's territory that nobody has traveled before. I'm very heartened by how this all happened and came together in so much of a Sewanee way, everything from tents to installing technology that nobody's ever used before to masks to distancing and all of the new rules of life that we had to navigate. I'm just very proud to be part of an endeavor that showcased how Sewanee can come together in a time of need."
For her part, Provost Nancy Berner gives a lion's share of the credit to the students, who shouldered a large part of the burden of testing and protecting the bubble. "We couldn't have done it without them," she says. "We set it all up at the beginning of the semester, and we said, 'We've put it all in place and now it's up to you.' And they did it. And it's been really incredible."
Most of the restrictions and processes that made it possible to keep the University operating with students on campus during the fall will remain in place for the forthcoming Easter 2021 semester, with one big difference: After a full successful semester of mid-pandemic education, Sewanee won't face the same set of unknowns it wrestled with over the last nine months. Students will return to campus. Faculty members will use the same teaching technology that worked in the fall. Weekly testing will continue, though—thanks to Alyssa Summers and Clint Smith—tests will be processed through Sewanee's own new on-campus testing lab, which will eliminate the daily hour-long transportation of samples to Chattanooga and make the whole process faster and simpler.
With the promise of widely available COVID-19 vaccines on the horizon, the one thing that may look very different in Sewanee this spring is the anxiety surrounding preparations for the coming fall. Like the more common version of Sewanee fog, the Sewanee FOG might be allowed to disappear, clearing the way for sunny skies and a fall semester that looks refreshingly normal.