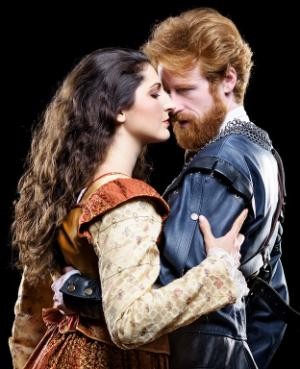 A performance of Macbeth in honor of Ann Jennalie Cook.
You are invited to a performance of Shakespeare's
Macbeth
on Thursday, February 15 by the American Shakespeare Center, in Guerry Auditorium at 7:00 p.m. Doors will open at 6:30 pm, with period music from the company beginning at that time.
The performance will be in memory of our dear friend and School of Letters faculty member Ann Jennalie Cook, distinguished Shakespeare scholar, who passed away last summer. Through the generosity of one of Ann's many grateful students at the School of Letters, we are able to honor her with this performance of
Macbeth
.
The American Shakespeare Center in Staunton, VA, recovers the joys and accessibility of Shakespeare's theatre, language, and humanity by exploring the English Renaissance stage and its practices through performance and education. The ASC Blackfriars Playhouse, the world's only re-creation of Shakespeare's indoor theatre, is open year-round for productions of classic and modern plays, which have been hailed by The Washington Post as "shamelessly entertaining" and by The Boston Globe as "phenomenal…bursting with energy."
The ASC brings a unique performance style to Sewanee, blending Shakespeare's stagecraft with modern sensibility. The company uses Shakespeare's Staging Conditions: universal lighting, minimal sets, character doubling, cross-gender casting, and live music. Shakespeare's performance company couldn't turn the lights out on the audience; actors and audience shared the same light. The ASC shares light with the audience throughout the performance for a unique brand of audience contact rarely seen in theatre today.
We would like to give special thanks to the Sewanee Performing Arts Series, and to the Department of English, the Department of Humanities, the Department of Theater and Dance, the Department of Medieval Studies, Writing Across the Curriculum, and the Center for Speaking and Learning. We are most grateful to Ann's School of Lettters student for her generous contribution that makes this performance possible.
A word about Macbeth:
From the first words of the play until the title character loses his head, Shakespeare's shortest tragedy is also his most unrelenting examination of the dark side of humanity. Driven to bloody deeds by their lust for power and supernatural predictions, Macbeth and his Lady fight to hold on to their ill-gotten throne, their sanity, and each other by any means necessary.
"The loss and degradation I find so appalling in this play is not the fall of Macbeth, but the corruption of what is sometimes referred to as the strongest marriage in all of Shakespeare," says director Ben Curns. "While Macbeth features witchcraft, swordfights, storms, hallucinations, and even the walking dead, I still maintain that this is a love story. Perhaps if they made better choices they could be Beatrice and Benedick, but instead they will, in the words of Helen Gardener, 'enter a world of appalling loneliness, of meaningless activity, unloved and unable to love.' I can't imagine anything more tragic."
"By the pricking of my thumbs, something wicked this way comes."