The Sewanee Performing Arts Series, run by the Sewanee Music Center, features a wide variety of performances throughout the academic year.
UPCOMING EVENTS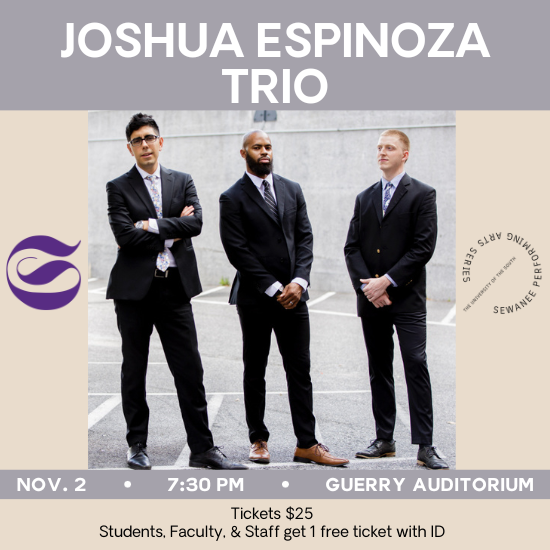 Latino-American jazz pianist Joshua Espinoza blends and bends genres into songs that are immediately relatable yet hard to define.
He has performed with such luminaries as Sean Jones, Warren Wolf, Miho Hazama, Jihye Lee, and Chuck Redd. Alongside bassist Kris Monson and drummer Jaron Lamar Davis, the Joshua Espinoza Trio explores the undefined space between jazz improvisation, classical chamber music, pop music, and folk traditions. His debut album "Journey Into Night" is available on all platforms.
TICKETS
Purchase tickets online here, in Guerry 129, or at the door.
Students, Faculty, and Staff get 1 free ticket with a valid Sewanee ID (redeem in Guerry 129 or at the door).
Some of the recent solo and ensemble performers have included:
American Spiritual Ensemble
Grammy nominated PUBLIQuartet
Aaron Diehl
Rosanne Cash and John Leventhal
Vienna Boys Choir
Olivier Latry
American Shakespeare Center
Chanticleer
Rooftop Records
Performances take place throughout the academic year and are made available to students at no cost.