PROGRAM MODEL, Program form, & FLYER GALLERY FOR CURRENT AND PAST PROGRAMS
CLICK [HERE] TO ACCESS THE PROGRAM MODEL AND [HERE] FOR THE GALLERY OF CURRENT AND PAST PROGRAM FLYERS AND PHOTOS
CLICK [HERE] to sponsor or partner with Title IX on future programs. Please review the program model document (listed above or within the graphic below) before filing out this form.
---
---
---
NEW PROGRAM ALERT! THE SAVE TEAM IS HERE!!
---
---
---
---
CURRENT PROGRAM CALENDAR:
CLICK [HERE] for a text only document of the Title IX Office programs.
PROGRAM AND RESOURCE LINKS FROM OTHER PROGRAMS
---
---
---
---
What is the University doing, beyond discipline, to combat sexual misconduct?
The University's efforts fall into five main categories:
Monitoring. The University routinely evaluates the campus environment to understand students' experiences, especially concerning social activities, patterns of behavior, and students' health and safety.
Prevention. Based on these assessments of campus culture, the University develops prevention programs to address concerns strategically.
Response. When incidents happen, the University's response includes supporting students and their friends, preserving evidence, gathering critical information, providing medical response, informing victims of their options, and creating an environment that feels safe.
Partnerships. The University has entered into a partnership with medical professionals from area emergency departments, and works as well with the Franklin County Sheriff's Department and the District Attorney's Office to ensure readiness and cooperation.
Training. The University trains students on effective bystander intervention. Residential life staff, Greek leaders, Women's Center residents, and peer educators all receive basic training on prevention and response. Staff members involved in the investigation and hearing process receive training to understand the issues and prepare for their roles.
The University has instituted a range of programs to promote respect on campus, prevent sexual misconduct, and encourage reporting when misconduct does occur:
ReThink: Respect and Dignity, a task force begun in 2012, engaged the broad topic of respect, including respect for self, respect for others, and respect for the welfare of the community.

Following the recommendations of this task force, the University focused efforts during the 2013-14 academic year in key areas: prevention, reporting, investigations, and training. All are ongoing.

Prevention efforts have included bystander intervention training, "Choices 101" first-year programming, campus-wide events, and a value-based "know thyself" program.

Reporting and investigation efforts have included the facilitation of an environment of transparency and trust among students, faculty, staff and the broader Sewanee community; developing a SHARE -- Sexual Harassment & Assault Resource Educators -- team; improving the gathering of information, including allowing anonymous reports; and developing a clear, published enforcement process.

The University publishes monthly an "Inside the Gates" email message, transparently reporting the most recent conduct violation statistics, including reports of incidents of sexual misconduct.

The University has also established the Sexual Assault Response Team, or SART, which is a partnership between the Franklin County Sheriff's Department, the District Attorney's office, the Southern Tennessee Regional Health System (formerly Emerald Hodgson Hospital), and the University, especially involving deans, health and counseling services, and the Women's Center.

Training efforts have included values-based education in small groups, peer education programs, and the training of all participants in relevant processes. Staff from the Chattanooga Rape Crisis Center provided training for key health and counseling staff, police, members of the SHARE team, and the Faculty Discipline Committee. (In 2014-15 this Committee is evolving into a University Conduct Committee.)

All incoming first-year students are now required to complete an on-line alcohol education course containing a module on sexual misconduct that focuses on intervention and bystander behavior.

Student organizations, including the Women's Center and Greek organizations, have taken part in the planning and implementation of these efforts. Students, for example, brought Katie Koestner, founder of the Take Back the Night Foundation and the first survivor of date rape to speak out publicly, to speak on campus.
---
---
---
---
Sexual Violence—Risk Reduction Tips
Risk reduction tips and suggestions that may aid in staying safe from sexual violence:
Make any limits known as early as possible.
Try to remove yourself from the physical presence of a sexual aggressor.
Find someone nearby and ask for help.
Remember that alcohol/drugs lower your sexual inhibitions and may make you vulnerable to someone who views a person under the influence of drugs or alcohol as a sexual opportunity.
Take care of your friends and ask that they take care of you.
Contact authorities immediately for a response, support, resources, or other protective measures.
If you find yourself in the position of being the initiator of sexual behavior, you owe sexual respect to your potential partner. These suggestions may help you maintain sexual respect:
Clearly communicate your intentions to your sexual partner and give them a chance to clearly relate their intentions to you.
Understand and respect personal boundaries.
Do not make assumptions about consent; about someone's sexual availability; about whether they are attracted to you; about how far you can go; or about whether they are physically and/or mentally able to consent. If there are any questions or ambiguity, then you do not have consent.
Mixed messages from your partner are a clear indication that you should stop, defuse any sexual tension, and communicate better. You may be misreading them. They may not have figured out how far they want to go with you yet. You must respect the timeline for sexual behaviors with which they are comfortable.
Don't take advantage of someone's drunkenness or drugged state.
Realize that your potential partner could be intimidated by you, or fearful. You may have a power advantage simply because of your gender or size. Don't abuse that power.
Understand that consent to some form of sexual behavior does not automatically imply consent to any other forms of sexual behavior.
Silence and passivity cannot be interpreted as an indication of consent. Read your potential partner carefully, paying attention to verbal and nonverbal communication and body language.
If you are sexually assaulted:
Get to a safe place as soon as you can.
Get medical attention as soon as possible.
Try to preserve all physical evidence. Don't wash or change clothes if you can avoid it. If you do change clothes, put all clothing you were wearing at the time of the attack in a paper, not plastic, bag.
Contact the Sewanee Police Department or the Franklin County Sheriff's Department by dialing 911. Any member of the Dean of Students Office (931.598.1109) will assist you in contacting the police, upon request. Talk with a counselor at University Wellness Center (931.598.1325) or another counselor of your choice.
Where can I find more information?
For more information on prevention and awareness, please go here or see the information listed below:
---
---
---
---
University Approved Posters and Campaign Logos
RESOURCE POSTER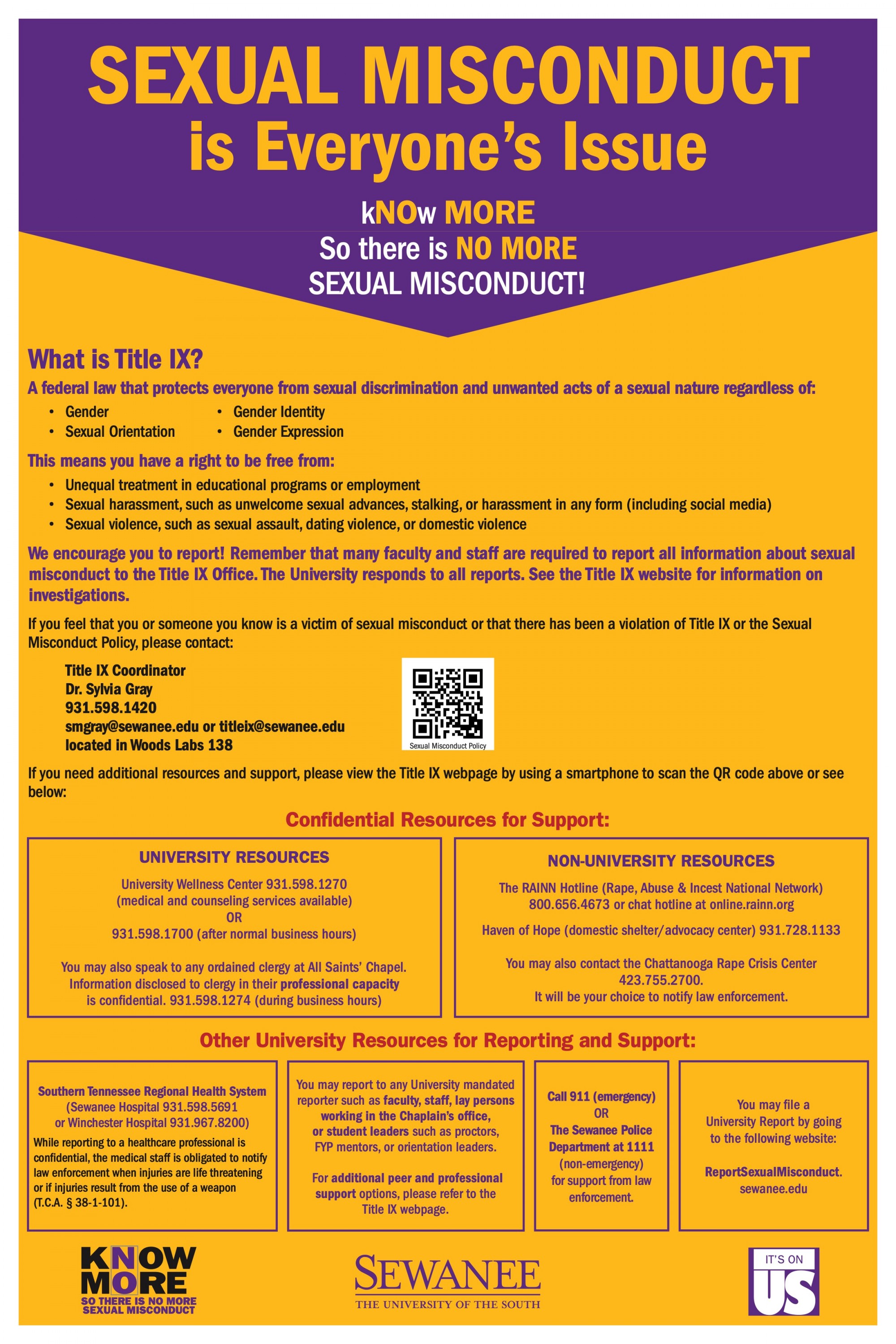 ABBREVIATED TITLE IX POSTER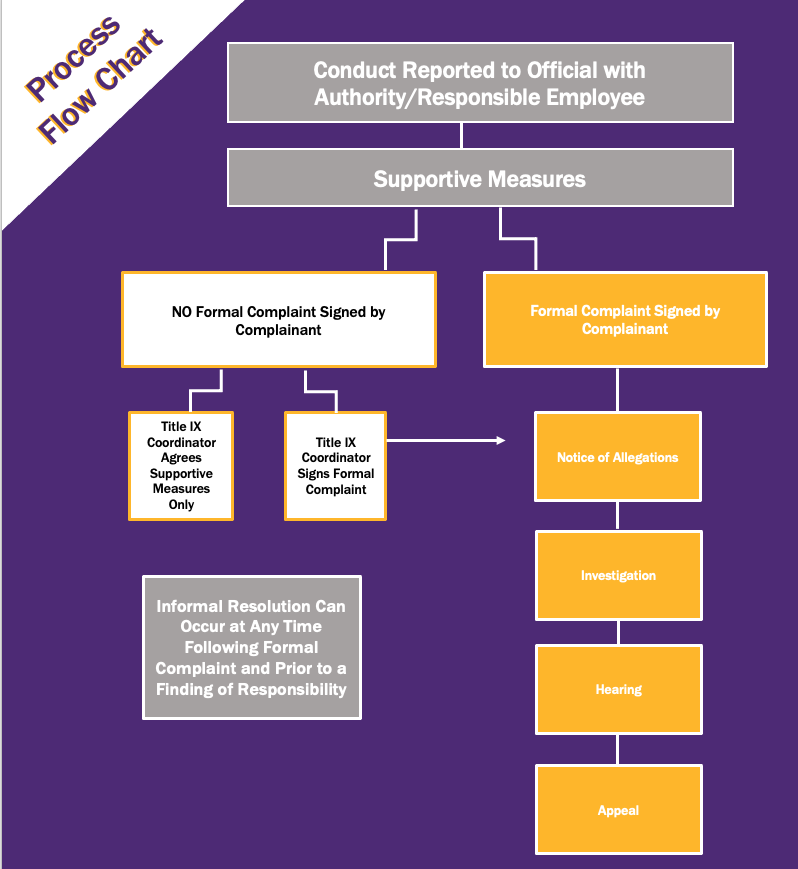 SEXUAL VIOLENCE CAMPUS RESOURCE POSTER/PAMPHLET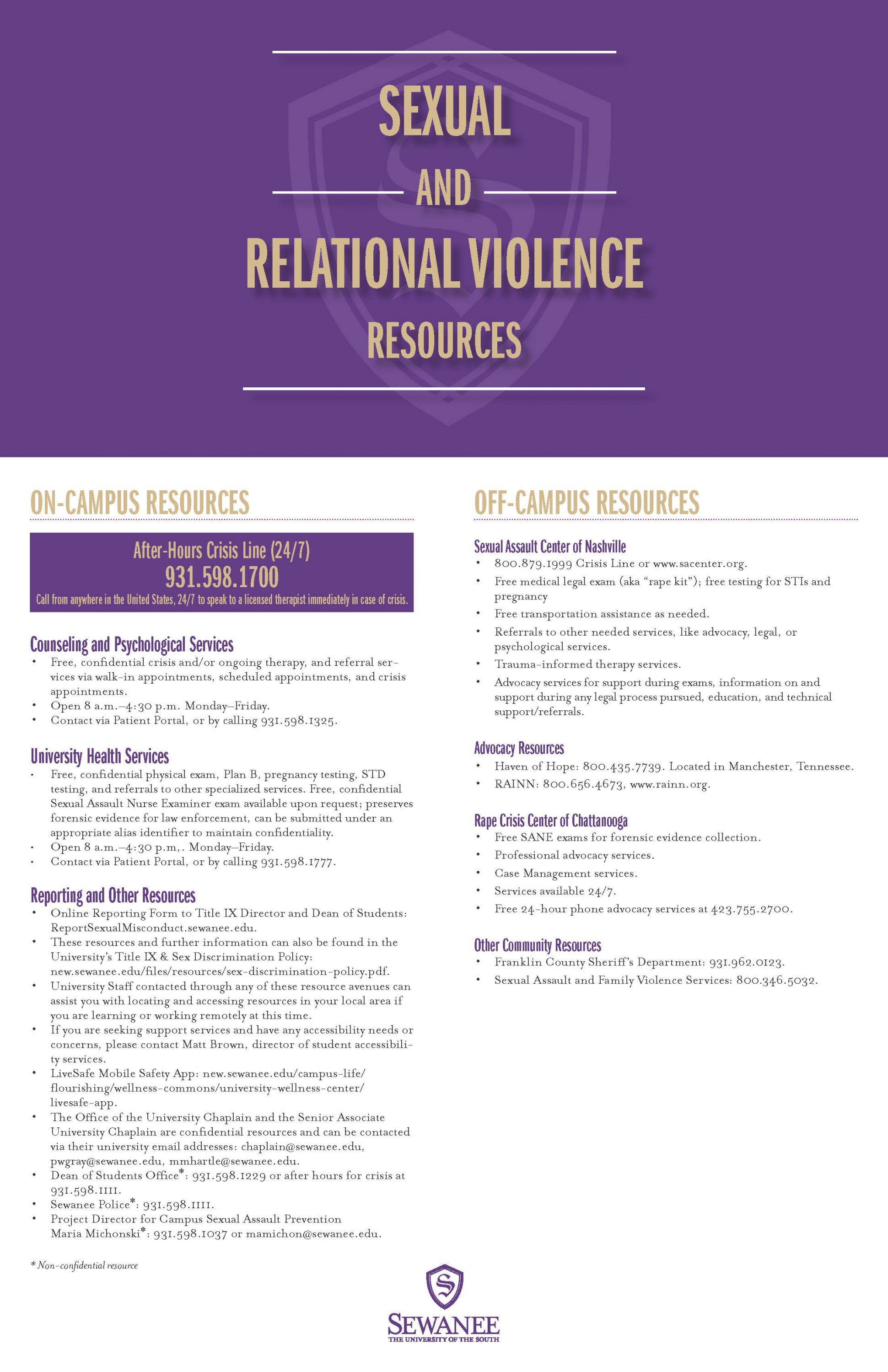 Campaign posters & Title ix office Logos
Click [HERE] for Title IX, EEOT, and other DEI Division Logos.
‌