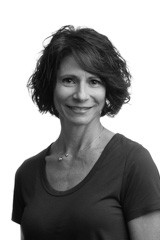 Dance Master Classes with Guest Artist Robin Gerchman
Robin Gerchman, associate professor and director of dance at Rollins College, will be on campus February 19th and 20th, 2020 to teach two master classes in dance that are open to students of all levels to participate or observe. Both classes will take place in the Tennessee Williams Center Dance Studio. Classes are free, but participants are encouraged to pre-register.
Modern Dance (open level)
Wednesday, February 19, 7:30-9 p.m.
Introducing Jose Limon and Doris Humphrey! Welcome to an eclectic legacy of Jose Limon. This class will enhance (or introduce) your knowledge of the Limon technique by creating designs in space through physical vocabulary and movement sentences. Attention will be given to the artistry of dance; combining modern dance vocabulary to achieve fluid movement phrases that are individual and authentic to YOU.
Moving Stories and Conversations (open level)
Thursday, February 20, 7:30-9 p.m.
Dance, reading, writing and reflection; this dance composition class will focus on developing an awareness of your authentic voice in society. A synergy of movement, written word and voice is the platform from which this is to be created. Who are we? What do we stand for? What do we believe in? Answering these questions compels the desire to create your own personal "moving" story.
Robin Gerchman
M.F.A. Interdisciplinary Arts, Goddard College
Ed.M Dance Education, Temple University
B.F.A. Dance, University of the Arts
Robin Gerchman's teaching and research interests stress the interconnectedness of movement with multiple disciplines, aesthetics, criticism, historical and cross-cultural perspectives. Through teaching she works to develop students' abilities of movement and introduce them to new ways of seeing and knowing the world; all of which provide a framework for the exploration of creativity and individual expression. In addition to her degrees, she has concentrated training with Ann Vachon and Risa Steinberg, original members of the Limon Dance Company, and the Dance Exchange (Liz Lerman). Her most recent performing has been with Elle Vie Dance Company. As a choreographer she enjoys engaging the community by presenting site specific works and producing community-based dance events.
These master classes are presented as part of a newly formed Dance Consortium between six institutions in the Associated Colleges of the South. The activities of the ACS Dance Consortium are supported by a Collaborative Curriculum grant from the Associated Colleges of the South.