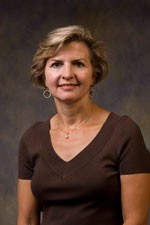 Visiting Professor of English
B.A., The University of the South; M.A., University of Texas; Ph.D., University of Georgia
Virginia Ottley Craighill has been teaching at Sewanee since 2001 and is also a graduate of the University of the South (C'82), the University of Georgia, and the University of Texas at Austin. Her interests range from 19th century and modern American literature to literary journalism, creative non-fiction, and women's literature.
As advisor to the student newspaper, The Sewanee Purple, she is an advocate of student writing outside of the classroom as well as in it.