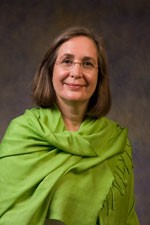 Samuel R. Williamson Distinguished University Professor
B.A., Goucher College; M.A., Ph.D., Duke University
Professor Macfie received her Ph.D. from Duke University, where as a Medieval and Renaissance Studies Fellow she developed her special interest in how early modern poets transform the works of their classical predecessors. She has published on topics that include Dante's use of Ovid, Marlowe's poetry of allusion, Shakespeare's rewriting of Marlowe, Spenser's use of the Arachne myth, and Wyatt's poetry of erotic vengeance. She has also published widely on Shakespeare and performance.
In 2018, Professor Macfie helped bring into being the Consortium relationship between Sewanee and the American Shakespeare Center. The ASC brings performances to campus, offers workshops for students and faculty while in residence, and invites students to participate in summer internships at their home base in Staunton, Virginia. In 2019, Professor Macfie joined the ASC Board.
Look for her essay, "The Play That Cracked Me Open," in the fall issue of the Sewanee Review.