Associate Professor of History
B.A., Colgate University; M.A., Western Washington University; Ph.D., University of British Columbia
will be away through December 2021, returning spring 2022
---
Kelly J. Whitmer's research and teaching focuses on the history of science, technology, medicine and (more recently) political economy and considers its intersections with the history of youth culture, education, religion and emotion in the early modern world. She studies the history of collections, material culture, scientific observation and future-focused forms of social experimentation c. 1500 to 1800 and offers a range of courses at Sewanee, from seminars on collecting and empire ("Monsters, Marvels and Museums") or "Youth and Social Networks" to an introductory level course on "Science, Society and the Archives." Whitmer has received funding for development of the latter from the Associated Colleges of the South to involve archivists, librarians, scientists and historians from across the Consortium in the course's debut.
In her first book, The Halle Orphanage as Scientific Community: Observation, Eclecticism and Pietism in the Early Enlightenment, (Chicago: University of Chicago Press, c2015), Whitmer considered the Halle Orphanage (founded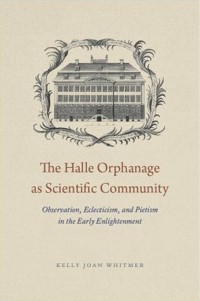 c. 1700) as a key institutional venue for the pursuit of collaborative scientific research, focusing specifically on the organization's promotion of eclecticism as a tool for assimilating perspectives and becoming an able observer. She developed the project as a postdoctoral fellow at the Max Planck Institute for the History of Science in Berlin and received support from Sewanee and the Appalachian College Association to finish it. Whitmer's work on the Orphanage has been reviewed mostly recently in the American Historical Review, featured on the New Books Network, in an H-Ideas Blog focused on premodern Universities and in recent discussions about space and collections in Halle, Leipzig and Dresden.
Dr. Whitmer's new book, Useful Bodies: Object Pedagogies and the Power of Youth in Early Modern Central Europe, foregrounds key links between contemporary ideas about the playfulness of youth and efforts to make the study of use and "vernacular knowledge" central to educational reform projects. Using textbooks, project sketches, descriptions of pedagogical practices, collections and even child prodigies, Whitmer recovers a range of largely forgotten attempts to teach young people how to innovate by creating opportunities for them to strategically engage with, and systematically study the use(s) of realia. Her research continues to draw attention to teaching practices, age as a category of analysis and educational projecting in the history of scientific knowledge.
Whitmer's work on this project has been supported by a Herzog-Ernst-Scholarship at the Forschungszentrum Gotha (FZG) Universität Erfurt, a fellowship from the Marbach Weimar Wolfenbüttel Forschungsverbund (MWW) and, most recently, a research fellowship from the Alexander von Humboldt Foundation. With colleagues from the Georg August University of Göttingen and the University of Hamburg she is convening a workshop on "Object Pedagogies and Academic Collections in the History of Science'' (funded by the Fritz Thyssen Foundation) in September 2021. Her new book project was featured in a segment of the Association of American Colleges and Universities' Academic Minute in 2020.
Recent Publications:
2021 "Chapter Seven: Belief and Ideology," in A Cultural History of Youth in the Age of Enlightenment, edited by Adriana Benzaquen. London: Bloomsbury Press, forthcoming
2020 "Wunderkind, redefined: Jean-Philippe Baratier and Halle's culture of innovation, c. 1700," in Innovationsuniversität Halle? Neuheit und Innovation als historische und als historiographische Kategorien, edited by Daniel Fulda and Andreas Pecar. Berlin/ Munich/ Boston: DeGruyter
2019 "Reimagining the 'nature of children': Realia, reform and the turn to pedagogical realism in central Europe, c. 1600 – 1700," Journal of the History of Childhood and Youth 12
2018 (with Larry Stewart), "Introduction: Expectations and utility in eighteenth century knowledge economies," Special Issue of Notes and Records: The Royal Society Journal of the History of Science 72 (2018), pp. 1-7
2018 "Projects and pedagogical expectations: Inside P.J. Marperger's 'Golden Clover Leaf' (Trifolium), 1700-1730," Notes and Records: The Royal Society Journal of the History of Science Special Issue 72, pp. 139 – 157
2018 "Botany as a Science of Perfection: Observation, Examples and Vollkommenheit in Johann Julius Hecker's Einleitung in der Botanic (1734)" in Perfektionismus und Perfektionismus und Perfektibilität. Sollzustände in Pietismus und Aufklärung. Studien zum 18.Jahrhundert, edited by Christian Soboth and Konstanze Baron (Hamburg: Meiner Verlag), pp. 201-212
2017 "Imagining Uses for Things: Teaching 'Useful Knowledge' in the Early Eighteenth Century," History of Science 55, pp. 37-60
---
Contact info
735 University Avenue
Sewanee, TN 37383
AREAS OF EXPERTISE
Early Modern Europe, Germany
History of Science and Technology; Scientific Observation, Collecting and the History of the Museum
History of Children and Youth
History of Education