The University held its Winter Convocation on Friday, Jan. 14. Approximately 75 new members were inducted into the Order of the Gown, and honorary degrees were awarded to retired Major General Charles F. Bolden Jr. and poet Nikki Giovanni.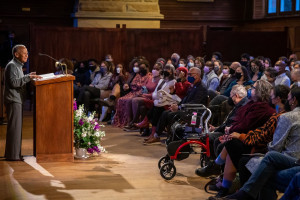 On Thursday, Nikki Giovanni gave a talk and reading to a standing-room-only audience in Convocation Hall that was, by turns, both powerful and hilarious. One of the country's most widely read and renowned poets, Giovanni has taught at Virginia Tech since 1987. She has received numerous awards, including seven Image Awards from the N.A.A.C.P., the first Rosa Parks Woman of Courage Award, the Langston Hughes Medal for Poetry, and the Carl Sandburg Literary Award.
General Charles Bolden had a distinguished 34-year career with the Marine Corps, including 14 years as a member of NASA's Astronaut Office. He was inducted into the U.S. Astronaut Hall of Fame and the National Aviation Hall of Fame. His Convocation remarks included anecdotes from his time at the U.S. Naval Academy both as a midshipman and as the deputy commandant, and as NASA administrator. He began his remarks with an appreciation of Giovanni, calling her "a long-time hero of mine" as they matured together during the Civil Rights era, and recalling a talk she gave during his time at NASA, where she read a poem titled "We Are Going to Mars."
Bolden urged the students in attendance to recall and reflect on the opening lines of the documents that lay out the premise on which the U.S. was founded—the introduction to the Declaration of Independence and the Preamble to the Constitution. Both documents express the dream that the founders had for the country, despite the truths of their own lives. "Each of you can help rebuild an America that provides opportunity for all," Bolden said. "It's your responsibility to make ours a more perfect union."
Order of the Gown President Alexis McKnight briefly addressed the new members of the Order. Decades ago, the wearing of the gown demonstrated a commitment to the betterment of the University. "What will you do," she asked the members, "to move the University forward?"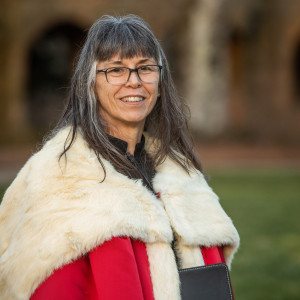 Vice-Chancellor Pro Tempore Nancy Berner formally admitted the new members of the Order of the Gown, concluding the ceremony. Berner was the first woman in Sewanee history to don the red velvet and ermine cope traditionally worn by University vice-chancellors.
The Convocation was livestreamed for those unable to attend; the video is here.