A Winter Convocation on Friday, Jan. 20, celebrated the induction of new members into the Order of the Gown and featured an address from honorary degree recipient Dr. James E.K. Hildreth.
The University of the South held a Winter Convocation on Friday, Jan. 20, to award three honorary degrees and induct new members into the Order of the Gown. Honorary degree recipients were President and Chief Executive Officer of Meharry Medical College James E.K. Hildreth, community leader Bonita (Bonnie) G. McCardell, and Vice-Chancellor Emeritus John M. McCardell Jr.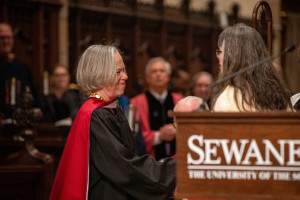 It was also announced that Andrea Mansker, professor of history and chair of women's and gender studies, was recommended for appointment as the David E. Underdown Chair of Modern European History.
Honorary degree awardee Hildreth gave the convocation address. Hildreth is a nationally recognized immunologist who became the 12th president of Meharry Medical College, the nation's largest private, independent historically Black academic health sciences center, in 2015 after a lengthy career as a professor, administrator, and researcher. His research in immunology and virology, with a focus on HIV/AIDS and African Americans, has resulted in more than 110 publications in top journals, 11 patents, and numerous awards.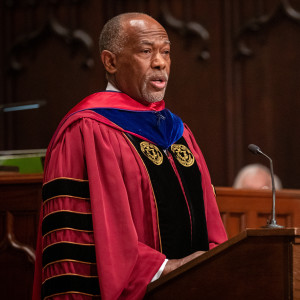 In the early days of the COVID-19 pandemic, Hildreth became a familiar face to many Tennesseeans while serving as the medical spokesperson for the mayor of Nashville's daily televised briefings. He was named "Nashvillian of the Year" in 2022 by Nashville Scene for his leadership in the COVID-19 pandemic response, and was appointed by President Biden to the COVID-19 Health Equity Task Force.
During his remarks, Hildreth spoke about the importance of following one's passion. Drawing on his own life story, Hildreth shared how his enthusiasm for discovery and the pursuit of new knowledge led him from an undergraduate chemistry major to becoming a Rhodes Scholar and later a physician scientist whose research would be part of tackling a global problem in the AIDS crisis. It was ultimately his commitment to staying true to his passion that positioned him to make a difference in the lives of millions as his work became relevant to not one, but two pandemics. "I urge you to always follow your passion, whatever it may be," Hildreth told the gathered students. "In doing so, you will have not a great job or a great career, you will in fact have a great life."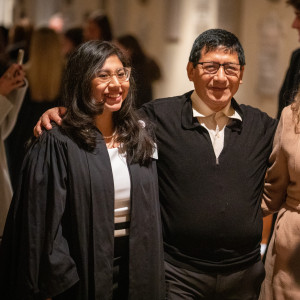 President of the Order of the Gown Alex Robinson, C'23, then addressed new members of the Order. After highlighting the Order's role in maintaining and promoting Sewanee's traditions, Robinson noted the auspicious timing of their new membership as it coincides with other new developments at the University—the arrival of a new chancellor, the election of a new vice-chancellor, and a new look at how we memorialize events and people via the work of the Names and Places Committee. "As you go forth in your Sewanee experience," said Robinson, "embrace this newness with the resolute determination that the traditions, spirit, and ideals that we celebrate are those that we wish to embody as a community."
Acting Vice-Chancellor Nancy Berner concluded the ceremony by formally admitting the new members to the Order of the Gown.
The Convocation was livestreamed for those unable to attend; the video is available below.