Leah Stewart, professor and chair of the English Department at the University of Cincinnati, has been named the new director of the Sewanee Writers' Conference.
Stewart will succeed founding director Wyatt Prunty, who will step down at the close of this summer's session after leading the Conference for 30 years. Stewart will be in residence in Sewanee for the month of July.
University Provost Nancy Berner chaired the search committee made up of nationally-prominent writers and members of the Conference community. "Leah brings to the position great familiarity with, and affection for, the Conference," said Berner. "She is dedicated to ensuring that the Conference remains a community that is chiefly concerned with developing writers through studying craft and providing professional opportunities."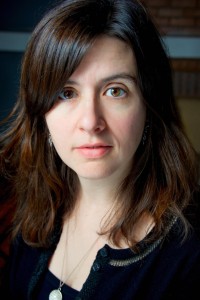 Stewart is an award-winning fiction writer. Her novels Body of a Girl, The Myth of You and Me, Husband and Wife, The History of Us, The New Neighbor, and What You Don't Know About Charlie Outlaw, as well as her short stories and nonfiction, have garnered awards and prizes including the Sir Walter Raleigh Award for Fiction and a National Endowment of the Arts Literary Fellowship.
Stewart has a long history with Sewanee. She worked on the Sewanee Writers' Conference staff from 1995 through 2004, and also served on faculty for the Sewanee Young Writers' Conference. Her fifth book, The New Neighbor, is set in Sewanee.
"In addition to being an award-winning author, the search committee was impressed by Leah's prowess and talent as an administrator," said Berner. Stewart chairs a department of more than 50 faculty and manages a program with 200 majors and 100 graduate students. As the leader of a nationally ranked program, Stewart's experience and connections in the literary community will help the Conference continue to diversify and bring talented writers to study in Sewanee.
"Writers arrive in Sewanee," Stewart said, "To find a rare place with a palpable intellectual curiosity, where everyone loves literature, where a roomful of people can be united in the sheer pleasure of a beautifully written line—for many, that's paradise. The Conference was a crucial part of my own development as a writer, and I'm thrilled to have the opportunity to both maintain the vital sense of community it creates and work to expand that community. It's an honor to take over from Wyatt Prunty, who has helped provide so many people the chance to grow artistically and professionally."
Stewart earned a BA in English from Vanderbilt University and an MFA in fiction from the University of Michigan. She has taught at Vanderbilt and Murray State University, where she was the Watkins Endowed Visiting Professor of Creative Writing. At the University of Cincinnati, she served as director of creative writing from 2012 to 2017 before becoming chair of the English Department.