The University is establishing its own testing lab to provide greater capacity and faster processing for COVID-19 tests next semester.
The University is establishing its own testing lab on campus to provide greater capacity and faster processing for COVID-19 tests administered to students, faculty, and staff.
The idea to establish a lab on campus resulted from exploring ways to help make Sewanee's existing COVID-19 testing program more efficient. Using our own lab will allow the University to scale according to our unique needs, as well as expand testing into different categories. The new Sewanee lab will be located in Spencer Hall.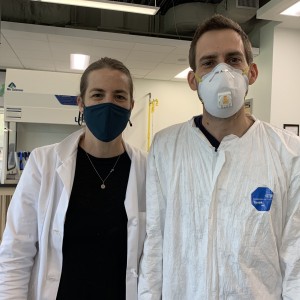 Alyssa Summers will be the technical director of the Sewanee Molecular Diagnostics Lab (SMDL) and oversee the day to day operations, while both she and Clint Smith will work as molecular lab specialists to process samples. The goal is to be operational at some point in December, and to manage the University's COVID-19 testing next semester. Both Summers and Smith (pictured, right) will continue to have faculty duties in the Department of Biology; Summers also will continue as the director of the Office of Medical and Health Programs.
The University's investment in the lab signifies its belief in testing as one vital strategy to continue having students reside safely on campus, as well as its commitment to the safety of the Sewanee community. It also demonstrates our confidence in providing an on-campus learning experience during the 2021 spring semester.
National Public Radio reported recently that only 6% of colleges with in-person instruction this fall are routinely testing all of their students, and more than two-thirds "have no clear testing plan or are testing only students who are at risk." The University understands that testing alone is not a full response to the pandemic, but it is a critical component of our strategy, along with #ProtectTheBubble, emphasizing the 3 W's, holding some classes outdoors, changes in dining operations, and the other steps we have taken this fall.
When operational, the lab initially will focus on processing student and employee COVID-19 tests. In 2021, the lab will be able to serve University Health Services by testing for other illnesses in addition to COVID-19 (e.g., strep, HIV, and the flu). Having a clinical lab on campus brings with it not only the ability to be responsive and agile in our testing strategy but also offers new opportunities. There is the potential for new research endeavors with the medical community and clinical outreach with community partners, as well as new opportunities for students through internships and potential post-graduate programming.
The University congratulates the whole team that has worked so hard to take the Sewanee Molecular Diagnostics Lab from an idea to reality! The new lab is perfectly aligned with Sewanee's strategy for the future, which includes the wellness of the student body as one of its pillars.