Sewanee Students Join Global Changemakers at Camp 2030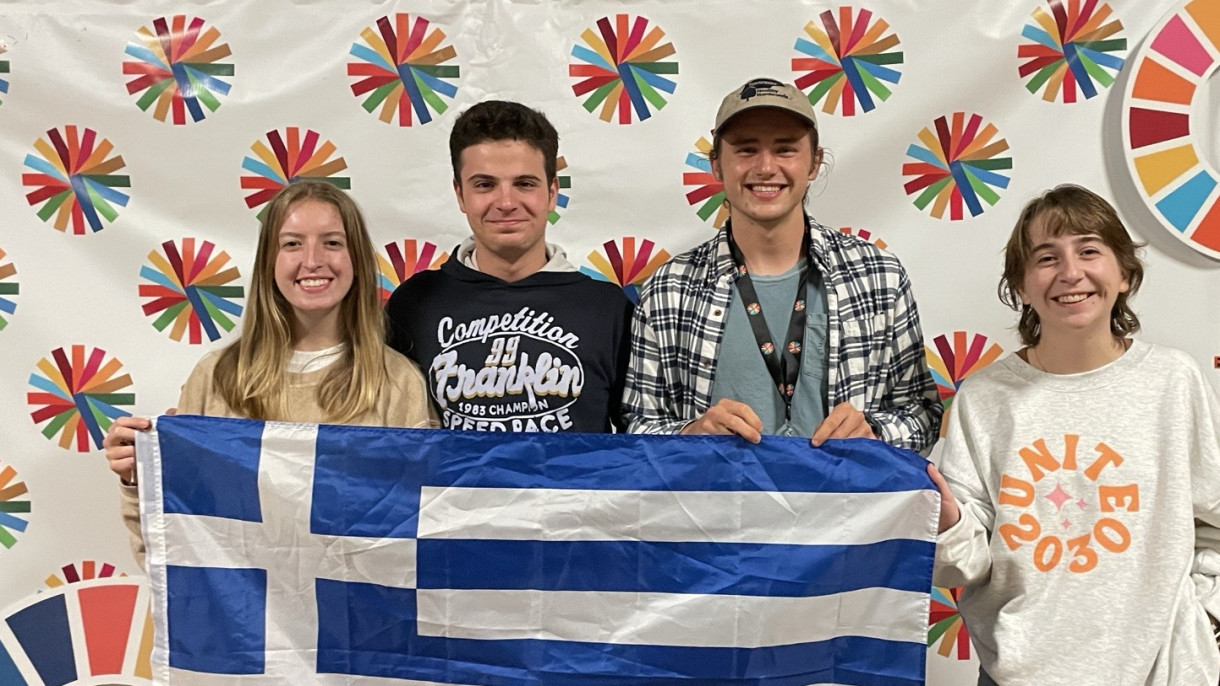 On a Friday afternoon last September, four Sewanee students—Rosie Abramson, C'25, Kostas Andriotis, C'25, Joseph Brown, C'23, and Jewel Cleveland, C'25—stood in the middle of Times Square with 200 of their newest friends, nearly all of their phones aimed at the massive, multi-story LED screen towering over them. The gathered crowd let out a roar as the image on the screen changed and a slide show started playing that featured some familiar faces in it: their own.
For the four Sewanee students and their cohort, it was the culmination of an experience that began five days earlier when they first arrived in New York City for the inaugural Camp 2030 event. Convened by UNITE 2030—a U.S.-based nonprofit organization committed to empowering the next generation of global leaders to tackle issues such as poverty, injustice, inequality, and climate change—Camp 2030 gathered changemakers from around the world for a week of innovation and creative activity. By the week's end, Sewanee's participants would find that they had done more at the conference than make new friends and learn about environmental issues. They had also managed to find a new, more global perspective on their passion for sustainability and identity as activists.
Solving problems
Before Sewanee's students could do any of that, however, they had to meet up with the nearly 200 other participants and head upstate for the first portion of the event. "It was like a hybrid summer camp and conference," says Cleveland. All participants stayed in cabins—the program's site is an active camp during the summer months—and split their time between task-based small group work and outdoor recreation activities to deepen group members' connection.
In their small groups, participants were tasked with defining and proposing a solution to a problem related to one of six United Nations sustainable development goals. Their chosen problem needed to be based on real world events and/or data, and the group would then articulate a solution to be presented to an esteemed panel of judges back in New York City at the end of the week. The chosen topics and solutions varied widely.
Cleveland's team addressed the problem of agricultural water waste as part of the clean water and sanitation track. Working on the quality education track, Brown and his group investigated how to support teachers as they prepare the next generation of leaders not only to be environmentally literate but also socially and emotionally capable of navigating future environmental challenges. Abramson's group, which worked on the climate change track, focused on how to safely disseminate research from scientists whose work can put them in danger due to political resistance to their findings. In alignment with the good health and well-being track, Andriotis and his team worked on a solution for educating children about Chagas disease, which is transmitted to people in affected areas via insect vectors and can lead to serious heart and digestive problems if left untreated.
Healthy competition
At the end of the week, the Camp 2030 participants piled back onto their fleet of buses and returned to New York City to present their proposed solutions. "It was a formal presentation, so everybody was putting on their business clothes on the bus ride back," says Abramson. Waiting for the group in New York was a collection of prominent individuals with expertise in the assigned sustainable development goals, including representatives from the United Nations and chief sustainability officers from major companies.
When not presenting, Camp 2030 participants interacted with guests at a poster session. "It was funny because someone would come up to you and ask about your project and you'd think, 'Oh, this person's really nice.' And then they'd hand you their card and you'd see their title and it was like, 'Who did I just talk to?!" laughs Abramson.
In the first round, each group presented privately to a pair of judges with specific knowledge of their sustainable development goal. All participants then gathered for one final panel, at which the CEO of UNITE 2030 announced which group had won each subsection and invited them to the stage to present again and compete to win the overall competition. "It was really high stakes," says Abramson, "because we didn't know in advance if we were going to have to present again." Andriotis' team won the good health and well-being track, which meant that they had to take the stage immediately and give their presentation a second time—only this time, the audience included all of their peers and an expanded judging panel.
Pursuing purpose
For the four Sewanee students who participated, though, the experience was about far more than competition. The intensity of the time spent together—through the group work, activities like canoeing and a ropes course, and staying warm through the early fall nights in upstate New York—led to deep connections that now span the globe. For example, Andriotis, who is currently studying abroad in Australia, already has plans to meet up with fellow participants in Sydney.
The concentrated work on a single project also led to some personal insights for the participants. For Brown, it illuminated new possibilities for future career pursuits. "I'd been drawn to teaching for a while, but I hadn't considered working for an NGO and working to improve education from outside the system. So being able to network with people already doing that work definitely gave me a new outlook," he says.
All four Sewanee students agreed, however, that the most significant takeaway from their week in New York was having developed a new, globally informed perspective on some things for which they already had passion: activism and sustainability. The deep conversations that were facilitated by the program's activities helped to illuminate new ways of seeing familiar topics. Says Abramson, "Being able to connect with people who had similar values, but sometimes were thinking about issues differently, was really, really cool."
As students who had already been involved with the Office of Environmental Stewardship & Sustainability at Sewanee, they entered Camp 2030 with an established interest in environmental issues. They left with a firmer sense of purpose and capacity to advocate for the causes in which they believe.
"It's one thing seeing activists on TV, but it's another thing being in a room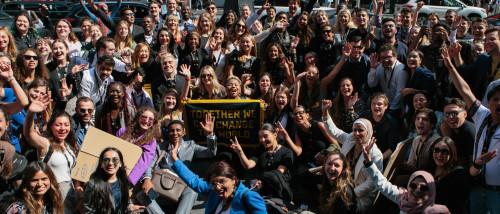 with 200 of them from around the world," says Cleveland. "It's an experience that you don't get anywhere else. These people truly do care and want change. You get to be with them and see that firsthand, and it really does make you feel like there is hope."