Sarah Strand, C'21, is currently sailing in the South Pacific aboard a tall ship ocean research vessel.
Sarah Strand, C'21, is currently sailing in the South Pacific aboard a tall ship ocean research vessel in order to explore social aspects of the effects of climate change, seek solutions to the associated problems, and develop skills in the emerging field of environmental communications. Strand is an Environmental Arts and Humanities major from Vienna, Virginia.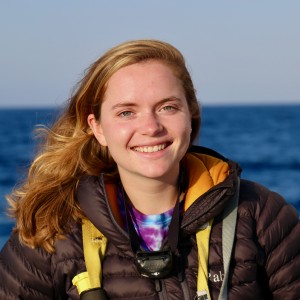 Strand is enrolled in SEA Semester: Climate & Society, a program offered by Sea Education Association geared toward students majoring in the humanities and social sciences. The program takes a human-centered approach to climate change, focusing on social institutions, economic markets, cultural practices, and the creative forces of art, literature, and design. It complements the Environmental Arts and Humanities major at Sewanee, which examines environmental issues by integrating the diverse perspectives offered by anthropology, history, literature, philosophy, religion, and visual studies.
Strand and her fellow students arrived at SEA's Woods Hole campus in September for five weeks of preparatory coursework before flying to Christchurch, New Zealand. Once there, they visited glacier ecosystems and met with local communities affected by climate change on the country's South Island before boarding the SSV Robert C. Seamans. The state-of-the-art 134-foot brigantine serves as home, classroom, and laboratory as the students explore the waters off New Zealand.
All students are full working members of the ship's crew, sharing responsibilities for standing watch, processing oceanographic samples, navigating by the stars, and participating in round-the-clock operations.
The students on board come from an impressive mix of colleges and universities, including Middlebury College, Vassar College, Colorado College, University of California, Berkeley, and the University of Copenhagen.
The voyage concludes Dec. 15. Follow it through the students' updates on the SEA Semester blog.
Last fall, Dietrich Klug and Lindsay Fox, both C'20, sailed on the same research vessel as part of different study programs.
Photo, top, SSV Robert C. Seamans, Sea Education Association, Woods Hole, Massachusetts. Photos courtesy of Sea Education Association.