The Roberson Project on Slavery, Race, & Reconciliation will introduce its "Save Sewanee Black History" website and virtual archive on June 6.
A launch party will be held from 2 to 4 p.m. Sunday, June 6, on the front porch of Fulford Hall on the University of the South campus. All are welcome to join in the celebration of this important and living achievement.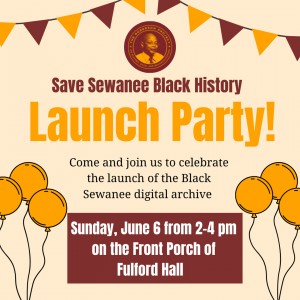 The project began a little more than two years ago when the Roberson Project was awarded a Common Heritage grant from the National Endowment for the Humanities to support this work. The Roberson Project's director, Woody Register, as well as students, faculty, and staff on its working group, reached out to present and former African American residents of Sewanee and their descendants to recover and preserve their histories on the Mountain.
Inspired volunteer organizers—including Shirley Taylor, Sandra Turner, Carl Hill Jr., Jimmy Staten, Jackie Duncan, James Burnett, Doug Cameron, and many others—helped start a community-based archive to do justice to the generations of African Americans whose labors and sacrifices made Sewanee the university and community that it was in the past and is today. Many community members pitched in to help take oral histories at one of the several "Save Sewanee Black History" days held in the area. The archive and website are the result of this collaboration.