Sewanee Students Present at Oxford Consortium for Human Rights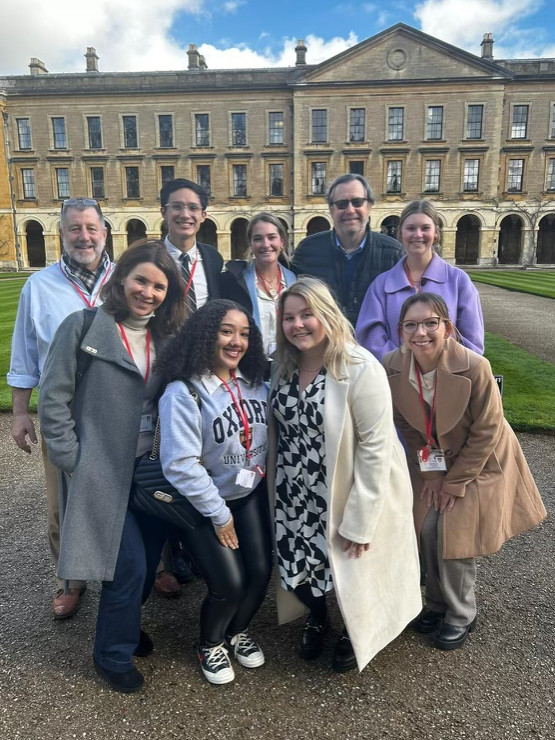 Six Sewanee students and two professors attended the Civil Resistance, Nonviolent Activism & Human Rights workshop at the Oxford Consortium for Human Rights, which took place from March 20 to 24 at Magdalen College at the University of Oxford. Sewanee's delegation included: Anne Dobson Ball, C'23; Caroline Clements, C'23; Ruthie Lunsford, C'24; Silas McClung, C'24; Jenna Miller, C'25; Tiani Williams, C'24; Professor of Politics Mila Dragojević; and Professor of Rhetoric and American Studies Sean O'Rourke.
The workshop's theme had been chosen to mark the 60th anniversary of the March on Washington. Over the course of the week spent in Oxford, Sewanee's participants attended daily lectures and discussions on topics including Gandhi and modern civil resistance, activism for prison reform in Myanmar, the connections between music and mobilization for civil resistance, and more. O'Rourke, whose research interests include the rhetoric of protest and dissent, gave a talk on sit-ins.
The participating students got to live as Oxford students for a week, staying together in the dorms at Hertford College (one of Oxford's constituent colleges). They sampled the cuisine at the dining hall and nearby pubs, noted the architectural similarities between Oxford's buildings and those at Sewanee, explored the local area, and partook in the most British of rituals—high tea.
Sewanee's students also collaborated on a presentation given in conjunction with the workshop. Tasked with identifying a silence breaker within their community, they chose to speak about the Highlander Folk School, a social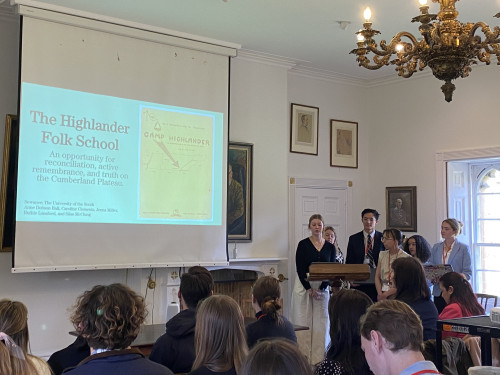 justice leadership training school formerly located in nearby Monteagle, Tennessee. In addition to surveying the school's history as a training ground for Southern civil rights activists and the remarkable series of historical figures connected to it, the group also shared recommendations for future action, including: establishing a coalition to focus on educating the Sewanee community about the school; investing in restoration efforts; acknowledging the University's history in relation to the school; and identifying connections with the work and community engagement of the Roberson Project on Slavery, Race, and Reconciliation.
"Myles Horton and all those the Highlander Folk School inspired ... leave an indelible mark on our community and the American story, continuing to teach local people and us to use our voices to advocate for justice anywhere and shatter the silence of injustice everywhere," said McClung at the conclusion of the presentation. "We are excited to use Oxford's best practices, strategies, and techniques to complement our academic work, activism on campus, and human rights advocacy aspirations."
This was the second year that the Politics Department sponsored student travel to the Consortium, an opportunity that the department hopes to continue to offer in the future. "It's a wonderful experience for our students, and one that is very transformative for them," says Dragojević. "They get to step outside of Sewanee, travel to an institution of global significance, and talk about difficult topics with a broad range of people."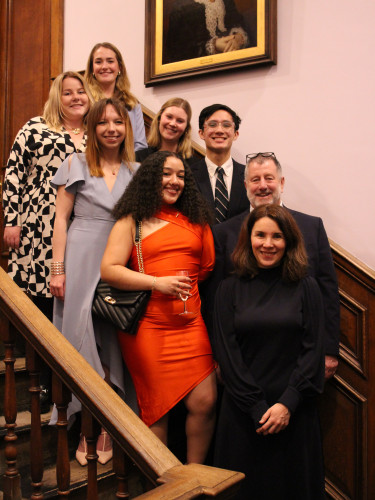 The workshop's focus on civil resistance and nonviolent activism naturally led this year's Sewanee contingent to expand and include students from the Rhetoric Program and the Center for Speaking & Listening as well, much to O'Rourke's delight. "These opportunities to study away are always deeply impactful," he says, "so the more students who are able to participate, the better."
Sewanee's students have felt that impact in multiple ways. McClung, for instance, has already begun to draw connections between lessons learned at the consortium and the work he is currently doing to prepare his thesis. Yet he has also found that the experience did more than just help with his coursework, noting that he returned to Sewanee with a clearer idea of how to combine his pre-existing passion for human rights work with his new education in order to improve the community around him.
The drive to apply what they've learned in service of a greater good is an idea that resonates with Lunsford, who has long harbored an interest in civil rights and advocacy. "I've thought about this experience nearly every day since I got back," she says. "I've realized that now that I've had this training, I have a responsibility to use it."