Vice-Chancellor John McCardell, who has held that post since 2010, has announced his plans to step down in July 2020.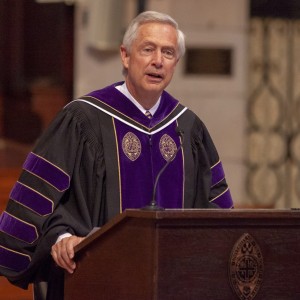 Vice-Chancellor John McCardell, who has held that post since 2010, has announced his plans to step down in July 2020. He will remain on the Sewanee faculty. McCardell made the announcement during the "Launching of a New Year" event on campus.
During McCardell's tenure, Sewanee has enjoyed record applications to the College, growth in the reach of the School of Theology, and increasing recognition as a leading national liberal arts university.
Under his leadership, the Stronger Truer Sewanee fundraising campaign eclipsed its original $250 million goal last February, ahead of schedule. The campaign was marked by increased commitments for academic support, construction of new campus facilities, and support for the School of Theology. And despite already raising more than $58 million for scholarships and internships, a push to achieve the University's goal of meeting full financial need for admitted students will extend the campaign.
The determination to restore Sewanee's long commitment to meeting 100 percent of demonstrated financial need of admitted college students is one of several endeavors McCardell has led with the goal of making an excellent college education more accessible for more of the nation's best students. In 2011, the University reduced the cost of a Sewanee education by 10 percent; for several years after that, a four-year tuition freeze applied to each incoming class. These actions represented a strong commitment to keeping the cost of a top-quality college education as affordable and predictable as possible.
At least partly as a result, visits to campus by prospective students have climbed sharply since 2011, and the number of applications and the size and quality of entering classes have grown as well.
"John McCardell has served with great distinction as Sewanee's 16th vice-chancellor," said the Rt. Rev. Rob Skirving, bishop of the Diocese of East Carolina and chancellor of the University. "I am thankful for the leadership and vision he has shown during a remarkable chapter in the University's history, and I look forward to his continuing to teach in the College."
"John will leave the University in a stronger position among liberal arts universities and Episcopal seminaries," said Joe DeLozier, C'77, P'16, chair of the Board of Regents. "We have made great progress toward the goals of Sewanee's strategic plan, especially in developing an exemplary learning environment and in extending the local—with thanks to the influence of Bonnie McCardell—and global reach of the University."
McCardell's announcement now will allow an orderly transition of leadership for the University. A nationwide search will be conducted for a new vice-chancellor.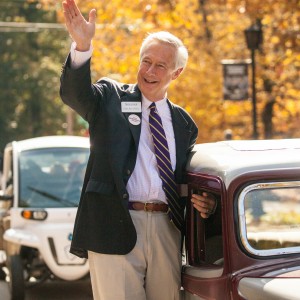 "To have been entrusted with the leadership of the University of the South is a responsibility and an honor for which Bonnie and I will be forever grateful," said McCardell. "Though the time has come for me to announce that this will be my last year as vice-chancellor, this is not retirement. My plan is to return, after a period of recharging, to part-time teaching in the Department of History. I very much look forward to that." See the full text of his remarks.
A few Sewanee highlights 2010-2019:
Facilities renovated or built to enhance campus life include the Sewanee Inn, new residence halls Smith Hall and Ayres Hall, the Wellness Commons, the new University Bookstore, duPont Library and the Learning Commons, and renovated athletic facilities.
A reconstituted and comprehensive Office of Global Citizenship that addresses many aspects of global studies: internships, study abroad experiences, visa issues, risk assessments, and International and Global Studies faculty members.
The creation of an Office of Community Engagement that has opened a new chapter in the University's relations with its neighbors, and what is now a long-term partnership with AmeriCorps VISTA and the South Cumberland Community Fund.
Finding Your Place, a place-based interdisciplinary first-year program introduced in 2013, focuses on intellectual, social, and community engagement during the first-year experience.
Dining services was brought in-house rather than contracted, improving job security and employment conditions for food-service workers, and reorienting the food service to promote local agriculture, good nutrition, and sustainability.
The School of Theology has expanded its reach through the Beecken Center, a lively center for lay and clergy learning and ministry.