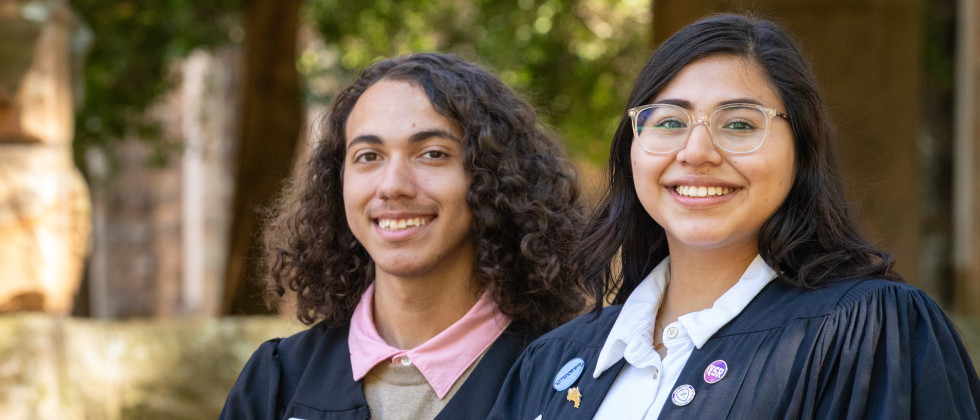 The Hispanic Association of Colleges and Universities Names Two Sewanee Students as Leaders-in-Residence
The Hispanic Association of Colleges and Universities (HACU) has announced that Jennifer Quispe, C'25 (pictured above right), and Stefen Rincon, C'25 (pictured above left), have been selected as leaders-in-residence for the 2023-24 academic year.
As part of the highly competitive program, Quispe and Rincon will join leaders from HACU member institutions across the United States and Puerto Rico for leadership and career development training. Over the course of the coming year, they will participate in the ¡Adelante! Leadership Institute at the HACU Annual Conference and engage in regular leadership development activities. They will also serve as an HACU resource for their peers at Sewanee, helping to increase engagement in HACU programs and advocacy efforts.
Sewanee joined the HACU as a partner institution in February 2023. Representing more than 500 colleges and universities in the United States, Latin America, Spain, the HACU provides institutions with important resources, networks, and industry knowledge to understand the best practices and strategies for supporting Hispanic/Latinx students. Membership in the HACU also provides a number of direct benefits to students, including access to such programs as: paid internships with corporate and federal partners (including the USDA, DHHS, Google, Oracle, and Deloitte); scholarships (offered through partnerships with Kia Motors and Café Bustelo, among others); and participation in annual conferences and summits that enhance students' leadership skills and career opportunities.
The HACU is the only national association representing existing and emerging Hispanic-Serving Institutions (HSIs). HACU is committed to Hispanic success in education, from kindergarten through graduate school and into the workforce of tomorrow. Read more about the HACU here.