Former Senator Bob Corker returned to Sewanee April 24 to sit down for an interview with journalist Olivier Knox.
The interview will be aired Friday, April 26, at 5 p.m. CDT on SiriusXM's P.O.T.U.S. channel (channel 124). It took place before an audience of students, faculty, staff, and community members, and included time for questions from students. (Listen to the full interview here.)
When asked about the current rancor in politics, Corker said that someone new to the Senate would by surprised by the collegiality there—what is seen in the media is not always representative of relationships in Washington. He did concede that there is less opportunity for bipartisanship now, however, as votes and issues are set up to be seen as binary, black-or-white choices.
Corker, a Republican, spoke at some length about the ups and downs of his relationship with President Trump. He expressed admiration for several members, or former members, of the Cabinet, including former Secretary of State Tillerson, former Secretary of Defense Mattis, and Secretary of State Pompeo, with whom he worked on foreign relations. But Corker said he had been "incensed by the equivalency" indicated by Trump's statements following the 2017 white supremacist rally in Charlottesville, and the relationship with the president soured.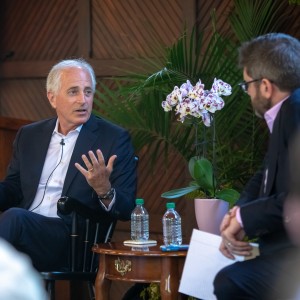 Corker's candid replies to Knox's questions included his thoughts on the state of the news media (24/7 cable news tends to be "so focused on the small negatives that people miss the big picture") and why he believes that a substantive Republican primary challenge would be a good thing (it might lead to serious debate about "traditional Republican concerns," such as free trade and fiscal responsibility).
Student questions included the timely topics of relations with North Korea and Russian interference in the 2016 election. "Russia absolutely interfered in our election," said Corker. "Citizens must be aware. Russia is trying to cause us to not trust elections." He also said that he believes North Korea has taken only superficial steps toward denuclearization, and that renewed sanctions should have been put into effect.
Corker left office in January after serving two terms in the U.S. Senate. As a senator, he was known for demonstrating bipartisanship and for his service as chairman of the Senate Foreign Relations Committee. In his first term, Corker worked on the 2008 financial crisis. He was a vocal advocate for the end of human trafficking and slavery. Corker's business background is in construction and real estate. He was mayor of Chattanooga from 2001 to 2005.
Olivier Knox is chief Washington correspondent for SiriusXM radio, covering the White House, politics, and foreign policy. He currently serves as president of the White House Correspondents' Association. At SiriusXM, Knox provides commentary for the broadcaster's political channels, including the nonpartisan P.O.T.U.S. He spent 15 years reporting for Agence France-Presse. Knox covered the George W. Bush administration, the impeachment and acquittal of President Bill Clinton, and the 2000 election.