Beverly Daniel Tatum is president emerita of Spelman College in Atlanta, and is widely known for both her expertise on race relations and as a thought leader in higher education.
Tatum will spend two days on campus holding informal conversations with student leaders as well as with faculty and staff. "The Cost of Silence: Conversations on Race and Community," a public conversation and Q&A session, will be held with her at 7:30 p.m. Tuesday, Sept. 10, in Convocation Hall. The entire campus and community are invited.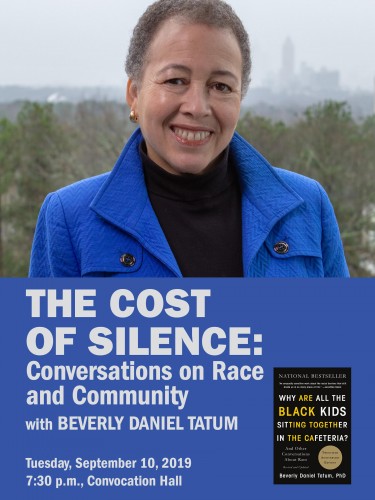 Tatum is the author of several books including the best-selling Why Are All the Black Kids Sitting Together in the Cafeteria? And Other Conversations about Race, now in its 20th anniversary edition.
Tatum is committed to starting difficult conversations to help solve problems and build community. As a leading voice on race and racism, she is often invited to speak to student and faculty groups, industry associations, and leadership groups to discuss how to engage communities in discussions about race and ways to close equity gaps now and in the future.
She was the 2013 recipient of the Carnegie Academic Leadership Award and the 2014 recipient of the American Psychological Association Award for Outstanding Lifetime Contributions to Psychology. Tatum holds a B.A. degree in psychology from Wesleyan University, an M.A. and Ph.D. in clinical psychology from University of Michigan, and an M.A. in Religious Studies from Hartford Seminary.
Tatum's visit is co-sponsored by the Office of the Provost, the Office of the Dean of the College, Dialogue Across Difference, Office of Civic Engagement, Center for Teaching, Center for Speaking and Listening, Center for Leadership, Project on Slavery, Race, and Reconciliation, and Women's and Gender Studies.