David Johnson, a politics major and business minor from Brownsville, Tennessee, has been awarded a year-long Watson Fellowship for 2019-20. He is Sewanee's 48th Watson Fellow.
David Johnson, a politics major and business minor from Brownsville, Tennessee, has been awarded a prestigious year-long Watson Fellowship for 2019-20. Offered by the Thomas J. Watson Foundation, the Watson Fellowships offer college graduates a year of independent exploration and travel outside the United States. Watson Fellows must create, execute, and evaluate their own projects.
Johnson's project centers on transitional justice. He plans to visit the United Kingdom, Germany, Rwanda, South Africa, Chile, and Peru—all countries transitioning from their own histories of oppression—in order to learn how they are reconciling with their pasts. He hopes to bring new ideas and imagination to the ways the United States may reconcile with its own history. The project is close to Johnson's heart; at Sewanee, he has served on the working group for the Sewanee Project on Slavery, Race, and Reconciliation.
"I dropped to my knees when I saw my name alongside 40 others from across the country," said Johnson. "I was immediately humbled and thankful for the Watson committee, and better yet, the Sewanee Watson committee for believing in my project and me."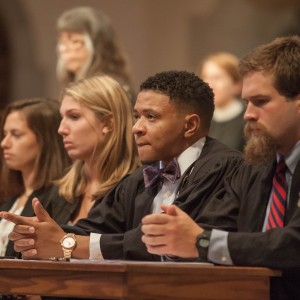 In addition to his work with the Slavery Project, Johnson (better known on campus as "Chief") has been a member of the University's basketball team and the Honor Council. He has served internships at the Grameen Bank in South Asia and at NAACP Headquarters. He sits on the National Youth Work Committee for the Board of the Directors of the NAACP.
Since 1985, when Sewanee was selected as one of the Watson institutions, the University has produced 48 fellowship recipients, including most recently Mark McAlister, C'17. The Watson Foundation selects fellows based on qualities of leadership, imagination, independence, integrity, resourcefulness, and responsibility.
This year's class of 41 Watson Fellows was chosen from 152 finalists, and comes from 18 states and six countries. The Fellowship recipients will receive stipends of $30,000 each for 12 months of travel, and will explore topics from artificial intelligence to music subcultures; from food insecurity to island innovation; from neonatal to end-of-life care.