On May 14 & 15, the University of the South welcomed Vice-Chancellor Emeritus John McCardell and Class of 2020 back to the Mountain to celebrate their graduation weekend!
Having received their diplomas in a virtual ceremony nearly two years prior, members of the Class of 2020 returned to the Mountain to celebrate a one-of-a-kind abbreviated grad week. About 265 members of the class were in attendance, joined by nearly 1,100 friends and family members. Acting Vice-Chancellor Nancy Berner, who presided over her first Commencement Weekend a week before, returned to her role as provost and allowed Vice-Chancellor Emeritus John McCardell to conduct the Baccalaureate and Commencement services—as it would have been in May of 2020.
On Saturday, at the University Baccalaureate service, five honorary degrees were presented, to Susan Binkley, the founder and president of Blue Monarch; Emory Shaw Campbell, president of Gullah Heritage Consulting Service; renowned ragtime/boogie-woogie pianist Bob Milne, founder and director of the Frankenmuth Ragtime Festival; Jack Murrah, former president of the Lyndhurst Foundation; and poet, novelist, biographer, screenwriter, and critic Jay Parini, D.E. Axinn Professor of English and Creative Writing at Middlebury College. Dr. Parini also gave the commencement address.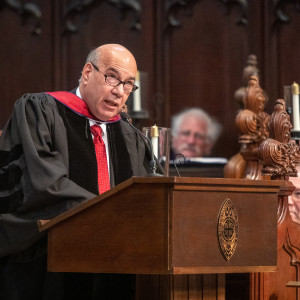 In his remarks, Parini observed that, "Sewanee gets into your bloodstream. It's one of those places that can change hearts and minds—and I expect every graduate this weekend knows exactly what I'm talking about." He recognized that the University motto, taken from Psalm 133, takes on even greater meaning now that we have come through the pandemic. Behold how good it is when kindred dwell together in unity. Parini's final advice to graduates was inspired by Mr. Rogers. He implored graduates to be good neighbors. "We can, if we choose, make the world our neighborhood, taking everyone—whatever their political orientation or racial or religious or sexual orientation—seriously, treating them with real compassion. I know this is how I'd like to be treated. And I'm sure you're all the same."
The Commencement exercise on Sunday felt like a traditional Sewanee graduation as families and friends joined the College faculty and the Class of 2020 in All Saints' Chapel.
Caroline Kerrison, a chemistry major from South Carolina, gave the traditional salutatory in Latin, addressing the vice-chancellor emeritus, faculty, and the audience before concluding with the University motto Ecce Quam Bonum.
Reprising her role as provost, as she was in 2020, Acting Vice-Chancellor Nancy Berner then announced the awards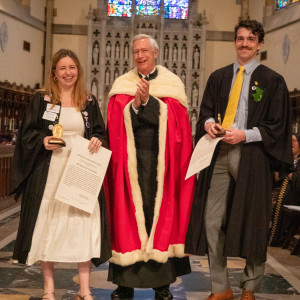 and honors for academic excellence in various disciplines, athletic achievement, and community service. Following those announcements, the provost then asked Jackson Campbell and Mary Ellen Fagan to come forward to receive the 2020 Algernon Sydney Sullivan Medallions for character, leadership, and service to the University and the Sewanee community. Campbell and Fagan received loud applause from the faculty, their classmates, and guests in All Saints' Chapel as Vice-Chancellor Emeritus McCardell presented the awards, "the most distinguished award for a graduating senior."
See the complete list of 2020 awards and prizes. An initiation ceremony was held on Saturday, May 14, for the 21 newly initiated members of Phi Beta Kappa.
Taylor Hall, a biochemistry major from Tennessee, offered the Valedictory address. He recognized that drafting his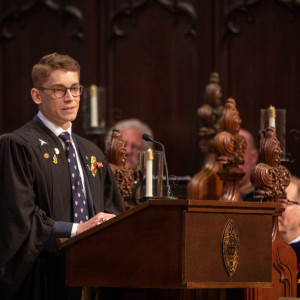 remarks was more challenging now that, two years hence, they were more about welcome-back than they were about good luck and farewell. He reflected on three important lessons he learned at Sewanee. He asked us to invest in our place, be present where we are, and to commit ourselves to service; to surround ourselves with people who give us comfort and confidence to be who we are and even laugh at ourselves; and finally, to never underestimate the connections that can be made over simple but intimate conversations. Hall suggested that the power of Sewanee "can very adequately be explained by the way we live our lives when we have gone. Individuals who are around us who have never been to this place will understand its beauty the way that we have by seeing it overflow out of us through our actions, our conversations, and our treatment of others."
Following the address, Dean of the College Terry Papillon read each graduate's name and, because they received their diplomas in 2020, Vice-Chancellor Emeritus John McCardell presented each graduate with a custom keepsake—a hand calligraphed version of the University's charge to the graduates.
John McCardell then addressed members of the Class of 2020. He reminded those gathered that the University had made them a promise "that sometime, somehow, we would bring you together again, together with the classmates whose friendship you treasure, together with faculty and staff who missed you terribly and longed to be with you again." McCardell thanked the many members of the Sewanee faculty and staff who made the special weekend possible and for their dedication to the University over the last two years. And, he thanked the members of the class of 2020 for their patience, their perseverance, and above all for returning to the Mountain. Before closing, the vice-chancellor emeritus acknowledged the special connection he shares with the class of 2020. "You have made this community a better place and together we have discerned in our trials the better angels of our nature. I am proud and deeply honored to be leaving the stage with you."
After the singing of the alma mater, the faculty procession led the way out of All Saints' Chapel and into the traditional applause line along University Avenue to congratulate the Class of 2020.
See photos and watch the Commencement video.