University Chancellor Skirving Announces Intention to Step Down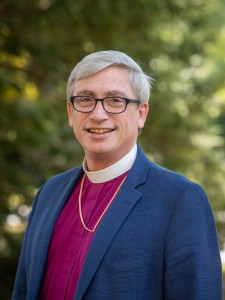 In a Nov. 18 letter to the University of the South's Board of Trustees, the Rt. Rev. Rob Skirving announced that he will be stepping down as the University's chancellor to focus his energy and attention on the Diocese of East Carolina, where he serves as bishop. Skirving has served as chancellor since being elected to the position in 2018.
In his letter, Skirving shared his intention to resign as soon as his replacement can be elected.
Chancellor Skirving has worked with three vice-chancellors during his service, including current Acting Vice-Chancellor Nancy Berner, and he helped see the University through COVID-19, when Sewanee successfully continued to offer on-campus learning at the height of the pandemic.
"I have worked hard to be available to the University during tumultuous times, while seeking to faithfully serve the people of the Diocese of East Carolina," Skirving wrote. "As we approach the election of our next vice-chancellor … I have decided that the University would be better served by a new chancellor, someone whom I pray will have the energy and enthusiasm that will be needed for the exciting times ahead."
In a letter to the campus community announcing Skirving's resignation, Berner wrote, "Knowing this decision was a hard one for Bishop Skirving, we want to honor it as expeditiously as possible even as the search for the 18th vice-chancellor is underway." Berner noted that the Board of Trustees' Nominations, Elections, and Credentials Committee will convene in the coming weeks to consider candidates for chancellor.
Skirving will continue to serve the University as bishop trustee from the Diocese of East Carolina.