The Sewanee campus is galvanized by March 13 incident involving hate speech, and vows to fight racism in all forms.
On Saturday, March 13, the University experienced an incident involving hate speech during an athletic event on the Sewanee campus. A few college student spectators were heard harassing members of the visiting team using racial and other epithets. All spectators were cleared from the stadium before the game was completed. Sewanee's vice-chancellor met with the visiting team following the game, and apologized to them on behalf of the entire Sewanee community. Likewise, Sewanee's athletic director and coaches apologized to their colleagues from the visiting college. Vice-Chancellor Brigety announced the incident in a letter to campus on Sunday evening.
The University is taking actions to help prevent similar incidents in the future, including updating game protocols and changes in the positioning of Sewanee staff and security at athletic events. Multiple student organizations and University offices have been outspoken in their renunciation of racism of any kind on the Sewanee campus and have demonstrated their commitment to the University's ideal of EQB ("Behold how good and pleasant it is when kindred live together in unity!"). See some examples of their social media statements below. Various University departments and organizations have issued written statements in support of recent student protests and condemning racist behavior.
The University is working to identify the students responsible so that appropriate measures can be taken (under Sewanee's COVID-19 protocols, only students were permitted at the game). It is hoped that when the investigation is complete, a path forward will be possible that provides for both accountability and reconciliation. The University also continues to offer support to students who are in need of assistance in coping with the hate speech incident.
In an event planned by students overnight following Brigety's email, an estimated 500 students, faculty, staff, and community members gathered in the Quad on Monday for a walk-out protest of the incident of racist behavior and in support of students of color. Students and the vice-chancellor urged everyone to call out racist behavior whenever it occurs. "Today will mark the first of many demonstrations of what it truly means to be 'of Sewanee.' How we respond is a reflection on our collective integrity and honor," said student leaders in their invitation. "With the exhaustion and isolation we have endured in the past year, we dearly hope that we can find the motivation to unite our voices and collectively make change."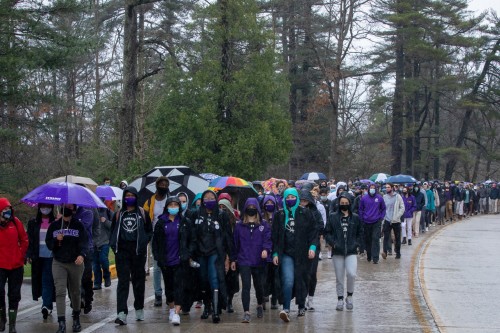 In a downpour Wednesday afternoon, hundreds of Sewanee student-athletes, coaches, and supporters joined a March Against Racism organized by the Student-Athlete Advisory Council. Several dozen student-athlete leaders have signed a letter speaking out against racism and saying in part, "Athletics has the ability to unite students and strengthen a community; that is what we intend to do with our platform. We know that our words are not enough, there must be actions taken." The letter calls for several actions, including defined protocols should acts of racism, hate, or bigotry occur at athletic competitions and other University events.
Greek life leaders joined together to recognize the nationwide shortcomings of the Greek system and its historic ties and practices, and to commit to lasting structural change. "To be a Sewanee student is to exude excellence, to be a thoughtful leader, an engaged neighbor, and a supportive friend," they stated. "Sewanee Greek Life will no longer tolerate the membership of individuals who do not generate these qualities and uphold the true ideals of living in EQB."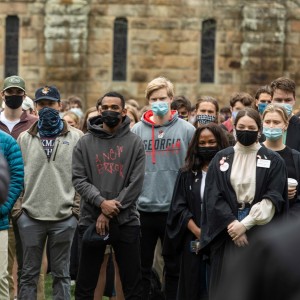 Brigety has been heartened by the students' vehement rejection of the behavior that a few displayed last weekend, and has praised their animated response. Sewanee alumni, parents, and friends have expressed disappointment and disgust for the incident, but also support for the students, the vice-chancellor, and the University in their efforts to demonstrate and nurture a collective commitment to EQB. The vice-chancellor sent an update to the campus community on Friday, March 19, which said in part, "This week has been challenging, painful, and consequential for our community. Yet the courageous actions taken by many of you show that brighter days lie ahead."
Additional meetings and conversations are occurring across campus, as students, faculty, and staff respond. The campus community is invited to join Sewanee's Posse scholars and mentors on Saturday to build on conversations begun last weekend during the annual Posse Plus Retreat. (The Retreat is an annual event that brings Posse Scholars together with other students, faculty, and staff for conversation on important topics related to diversity, equity, inclusion, politics, social justice, and more.)
While Sewanee is geographically remote, the University unfortunately is not removed from the issues and behavior that continue to trouble the rest of American society. The University believes in forgiveness and reconciliation, but such behavior will not be tolerated at Sewanee. Reporting of any acts of hate or bias is encouraged, and any such reports are reviewed and taken seriously. The University means to create a welcoming environment for all people and continues to work toward that goal.
Posters and statements on social media