Last Sunday, Vice-Chancellor Reuben Brigety was part of Kanuga's new online dialogue series "Face to Face: Conversations from Kanuga."
Brigety engaged in an in-depth conversation with Kanuga President the Rev. Michael Sullivan, T'00, a former Regent of the University.
The hour-long conversation covered current topics including racism and injustice now and throughout American history; how a definition of being Southern could include both Merle Haggard and Muddy Waters; the obligation of people of faith to not be silent, but to act; and the possibility of Sewanee as "a place that is welcoming and affirming to the broad panoply of Southerners who want access to a world-class education in the spirit of Ecce Quam Bonum that is the lodestar of what we do."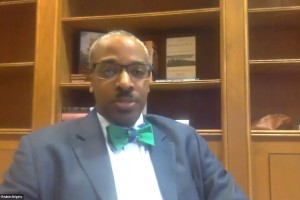 Watch the conversation.
Established in 1928 and affiliated with the Episcopal Church, Kanuga is a non-profit conference, retreat and camp center in North Carolina serving 35,000 guests annually.