Alexander Robinson, C'23, Wins Fulbright English Teaching Assistant Award
The University of the South is pleased to announce that Alexander P. Robinson, C'23, has received a Fulbright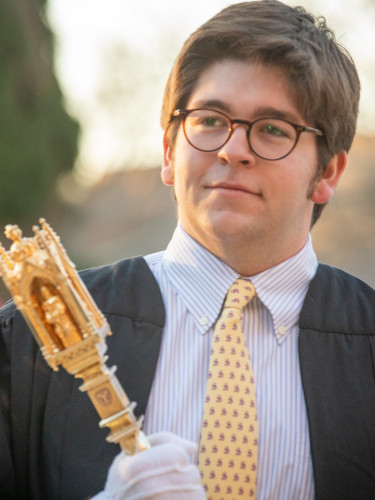 English Teaching Assistant award from the U.S. Department of State and the Fulbright Foreign Scholarship Board. The award provides support for Robinson to teach in Germany for the 2023-24 academic year. Robinson is Sewanee's 57th Fulbright recipient.
"Alex has demonstrated exceptional leadership inside the classroom and across campus, especially in his service this past year as the president of the Order of the Gown," says Acting Vice-Chancellor Nancy Bener. "Sewanee is proud to have him as a Fulbright recipient."
A politics and history major and German and German studies minor from Lookout Mountain, Georgia, Robinson has long been committed to fostering inclusive conversations and finding ways to involve more voices in discussions and decisions. He expects that his interest in seeking out others' perspectives will be of great value as he navigates a new culture abroad. "In Germany, I know that I will bring with me a curiosity and zeal for continued learning, and a penchant for understanding those I interact with," says Robinson.
The Fulbright Program is the U.S. government's flagship international educational exchange program. More than 2,000 U.S. students, artists, and early career professionals from all backgrounds and in more than 100 fields of study receive Fulbright U.S. Student Program awards annually to study, teach English, and conduct research overseas. Recipients of Fulbright awards are selected in an open, merit-based competition that considers leadership potential, academic and/or professional achievement, and record of service.
The Fulbright U.S. Student Program is administered at the University of the South by Associate Dean Alexander M. Bruce. A listing of previous Fulbright awards and other fellowships and scholarships won by Sewanee graduates is available via the Office of the Dean of the College.