Alexa Fults will spend next year with the Carnegie Endowment for International Peace as a James C. Gaither Junior Fellow.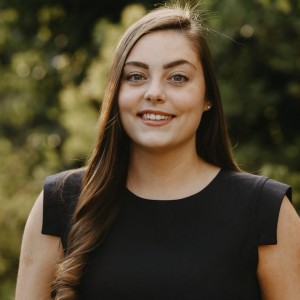 Alexa Fults, a senior politics major from Morrison, Tennessee, has been awarded one of the most prestigious fellowships in international relations, a James C. Gaither Junior Fellowship from the Carnegie Endowment for International Peace. She was nominated by the University for placement in the Fellowship's Russia and Eurasia Program, and was selected for that program.
Each year, the Carnegie Endowment for International Peace offers approximately 12 one-year Gaither Fellowships to uniquely qualified graduating seniors selected from a pool of students nominated by several hundred participating universities and colleges. James C. Gaither Junior Fellows work as research assistants to Carnegie's senior scholars. They have the opportunity to conduct research for books, co-author journal articles and policy papers, participate in meetings with high-level officials, contribute to congressional testimony, and organize briefings attended by scholars, journalists, and government officials.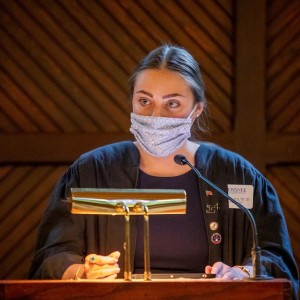 Fults will spend next year at Carnegie's U.S. center in Washington, D.C., working with scholars there as well as in Moscow. She says Sewanee has prepared her well for the position: "The international relations training I received at Sewanee was cutting-edge and the mentorship I received from my professors in the politics and Russian departments and from Ambassador Brigety is unparalleled. I really cannot thank them enough."
Left: Fults participated in the Sewanee Debate Union discussion of the U.S. role as world leader, Oct. 2020.
The fellowships are paid, full-time positions that begin on August 1 and last for approximately one year.
Last spring after students left campus and began remote learning, Fults continued working regularly via Zoom with Rodelio (Rae) Manacsa, associate professor of politics, on a research paper about Russia's view of the war on terror. "It's really exciting stuff," said Fults. "When people ask what I study in college, and I say 'politics,' they think about campaigns and elections, but what I really study is international law, armed conflict, and terrorism."
Fults grew up in nearby Grundy County, and credits part of her success to the surrounding community, which taught her the power of grit and resilience. "My entire life, I've always had to separate my life as it is from my life as it should be, in order to keep pushing forward. It's something 'mountain people' have been doing for centuries. It's called grit," she said. "I chose to study international relations and global security at Sewanee because the field requires you to see the world as it is and the world as it should be, and to focus on the latter, in order to change it."
A previous Gaither Fellow from Sewanee, Marcel Lettre, C'94, served in the Obama administration as undersecretary of defense for intelligence; he was the top intelligence advisor to the secretary of defense and the top defense advisor to the director of national intelligence. He now supports work for the intelligence community as vice president at Lockheed Martin.