Alan Ramirez has been named associate provost and dean of admission and financial aid. He will begin his new role July 6.
The University of the South has announced that Alan Ramirez will become Sewanee's associate provost and dean of admission and financial aid, beginning July 6. Ramirez is currently associate vice president and dean of admission at Austin College in Sherman, Texas. He has been with Austin College since 2017, and in his current role for two years.
His office enrolled Austin's largest and third largest incoming classes in the college's history in 2018 and 2019, and reshaped admission events to better engage prospective students and their families. Ramirez also served on the college's President's Council for Diversity and Inclusion. Prior to joining Austin College, he worked in recruitment and admission at Oklahoma State University and Southern Methodist University (undergraduate and law school), and was the director of college advising at All Saints' Episcopal School in Fort Worth, Texas.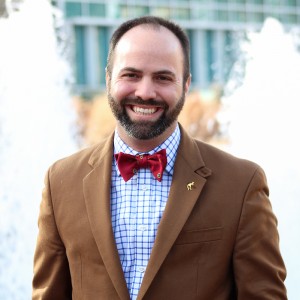 "I am excited to join the talented team in the Office of Admission and Financial Aid this summer as we continue the work to broaden Sewanee's national reach and elevate the academic profile and composition of future entering classes," said Ramirez. "The University of the South has a long history of equipping graduates with an evergreen skillset to be leaders and change makers in this world. I count myself among the many people, including students and families, that find the tangible and intangible outcomes of the Sewanee experience so attractive."
"Alan is regarded as an effective enrollment manager and an excellent leader, and I am confident that his experience will be a great asset for the University of the South as he succeeds Lee Ann Backlund," said Lisa Stephenson, Sewanee's vice provost for student success. "I am sure that under Alan's leadership, the Admission team will continue on its current impressive trajectory. I'm excited to welcome him to the Student Success team!"
"I look forward to working with the campus community, leadership, and the broader alumni network to achieve the enrollment goals set before us by Vice-Chancellor Brigety and the Board of Regents," Ramirez concluded.