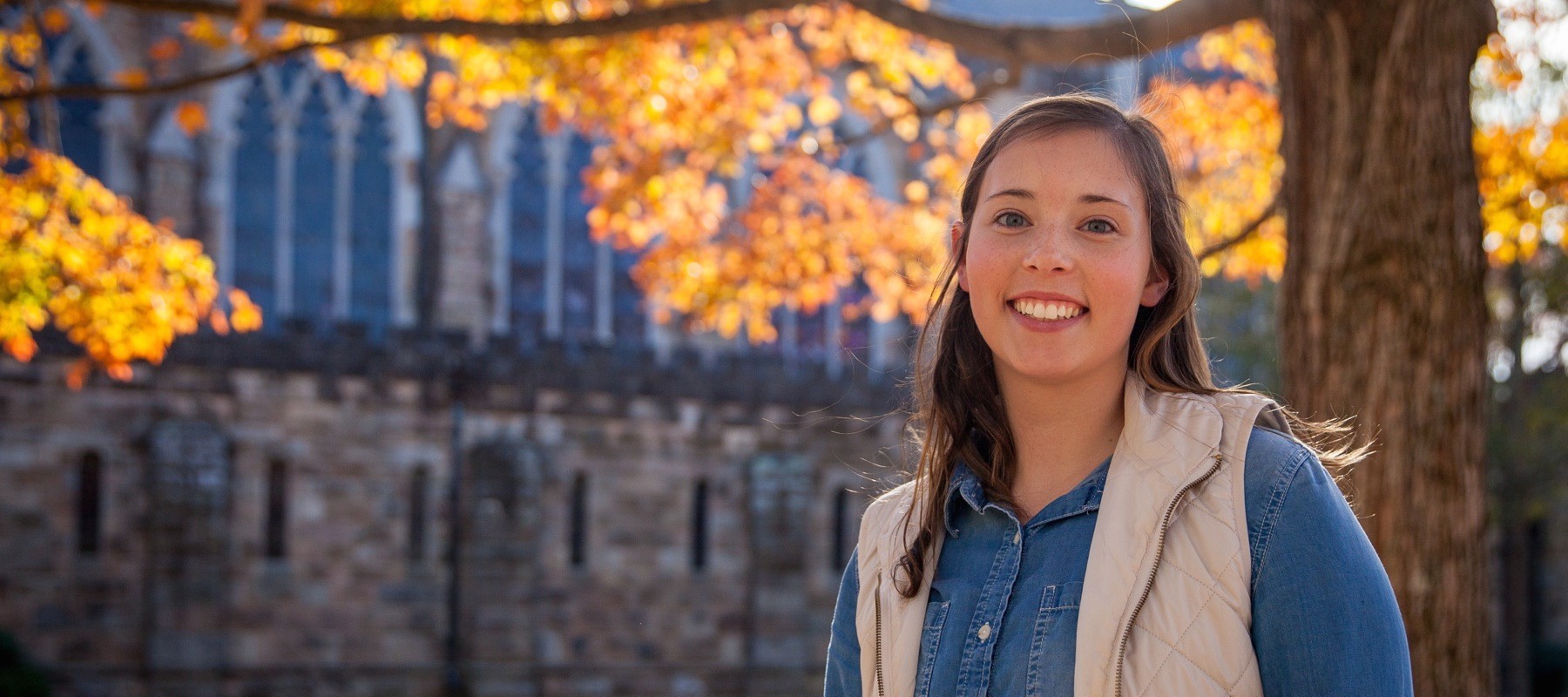 Facing It
A freshman volleyball player fights through cancer to play the sport she loves at the college she fell in love with.
BY CLAYTON FELTS, SPORTS INFORMATION DIRECTOR
---
U sed to being sore and tired after volleyball practice, Constance Connolly, C'20, found herself, one afternoon during her sophomore year of high school, absolutely exhausted. Not too concerned, she thought it was just a consequence of being busy. As the fatigue remained day after day, Connolly recalls, she found another problem: a knot on her lower abdomen. Not knowing what to make of it, she told her mother. Concerned, Cynthia Connolly took Constance to her doctor. After some initial testing, the Connolly family was advised to have the knot, which turned out to be an ovarian cyst, removed. What followed was something a previously healthy teenage athlete never expected.
A day after leading Memphis' St. Agnes Academy to the TSSAA Division II AA state championship in volleyball, Connolly was admitted for surgery. When the biopsy result was announced, Connolly and her parents were informed that she had cancer. The mass that was removed during her procedure was a five-pound tumor that was attached to her small intestine. In fact, the doctors had to remove four inches of her intestine just to remove the pelvic mass.
Only days later, Connolly was set to start cancer treatment at the world renowned St. Jude Children's Research Hospital in Memphis. Over the next five months, Connolly received eight rounds of radiation therapy and three rounds of chemotherapy. She sat for an hour and 15 minutes during each treatment, completing schoolwork between sessions. During one six-week stretch, she had daily 15-minute radiation therapy sessions. Finally, while she was fighting nausea, fatigue, and pain throughout her body, the shock of the serious illness set in.
"At first, it didn't really hit me that I had cancer," Connolly says. "It wasn't until I started going through the post-surgery treatments that I realized how hard this was going to be. My parents realized it immediately, but it wasn't until I noticed that I was no longer at school and I had no energy to do anything socially that it started to weigh on me."
Eventually, Connolly started to regain her strength. With the last treatment completed in March 2014, Connolly's chemo port was removed the following month. She followed that with the opportunity to play at nationals with her club team.
"When I first returned to volleyball, the simplest tasks were so difficult," Connolly says. "But I was so happy just to be out of St. Jude and back on the court. That helped motivate me to get past the pain and hardships as I made a comeback."
As Connolly headed into her junior season, her progress continued. She was able to return to school full-time. Back to full strength, Connolly also regained her form in volleyball, eventually drawing the eye of several collegiate coaches.
"My dream was always to play NCAA Division I volleyball. When I started getting recruited, I had a few choices," Connolly says. "One was to play as an invited walk-on at Austin Peay, which is a D-I program. But I visited Sewanee after Coach [Shawna] Laurendine started recruiting me, and I fell in love with this place. Sewanee opened up a different type of opportunity. The more I learned about the team, the University, and the campus, I knew that Sewanee was the right place."
After arriving on campus for her freshman year, Connolly developed into the Tigers' best setter. Splitting time with classmate Anna Wilson, Connolly led Sewanee this season with 394 assists and ranked second behind senior defensive specialist Sara Jayne Sutton in digs with 221.
"Playing for Sewanee has been a blessing," Connolly says. "My teammates are great and we have developed a bond like sisters. Our seniors have been great about leading and listening to young players like me when we have questions or need encouragement. The tradition, respect, and community that I've experienced at Sewanee affirm my belief that I made the right college choice."
After all the setbacks and hurdles in her journey to the Domain, Connolly had a chance to return to St. Jude this fall with her teammates when the Tigers were playing matches at Rhodes College in Memphis. When Connolly reflects back, she has one piece of advice.
"I have gone through so much and but I have never felt like I was a victim," she says. "We all face difficulties in life. So many times we like to control outcomes, but when I was diagnosed with cancer, I quickly learned that I didn't have control. All I could do was face it. Really, that's all any of us can do: Face those moments with all our strength."