This semester will not look like any other semester in the history of the University.
The University is happy to welcome students to Sewanee for the fall semester, and our students are excited to be here. This is true even when, as the vice-chancellor says, this semester will not look like any other semester in the history of the University.
The student arrival testing regimen is underway, FYP and PRE are in full swing, and faculty members are ready to teach and mentor in a variety of modes.
Almost 98% of the College students eligible to enroll at Sewanee this fall will enroll, and almost 90% plan to be on campus, including a large number of intrepid first-year students.
Even in the uncertain environment caused by the COVID-19 pandemic, Sewanee's Class of 2024 is 16% larger than last year's incoming class—as of Aug. 3, the class is 510 students strong. The Class of 2024 is the first class to benefit from Sewanee's recently relaunched Meet Full Need initiative, wherein the demonstrated financial need is met for all admitted students. The Class of 2024 had an average high school GPA of 3.77; we look forward to seeing all they will achieve here!
The interdisciplinary Finding Your Place program (FYP) began Aug. 3, and more first-year students arrived for PRE-Orientation on Aug. 11, so nearly 300 first-year students are on campus ahead of the start of Orientation on Aug. 14. Orientation 2020 will consist of both virtual and in-person engagement for students. It will include residence hall meetings and meetings with academic advisers, as well as several special events.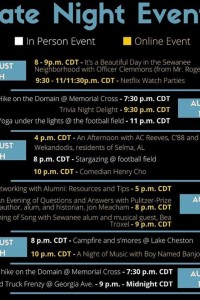 Campus Activities has planned a full slate of outdoor, socially-distant, and/or virtual events for the week. These include sunset hikes, "yoga under the lights" at the football field, virtual concerts, and an evening of Q&A with Pulitzer-Prize winning author Jon Meacham, C'91.
The Honor Code signing (Sunday, Aug. 16) is both solemn and celebratory, and marks the official matriculation of students into the University of the South. This year the ceremony will be held outdoors on the football field rather than in its more usual location of All Saints' Chapel. The signing of the Honor Code will be livestreamed.
Finding Your Place allows new students to discover and become connected to Sewanee and the larger community, and to begin developing strong relationships with classmates, student mentors, and professors. Participants enjoy plenary sessions, smaller individual sections, and numerous field trips around the Domain.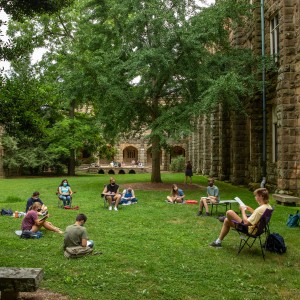 Early sessions of the Finding Your Place program provided a glimpse of what on-campus learning will look like this semester in Sewanee: masked, socially distanced, and largely outdoors. These precautions reduce the likelihood of viral transmission and increase the likelihood of a successful semester.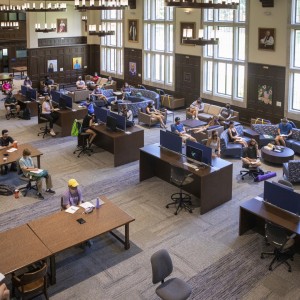 One way Sewanee is adapting for in-person learning is by using campus spaces large enough to allow appropriate distancing as teaching spaces. Students in the Finding Your Place program attended a plenary session in the Learning Commons of duPont Library, with plenty of room to spread out.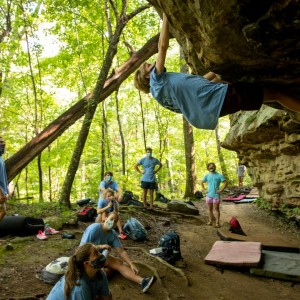 PRE-Orientation offers incoming students the opportunity to spend three days making friends and familiarizing themselves with Sewanee's 13,000-acre Domain through activities such as rock climbing, canoeing, or community service.
Once classes begin on Aug. 17, students will interact with their professors and classmates, whether it's through a screen or through a mask, or outside under a tree. All courses, including those termed "fully online," will include synchronous (real time, live) interactions among students and faculty that are a defining strength of a Sewanee education. And even "primarily in-person" courses will utilize technology so that students who are quarantined or learning from home can access them. See how faculty describe their new approaches.