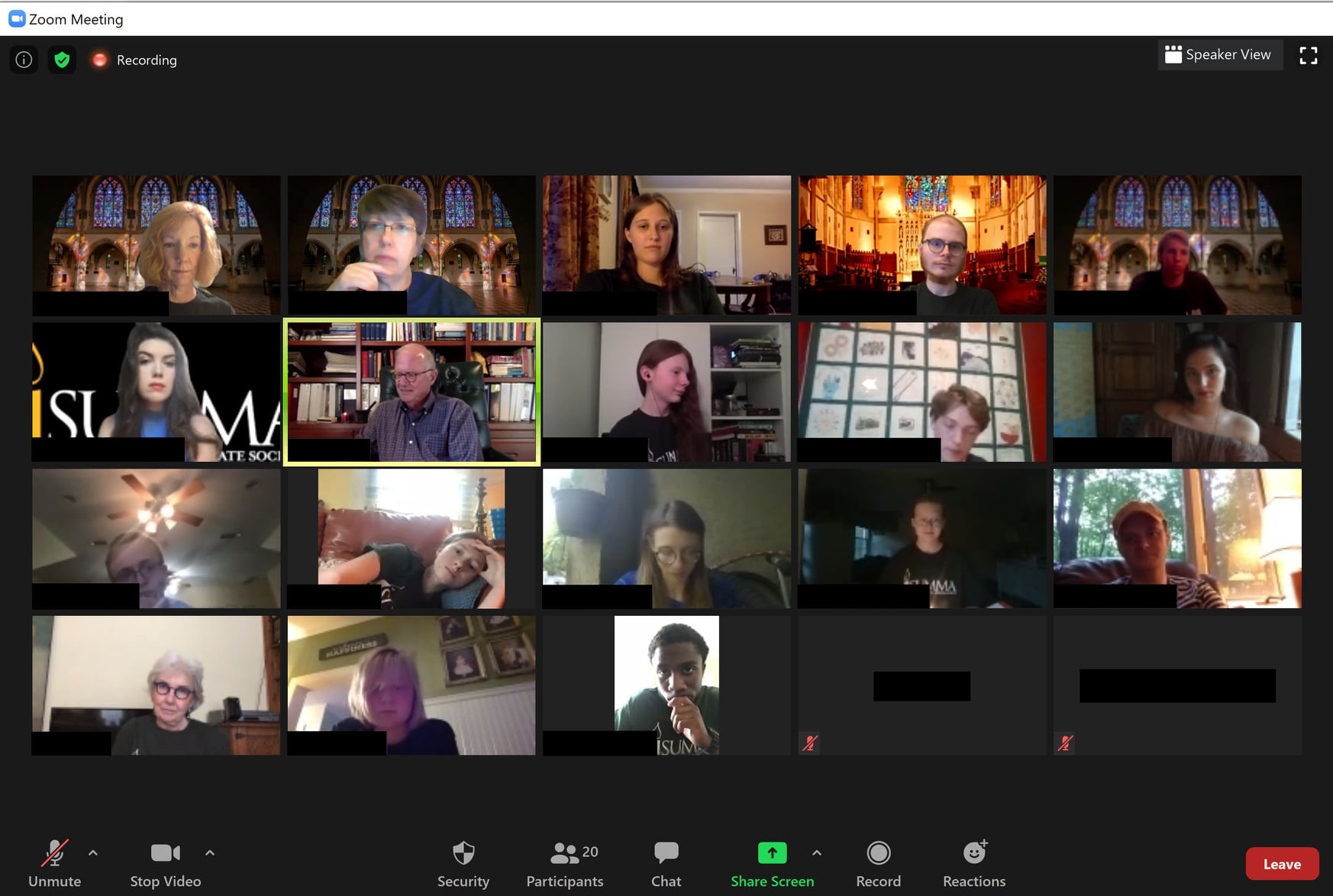 As many organizations that typically host events experienced this year, SUMMA had to get creative in its approach to programming in 2020. The COVID-19 pandemic required us to cancel the July 2020 in-person camp on the campus of the University of the South. Instead, we created a "SUMMA-at-a-distance" tournament for 10 second, third, and fourth year campers called ZUMMA! Not only did we jump into a new means of delivery, we asked our students to wrestle with one of theology's thorniest issues—the doctrine of theodicy, otherwise known as the problem of evil.
We are pleased to report that SUMMA/ZUMMA! was a great success!
"Campers" logged in from multiple time zones, hailing from Miami, Brooklyn, San Diego, Charlotte and Fayetteville, North Carolina, Augusta and Simpsonville, Georgia, Nashville and Sparta, Tennessee, and Shreveport, Louisiana.
ZUMMA! opened on Sunday, July 19 with worship, orientation, and the revealing of this year's debate topic:
Resolved: "Certain facts of life, including plagues, pandemics, racist acts, and human structures of oppression, belie belief in the goodness and omnipotence of God."
Stipulations for this debate were:
"Belie" is understood to mean "to prove false [or] run counter to." (Webster's 3rd New International Dictionary, unabridged)
Belief in the divine goodness is understood to mean belief that God is love. (1 John 4:8)
Divine omnipotence is understood to mean there is no limit to God's power. (Writes C.S. Lewis: "Omnipotence means power to do all that is intrinsically possible, not to do the intrinsically impossible. You may attribute miracles to [God], but not nonsense. There is no limit to his power." (C.S. Lewis, The Problem of Pain, HarperCollins e-books, page 18)
SUMMA, like so many other educational experiences, is impossible to recreate completely via Zoom, so we invited veteran SUMMA campers who could benefit from hour-long, brush-up lectures on theology and debate. Students were also involved in coaching sessions led by Beecken Center Executive Director and theologian, Sheri D. Kling, Ph.D, for the affirmative, and for the negative position with Andrew R.H. Thompson, Ph.D, assistant professor of theological ethics at the School of Theology.
Sewanee undergraduates Bahley Minor and Hannah True served as online counselors, encouraging kids and engaging them with camp fun and silliness. We played games including "hangman" and "pictionary" on Zoom's whiteboards. We shared our lunch together, each person elaborately describing their meal in the manner of Food Network, told ghost stories, and SUMMA Program Director Rev. Cindy Fribourgh even threw in "bedtime" readings from Aquinas' Summa Theologiae and Green Eggs and Ham by Dr. Seuss.
The week culminated in a single-elimination tournament on Friday. Debates by each and all were carefully crafted, theologically sound, and executed with skill and thoughtfulness.
Of our 19 tournament judges, 14 were former SUMMA campers going all the way back to our first camp in 2012.
"Camp" concluded with worship and an awards presentation with trophies going to tournament semi-finalists, runner-up, and winner. The annual SUMMA Prize is awarded to the student debater who best expresses the spirit of speaking truth in love while debating with skill and intellectual distinction. SUMMA founder, Rev. Dr. Christoph Keller, III, announced Andrew Holden from San Diego as the SUMMA Prize winner for 2020. Andrew will receive a trophy and $500 to be used for educational purposes.
Our closing party featured home delivery of a celebratory pizza to the home of each camper.
While certainly a different experience than SUMMA Camp, SUMMA/ZUMMA was enlightening, thoughtful, and fun, leaving us with hope that our church and our communities have a bright future.
You can help keep SUMMA going by donating to student scholarship funds here.