Sewanee Professor of English and acclaimed author Kevin Wilson has just published a new novel, Nothing to See Here. The novel traces the relationship of two former boarding school roommates and their struggle to raise children who spontaneously combust. A brief synopsis is reprinted from Wilson's website below: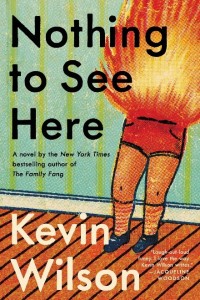 Lillian and Madison were unlikely roommates and yet inseparable friends at their elite boarding school. But then Lillian had to leave the school unexpectedly in the wake of a scandal and they've barely spoken since. Until now, when Lillian gets a letter from Madison pleading for her help.

Madison's twin stepkids are moving in with her family and she wants Lillian to be their caretaker. However, there's a catch: the twins spontaneously combust when they get agitated, flames igniting from their skin in a startling but beautiful way. Lillian is convinced Madison is pulling her leg, but it's the truth.
This fifth book by Wilson has very quickly met with resounding critical success, and most notably was reviewed by the New York Times. Some critical reception is below:
---
"Good Lord, I can't believe how good this book is," the New York Times' Taffy Brodesser-Akner writes in her review of Sewanee Associate Professor of English Kevin Wilson's new "unassuming bombshell" of a novel.
(https://www.nytimes.com/2019/10/29/books/review/nothing-to-see-here-kevin-wilson.html)
To hear from Wilson himself, tune in to the Oct. 29 episode of NPR's "Fresh Air," where he talks about writing and the book with Terry Gross, or read his essay on anxiety and parenting in Time magazine here: https://time.com/5712486/parenting-with-anxiety/
Today's Jenna Bush Hager makes Kevin Wilson's new novel her latest "Read with Jenna" pick. "It is so beautifully written. It is laugh-out-loud hilarious, and it is also so sweet that you will cry because of the beauty of the writing. I loved it, I loved it, I loved it."
https://www.today.com/shop/jenna-bush-hager-announces-november-book-club-pick-t166016
---
Recently, filmmaker Elizabeth Gabler acquired the screen rights to make this novel into a feature film. Wilson will serve as the executive producer on the project.
Kevin Wilson is currently a professor of English at the University of the South and teaches Creative Writing Courses including "Creative Writing: Fiction." In addition to his role as a professor, Wilson serves as the coordinator for the Creative Writing Certificate program at the University. More information about working and studying with Wilson in this program can be found here.
More information on the life and work of Sewanee Professor Kevin Wilson can be found at his website here.