Courtney Thompson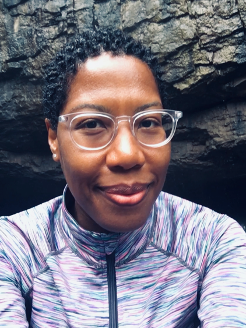 Associate Professor of American Studies and Women's and Gender Studies
BA, Hampton University PhD, Purdue University
Email: clthomps@sewanee.edu
Office: Walsh-Ellett 317/ Ext.1471
Dr. Courtney L. Thompson is an Associate Professor of American Studies and Women's and Gender Studies at The University of the South. She completed her PhD in American Studies at Purdue University and her BA in English at Hampton University. As an undergraduate, she studied abroad for one year in Bath, England with Advanced Studies in England. She is a proud UNCF/Mellon (Mays Undergraduate) Fellow and alum of the Institute for Recruitment of Teachers. Prior to joining the faculty at Sewanee in 2015 and being promoted and tenured in 2019, Dr. Thompson was a Visiting Assistant Professor in Africana Studies at Hamilton College, a Visiting Scholar and Assistant Professor in African American Studies at the University of Houston, and a Visiting Assistant Professor in Africana Studies at Dickinson College.
Dr. Thompson's interdisciplinary training and research draw together the fields of Black (Women's) Studies, American Studies, Women's and Gender Studies, and Literary Studies. Her writing has appeared in Palimpsest: A Journal on Women, Gender, and the Black International; Women, Gender, and Families of Color; Africology: The Journal of Pan African Studies; Feminist Media Studies; and the International Journal of Africana Studies.
Dr. Thompson's teaching interests reflect her concern with literature, popular culture, progressive politics, social constructions of identity, and cultural representations of race and gender. Her courses are discussion-based and designed to foster ideological diversity and critical thinking. She encourages her students to ask questions, think independently and creatively, and consider competing perspectives. At the University of the South, she teaches Introduction to African and African American Studies, Introduction to Black Women's Studies, Black Masculinity in the US, Toni Morrison, Imagining Africa, Black Women Activists Writing Change, African American Women's Short Stories, Blackness in American Popular Culture, Black Autobiography in the US, and Africa and the Diaspora: Texts and Contexts.
In terms of community engagement, Dr. Thompson has served on the Roberson Project on Slavery, Race, and Reconciliation Working Group; the African and African American Studies Advisory Committee; and the Task Force on Diversity, Equity, and Inclusion.
To learn more about Dr. Thompson's research, teaching, and service, please check these links.