We're checking in with Sewanee employees about changes and challenges in their jobs at this time.
Lisa Stephenson, vice provost for student success (March 2021)
SARAH BUTLER
, Office of Admission (October 2020)
RACHEL FREDERICKS
, Career Readiness (September 2020)
MARK HOPWOOD
, Philosophy professor (JUNE 2020)
Chip Schane, Chief Safety Officer (May 2020)
Lauren Goodpaster, Assistant Dean of Campus Activities (April 2020)
---
---
---
---
---
---
---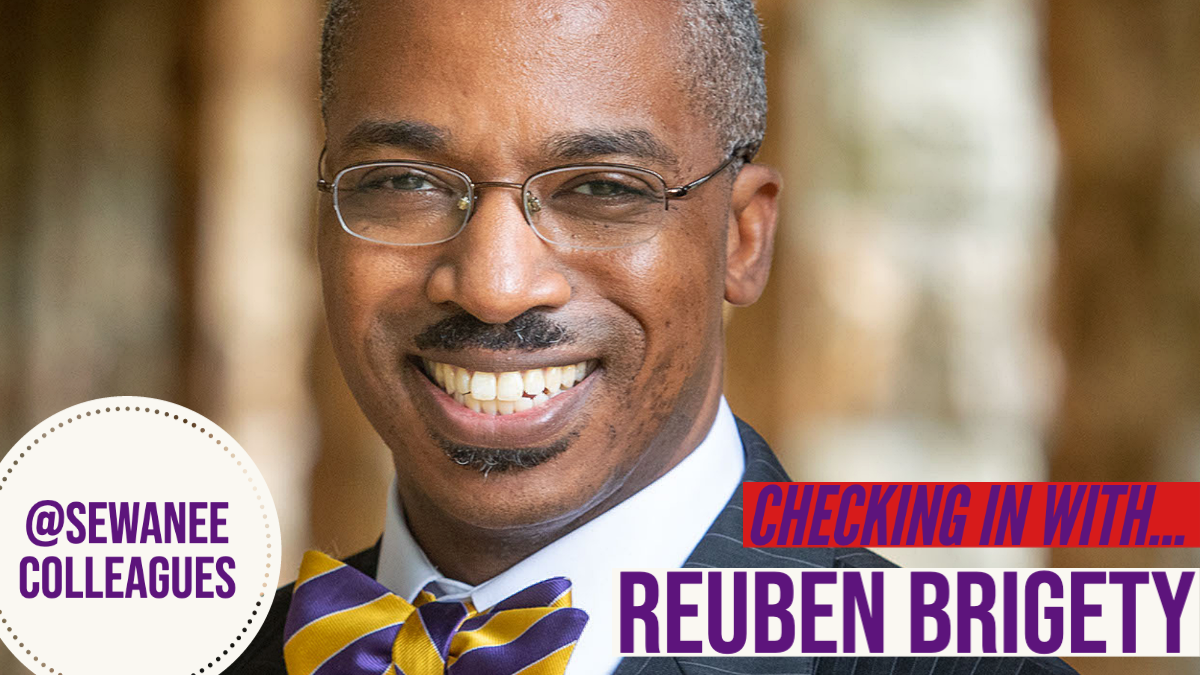 (By Bess Turner, Director of Development and Alumni Relations for the School of Theology)
Ambassador Reuben E. Brigety II is the 17th vice-chancellor and president at the University of the South. He is a native Southerner whose life and distinguished career have taken him from the U.S. Naval Academy to the University of Cambridge, and from Africa to Washington, D.C. He is a former dean of the Elliott School of International Affairs at The George Washington University and former U.S. ambassador to the African Union. He is a graduate of the U.S. Naval Academy and holds a master's degree in philosophy and a Ph.D. in international relations from the University of Cambridge. Vice-Chancellor Brigety is married to Dr. Leelie Selassie, a medical doctor, and they have two sons, Redda and Roebel, who are students at St. Andrew's-Sewanee School.
Thank you again for agreeing to this interview! I know those of us in the Sewanee community are very curious to learn more about you, and you've had quite a bit going on lately. Can you tell me what qualities you're having to call on in order to handle your new role in terms of leadership and trust in particular?
A mentor told me a long time ago that in diplomacy, the coin of the realm is trust and you can't surge trust, you have to build it before you need it. My great challenge is that I was thrown in the deep end of the swimming pool without an opportunity to build a reservoir of trust among many in the community before I started. Yet the urgency of some of the problems that we've been dealing with require decisions immediately.
There were decisions which, in my view, made sense to make at the beginning of a term such as actually enforcing the existing zero tolerance policy with regard to drugs and responsible drinking. Those were met with an enormous backlash, not the least of which, I am certain, was because some people were asking themselves, "well, who is this guy?", without having any kind of broader sense of me as a person or my mindset or the reasoning behind the directions we were taking, and I understand all of that.
And yet it has been a challenge for all of us and one which was further complicated by the fact that COVID just makes gathering difficult. And so the kinds of familiarity and bonds of trust that can be developed from just kind of porch-sitting with somebody have been incredibly hard because of the requirements of distancing and limitations on gatherings.
What we've been trying to do is to communicate as often as we can because communication is always important. It's also especially important when you can't presume that people are going to be able to give you the benefit of the doubt based on an existing reservoir of trust. I've never been in any organization where people felt the communication was perfect. And again, communication is even more difficult in an environment where you can't have 200 people gathered in an auditorium. When you have this kind of distance like we are having to deal with, it makes it more difficult to get a true sense of somebody. But it's what we have and we have to do the best we can.
I've also relied heavily on my faith, some of which I've tried to share through Instagram posts and other kinds of social media. I continue to go back to a Churchill quote that I've told my sons from the time they were little boys: that courage is the most important virtue because it's the one that enables all the others.
For me, courage comes from several places. First, it is rooted in my faith because God has made promises for those who try to walk with Him. It is also rooted in history: I rely and draw daily on the strength of the ancestors. Not my ancestors, THE ancestors, which in African traditions are those who have come before in previous generations, and particularly for those in the African American experience: those who survived capture for slavery, those who survived the Middle Passage, and those who survived a century of Jim Crow. I literally have those genes in my blood, and I draw on that strength to understand all that those generations have endured to bring me to this point to do what I'm called to do.
Can you tell me about some projects, people, and/or accomplishments that you are especially proud of?
Sure. I am very proud that we've kept this University open to allow for an in-person campus experience for all of our students in the midst of a global pandemic of biblical proportions. The fact that it has required us to place restrictions on movement and gatherings in ways that are alien to our culture, but that we've been able to do nonetheless, is extraordinary.
And I will say, although I understand people chafing at the limitations, when I take a look at the restrictions that other universities are operating under and that we have been able to avoid, and I still hear the profound anger from members of our student body and their parents and whatnot, notwithstanding the extraordinary work that our staff have done, it is worse than frustrating. It is, quite frankly, very debilitating.
Recently, for example, Duke University locked down their entire campus. Sixteen thousand undergraduate and graduate students were restricted to their rooms because of a spread of the disease on that campus, which was directly tied to partying and Greek life. We've avoided that, even though we have had to make some hard decisions about decreasing gathering limits. As I told student leaders recently, you may hate me, but I still love you. And we're still going to continue to lead from that place.
Are there projects or specific things that you're working on right now that you are excited about, really looking forward to and feeling good about?
First of all, we are anticipating being back to normal by the fall, given vaccination rates. It's all very exciting. We have some stuff that is just straight up super cool, like reestablishing the Flying Club. We're purchasing a brand-new airplane. Now, you can ask, well, how can you purchase a brand-new airplane if you're in the middle of a budget crisis? In short, the answer is that we've done the math. We've looked at it longitudinally. It will actually more than pay for itself and actually generate a profit from the University over the course of five years and also help to advertise us to an entirely new group of students who want to come and have flying be part of their undergraduate experience for a whole host of reasons. And here's the other thing: flying and drugs don't mix. It's a very healthy thing to engage in and I'm very excited about that.
I'm excited for my plans for my formal installation as vice-chancellor, which is currently planned for October 8. I'm looking forward to further reviews of our curriculum to ensure that we are offering the best state-of-the-art education for our students. I'm very excited about examining the creation of other graduate programs for the University, such as the creation of a master's degree in environmental studies and a series of associated graduate programs so we can lean in heavily to being a place of creating environmental professionals and a place that is dedicated to climate justice.
I'm excited about taking a hard look at expanding our Master of Fine Arts degree. I'm also excited about the aspect of examining whether or not it makes sense for us to create a school for allied health, because healthcare is 20% of the American economy. There's always going to be a need for healthcare professionals and we are not making enough of them right now. The American South has the worst health outcomes of any region in the country, and we can lead the way in developing healthcare professionals—not a med school, but all of the associated professional programs with a particular focus on rural and remote medicine.
I think that's very exciting. So those are all things that we're leaning into.
You recently took the CliftonStrengths assessment and learned that "Responsibility" is your #1 strength. Can you tell me about your reaction to learning that? How do you see that manifesting in your work as vice-chancellor?
It's not a surprise, I suppose, given not only how I was raised by my parents, but also given what was inculcated in me when I was an undergraduate at the Naval Academy.
I hear people say all the time that I don't understand that Sewanee is not the Naval Academy, that Sewanee students are not a bunch of perfect midshipmen marching around. I have never thought this was the Naval Academy. Now, I'm sure we had midshipmen that did drugs. We even had a carjacking ring my junior year: some midshipmen went off to Baltimore and stole cars and then boosted them and sold them in Philadelphia. But the difference between the Naval Academy and aspects of our culture here at Sewanee is that in Annapolis there was never any doubt about accountability. Never. If you walked on the wrong side of the policy or the law, and got caught, you'd man up, woman up.
Here's the thing: accountability is the opposite side of the coin of responsibility. Accountability is meant to return you to responsibility, and responsibility is essential for community. You can't have a community unless people are responsible to each other and for upholding their values, standards, and principles—the norms of community. Otherwise, all you've got is a bunch of people who happen to live in the same place, who happen to coexist in the same space. To the extent that Sewanee fashions itself as a place that does community very well, we also therefore have to interrogate the question: if that's true, what are we responsible for to each other? And then how do we draw the boundaries between what is acceptable within our community and what is beyond the acceptable in our community? And what mechanisms do we have for accountability to help return people back to responsibility?
What are some of your primary interests outside of work? We know you love horses!
Yes, I love horseback riding, that's true. But I have recently taken up deer hunting. This is not something I ever would have anticipated doing. But Amy Turner convinced me that deer hunting is essential as an ecological practice for the Domain. So I bought myself a crossbow, and Sandy Gilliam hooked me up. My very first time deer hunting, I was up in the stand and within an hour, an eight-point buck presents itself: 15 yards broadside, textbook perfect shot. So I raised my crossbow. Pulled the trigger. Nothing happened. Rookie mistake: I had not cocked it back all the way. So I went out the next day and the Sunday after that, for 13 hours in freezing December and didn't even see another deer for the rest of the season. But I'm determined, so I've bought a compound bow for both myself and my boys. We're going to learn together.
I'm also very heavily involved in scouting. I've taken over as the scout master of the local troop, which will be fun and also help to restore our Cub Scouts here.
So, last question: if you could have one superpower, what would it be?
I'm going to say something is going to sound kind of ridiculous, because most people would say the ability to fly. But I would choose the ability to not require sleep and to be able to concentrate all the time, because I sleep a lot, which I know sounds completely inconsistent with everything I've told you, but I just do.
My children call me "Daddy Sleepyhead" because I'm an introvert. Being an introvert or an extrovert is not whether or not you like people, it's whether being around people actually gives you energy or drains you of energy. And for me, I love people, but I find it draining. And so when I'm kind of done with the day or done with an engagement, I literally feel drained. I just need to go and just lay down or disconnect. And so I would frankly prefer to have full energy!
Well, those are all of my questions. Thank you again for your time!
---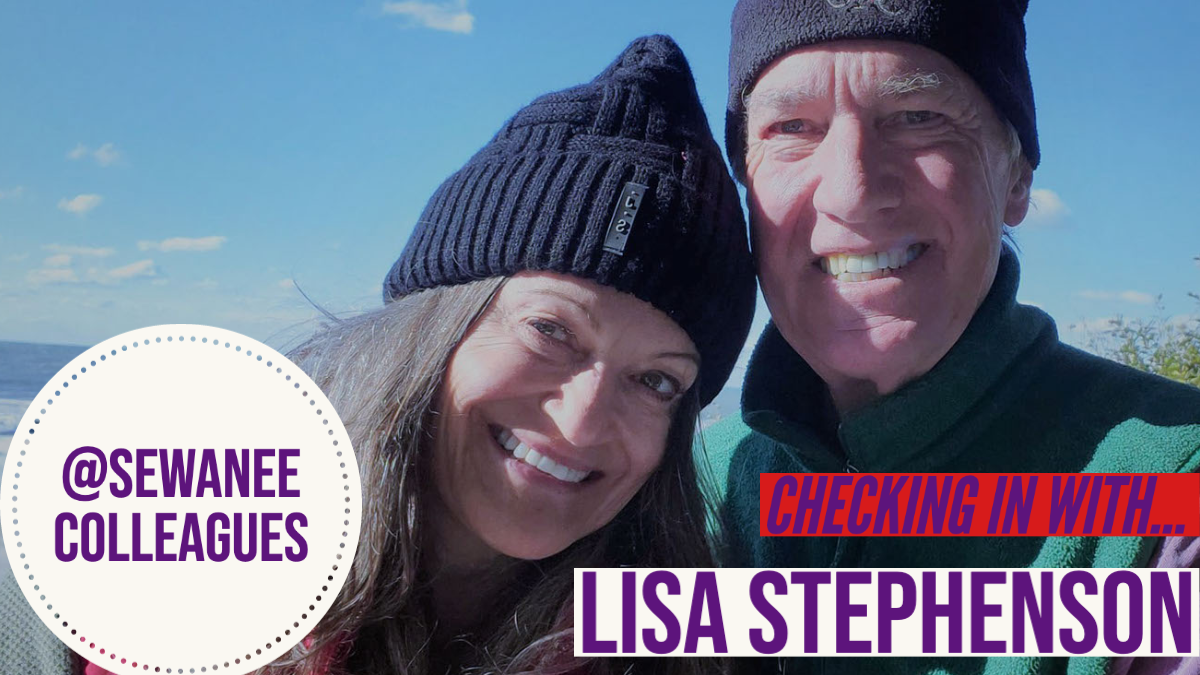 (By Bess Turner, Director of Development and Alumni Relations for the School of Theology)
Lisa Stephenson joined the Sewanee community on January 18 as vice-provost for student success. In this position, she reports to Provost Nancy Berner and is the senior administrator for our undergraduate enrollment and student services areas, with responsibility for the College's Enrollment Management Plan. She leads and fosters collaboration and communication among the Office of Admission, Integrated Advising and Career Readiness, Student Life, and the Registrar's Office in order to reach Sewanee's undergraduate enrollment and student success goals. Prior to coming to Sewanee, Dr. Stephenson worked for the Elliott School of International Affairs at the George Washington University as associate dean of academic affairs and student services. Dr. Stephenson has a Ph.D. in higher education leadership, policy and administration from the University of Maryland, an M.A. in international studies and cross-cultural communication from the University of Oregon, and a B.A. in French language and culture from the University of Wyoming.
Lisa, thank you so much for agreeing to be interviewed. Your start date was mid-January: can you tell me about your first impressions so far?
Well, it's beautiful! I grew up in Wyoming, so the outdoors are just a part of me. So that's been amazing. The people have been so kind and welcoming and the students that I've met so far have been just really nice and excited about me being here, which is reassuring. There's a lot going on here, too, in terms of student success. People are doing a lot of really good work here! And so, the more I learn, the more I like it. A lot of what I'll be doing is bringing people together and figuring out how we tell our story, because there's already so much happening!
So tell us … what are you particularly excited about? What are you most looking forward to in your new role?
Being able to see people in person! That's probably the hardest part for me, getting to know people here and getting to know the culture and the students because we're not getting together at the events that normally might happen. I can't just pop in and see what it's like at a certain event that a lot of students are at or that sort of thing. So I think that's been a challenge in terms of getting to know Sewanee. I'm excited to be a part of this community. Among other things, I've been asked to help with retention and with diversity and inclusion. And these are big passions of mine! Growing up, my father was in the Air Force and then he was an airline pilot, so we were traveling all the time. From a really young age, I learned the benefits of interacting with people who are different from yourself. It helps you really think about the rest of the world, and it helps with your own view of yourself. I'm excited to be a part of a community that is embracing that and really trying to move forward. Also, I know it's a challenge, but I'm actually very excited to be a part of this community at this particular time. We have what happened to the vice-chancellor and some of the really difficult discussions that are going on on this campus. But they're happening throughout the United States right now and in the world. And the fact that this university at this time has decided to take this on … well, I feel like I'm at the right place at the right time because this is exactly what I believe in. We do need to take this on and we do need to appreciate people who are different than us. And honestly, as institutions of higher education, we need to think about how we educate our entire population, not just certain pockets of it. I think it's important for the success of our country, to learn from people who are different from us.
What projects or accomplishments are you particularly proud of?
Well, you know, it's funny that you ask this now, because yesterday I got an email from a former board of trustees member at a small private university where I worked in Illinois. He had given money to the university to create a position that would recruit international students, and I happened to have that position. When I got there, there were zero international students on the campus. He just sent me an email and told me that they have over a hundred international students! It's a very small, private university. He said, "Look at what you accomplished. Look at what you started!" I was super proud about that. The other accomplishment that I'm proud of in my past is when I started at the Elliott School of International Affairs. We had a very small career center—it was one and a half people. I was able to create a career center that had five people in it and really served our students and our alums. That career center actually became somewhat of a model for other schools of international affairs. So that was really exciting! But then under the vice-chancellor's (then Dean B's) leadership, we were able to improve on that. Instead of just being a place for careers, we were able to combine our academic advising and our study abroad under one umbrella. We called it graduate student services—that's another accomplishment that I was really proud of. Since I've been here, I haven't had many meetings with students, but I did get an opportunity recently to meet with one. After we met, the student followed up with an email and just said, "Thank you so much for meeting with me. I felt seen, and I felt heard." I thought, wow, that's really very special. I'm proud of that moment.
Outside of work, what are some of your primary interests? What do you like to do?
My husband Ed is not here yet. He is in Virginia selling the house, and he has the two dogs, our four-legged children. I love to play with the dogs and take them for walks. I also spoil them so they're not very well behaved. And he is dealing with that right now! I also love the outdoors. Since I've been here, I've been trying to go on walks and hikes as much as possible on the weekends. I also love to exercise—it's sort of a therapy for me to just get on my elliptical or my bike and just zone out for a while. Oh, and spending time with family and friends.
One last question: If you could have one superpower, what would it be?
I think I would fly. I have this recurring dream that I can fly and I go from tree to tree to tree and I can see everything. The view is just amazing—I think there's something about flying. The other thing is that my mom used to always say when my aunt Norma died (she died of cancer) that whenever we saw a bald eagle, "Oh, that's Norma. She's watching us." So I think that that might be the other part of it, too. I've always thought of birds and eagles in particular as sort of something special, someone you might know. I guess that's why I think dreaming about flying is so cool.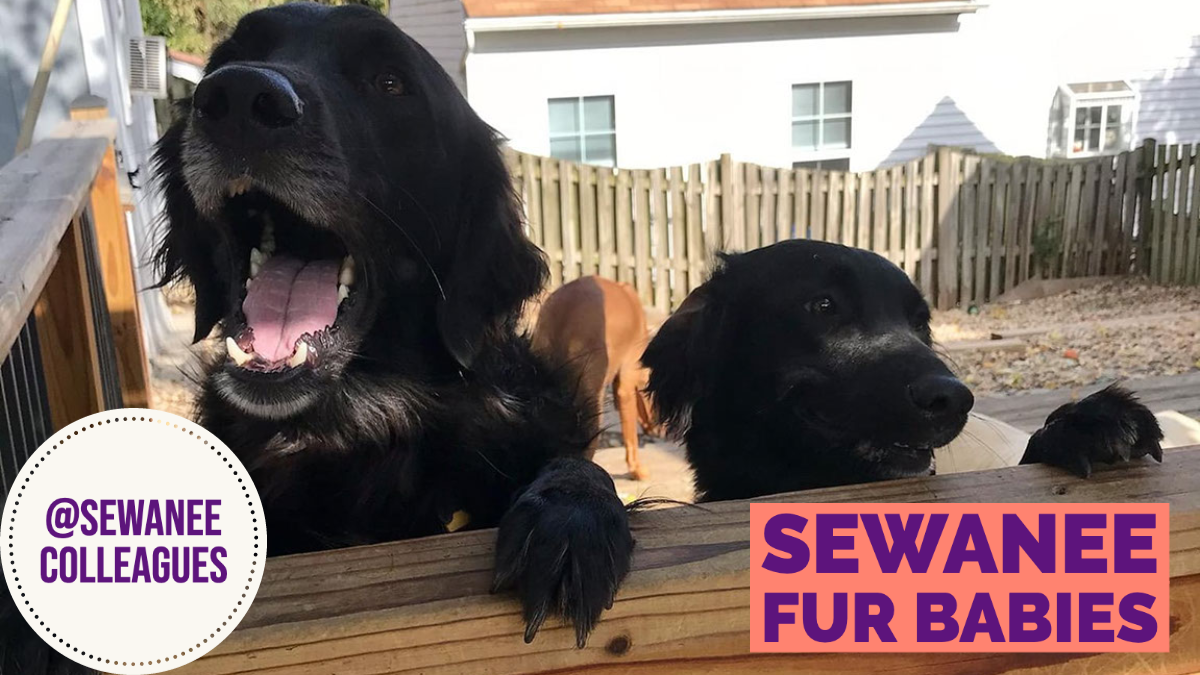 ---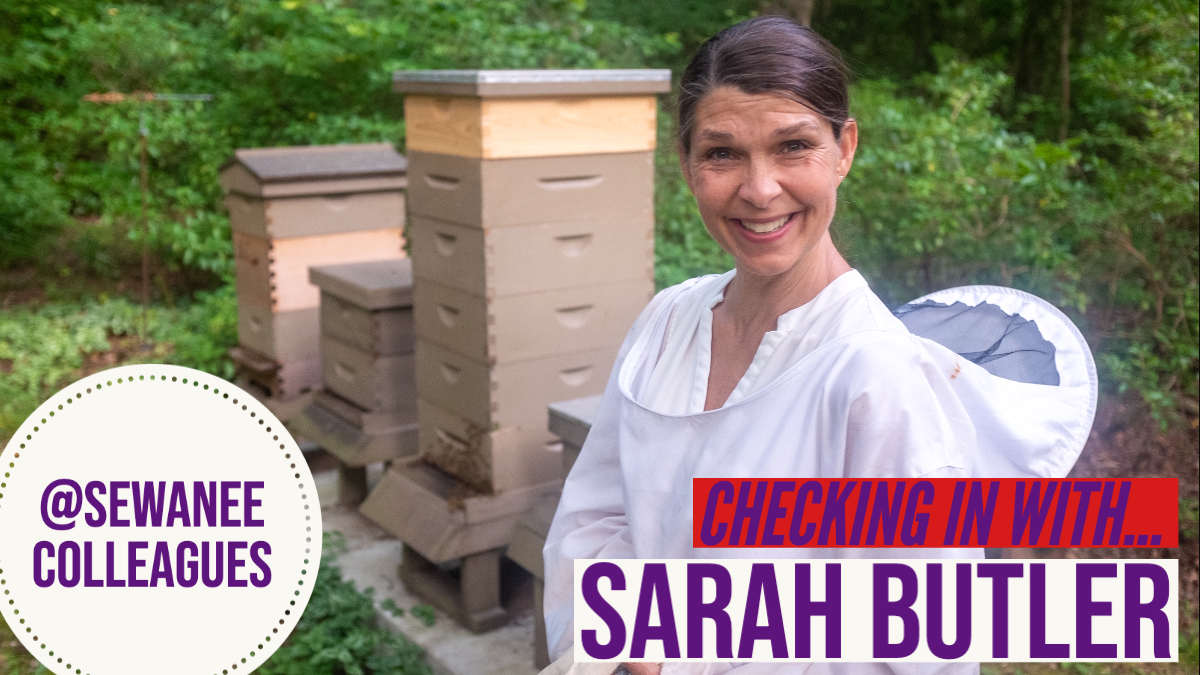 (By April Alvarez, Associate Director, School of Letters)
Sarah Butler is the Associate Director of Admission, where she started working in 2007. Sarah is always looking for ways to enhance our Sewanee experience. She's helped revive the Sewanee Union Theater and currently serves on the Fulford FOG (Fall Operational Group). Sarah moved here from Savannah, GA, with her husband Buck, C'89, and her two children, both Sewanee students: Isabel, who graduated this past May, and Kate, a sophomore. June Carter Cash, their dog in the shape of a pound cake, accompanies them on Sewanee adventures and has her own Instagram account.
Sarah, thanks for talking with us today! I usually begin these interviews about a change in that person's work, but today I wanted to skip straight to the part where we get to know you a little bit: you're a beekeeper and you have bees! Why did you decide to take up beekeeping, and how did you know what to do?
Well, I'm kind of notorious for trying a lot of new things. And a lot of them-- most of them-- don't stick. But I always thought beekeeping was really interesting. Then our friend Ted Dennard (founder and head beekeeper of Savannah Bee Company, C'88) stayed at our house during Homecoming. He said we should think about keeping bees.
I thought that would be really cool. But it was one of those things where initially I wasn't going to make the investment because it costs a lot of money to start out. It's not like going to buy a sketchpad or going to buy a plant. You have to buy equipment. You have to buy the bees. So Buck gave me a hive kit for my birthday and I had no excuse then! It came with a book, and I just watched videos on the internet, and I joined the Bee Club. I talked to anybody that would talk to me about it.
Wait, what is the Bee Club?
The Bee Club is the Oak Valley Beekeeping Association. They meet once a month in Winchester at the county extension office. This whole community of beekeepers was something that enriched my life. I've made friends that I probably wouldn't have met had I not been a part of that club. The county extension agent, John Farrell, is my bee mentor and hero, and he's helped me so much. He's amazing.
Let me tell you my John Farrell story because he came when I installed all four of my hives. He does hive inspections. As the county extension agent, he can come up and make sure they're OK. And so he was going through my first hive and we could not find the queen. There were eggs in there and it looked like things were going OK, but he really didn't want to leave until he found the queen. We eventually gave up and as we began to close up the hive, he was like, "Oh, my! There's a bee in my pants!" He shook out his pants...and it was the queen. And there she was, in his pants.
I love the fact that the surprising part of this whole adventure is that it opened up a whole community for you.
Right, who doesn't love bees? Everybody loves to hear about them. People like them for different reasons. Finding that community is something that I never expected in a million years. I think that my initial instinct was, oh, this will be really cool: I'll make some honey. But I've read somewhere that the honey is the icing on the cake. And it's absolutely the truth- just learning about the bees themselves and having them in the backyard, and meeting these other people, that's been the best part. And then, oh, yeah, I can get honey, too.
I've been the recipient of that, honey. I like the icing analogy!
Hopefully I'll have more honey this year!
Today I also want to talk about your experiences this spring at Sewanee and your admission work. One of the reasons we started Sewanee Colleagues and the "Checking In With..." series was that with Covid-19, a lot of departments on campus had to pivot to a more distanced way of operating. I noticed that one day during the quarantine, you were in the passenger side of your car, and you were giving what looked like a private tour of campus! You had your phone pointed out the window, shooting a video or on FaceTime, and you were narrating, "We're driving to Morgan's Steep now, and it's so beautiful this afternoon!" I loved this creative and individual response. Can you talk a little bit about finding creative solutions for students and parents to learn about admissions and about Sewanee?
Yes, absolutely. As we're watching everything that's happening right now with welcoming students back to campus, we see the University in overdrive. I think our busiest time in Admission was right when COVID hit, in the middle of March, and that's yield season. It's when all of our big events occur, and we had to cancel them. How were we going to make a class without all these prospective students and families being able to come and visit?
Luckily, we've got a really amazing team here and there's a lot of youth on it, which I think was really, really helpful to have. Everybody has different things to contribute, which is so great. I think everybody is grateful for people like Tim and Taylor, who felt comfortable with the virtual world. They went into overdrive, and we figured out ways to set up appointments with people. We figured out ways for families to connect. We figured out how to do a virtual pre-recorded event. But I have to say, I was feeling a little insecure because I didn't really know what I could contribute. And so, because I lived on campus and nobody was in the office, I was the person who answered the phones and went out-and-about doing FaceTime tours. Part of my territory is in New York, and a lot of the kids that were from there weren't able to come for a campus visit. I knew how important it was for them to see campus, beyond just "here's the chapel, here's the dining hall." It was really fun because both my daughters were home, and we started to develop kind of a system where Isabel would drive and I would talk. It was cool because I also had a student's perspective. We did tours that were tailored toward the interests of that student. For one kid from New York, we started at the gates because I thought it would be important for them to drive through the gates. I told him that when he comes to visit, he'll probably stay at the Sewanee Inn, and here's the Inn. He was a lacrosse player, so we went to the lacrosse field. It was fun.
We even did nature walks with [professors] Bran Potter and Martin Knoll. They edited the videos, and they worked! And so they did one about the Farm, and they did one about McClurg, and they did two different tour options. When you're doing something like that, you reacquaint yourself with cool things about the University that makes you fall in love with it again.
You obviously love walking around campus. Could you mention a couple of short campus walks that you like?
I have always been a huge fan of Lake Cheston. One of my regular walks is from our house [near Morgan's Steep] to Clara''s Point Road then to Lake Cheston. I always like walking on campus because you get everything!
My favorite days are when you're walking along that trail and you see a few people at the lake, and there are people fishing, and then you walk on up to the farm to see what's going on there [hi goats!], and then there's a baseball game. You're taking this journey through campus and seeing it on so many different levels. And have you seen what they've done at Lake Cheston? It's even better than before!
Yes! Let's plug the revamped Lake Cheston! It's gorgeous!
It is amazing to me that such a regular part of my routine changed in a short amount of time. This summer, we went almost every day. It was just lovely. You see people in their little Enos [hammocks] and people take their kayaks out there. And then on the other side of the lake, some people have towels set up and the floating dock is being used. There are people fishing, and little kids on the beach. It's just awesome.
Another place I go for a short walk is Abbo's Alley. No one's ever there. It's right here on campus, and it's like the shire from Lord of the Rings. Amazing!
I'm not taking this place for granted. We came from Savannah and we would go for walks every around the neighborhood. It was fun, but here, every single walk is a treasure.
Thank you Sarah! You have a creative response to every challenge and a positive outlook. That's a great way to look at what's in front of us this fall. I know people will be excited to talk to you about the bees and the [socially distanced] walks when they see you!
---
(By April Alvarez, Associate Director of the School of Letters)
Rachel Fredericks is Assistant Director of Early Student Engagement at Sewanee Career Readiness. Originally from New Jersey, Rachel started working at Sewanee last November and provides career coaching and programming for our students. She holds a degree in Finance with a minor in African American studies from The Pennsylvania State University, and a graduate degree in International Development from the University of Pittsburgh. Rachel has a website and blog, Resilient Rhema, based on three pillars of creativity, wellness, and faith. I spoke with her about her work at Sewanee, her writing, and her deep commitment to community.
Thanks for talking with me today, Rachel! I've been talking to colleagues about changes in their jobs this past year. In March, with the COVID-19 quarantine and the decision to have students return home for the rest of the semester, there was a change in how Sewanee Career Readiness would be able to work, but there was also a change for the students and recent grads who found themselves without jobs or changes in their internships. Tell me how this pivot affected your work and also your relationship with students?
As most of the University transitioned remotely, we began to work from home. This was new for Career Readiness. Initially, there wasn't even an option to do a video or Zoom call via Handshake (Career Readiness's platform that allows students to create appointments with coaches and connect them with professional opportunities). Therefore, several of our administrative operations and processes shifted. It was a bit of an easier transition for me, being a little tech-savvy, and having had a lot of work-from-home experience and privilege in my prior roles.
The shift to remote resources and learning really impacted students. I found that an empathetic tone and a reassuring approach was necessary to support student morale. I emphasized to students that we're all in this together. I focused on being the bridge of understanding that says, "Hey, even if you don't get an internship this summer, the entire world-- not just Tennessee, not just Sewanee, not just the southern region of the US, not just the nation-- but the entire world is in this with you. When talking about this time in your future professional discussions you will be met with empathy and understanding."
We proactively reached out to students to prepare them for virtual support and interactions concerning their professional development. We started encouraging more networking with the understanding that the executives who would typically need travel time to get to their meetings were now "traveling" with the click of a button.
We really pivoted how we coached and so that students could maximize their time because Sewanee students tenaciously continued to seek opportunity despite the circumstance. Therefore, we helped them plan for a brighter future.
One of the things that the VC talked about recently is "First things first," meaning taking care of your own mental health and your own physical health to be part of the community and to be able to help others. So during that time, did you double-down on self-care strategies that had worked for you in the past, or did you immediately find that you had to take on new strategies?
I will say it was both. At the onset of the pandemic, I lost a family member who had been sick for quite some time unrelated to COVID-19. On the heels of my return to campus from actually missing his last moments of life, I faced the challenge to support students through times of great instability. Grief manifested itself in my personal and professional life. The pain of loss, the pressure to support students, and the frustration of social injustices plagued each day.
To manage my wellness and ability to be a resource for our students, I doubled-down on some things I already had in place. I am a strong believer in therapy and I have no stigma or shame because I feel that it is very necessary for processing trauma. Therefore, I increased my therapy appointments and was grateful that I was able to engage with my therapist virtually. I did this, not only for me, but to properly support the students that I hold so near to my heart.
I also began to exercise more and get outside. What surprised me was how much I began to notice the details of nature in a way that I never have before. I started taking pictures of flowers, admiring sunrises, smelling the air, and removing my headphones so I can listen to the sounds around me. Being privileged to experience nature's quiet song was a major part of my wellness. It gave me space and a place to exhale in a way that was necessary for me. Missing my family was one of the hardest things about COVID-19 because my family is in New York and New Jersey - I don't have family close. I am living by myself, and due to social distancing, I didn't feel safe to go out and talk to people in the Sewanee community. It was hard. So, I would do a lot of check-ins with family and recently began weekly Zoom hangouts with them.
I also monitored how much news I watched. At first, I was watching the COVID map diligently. It was like watching bombs go off because the red circles indicating the infected areas multiplied and widened. I would watch it all day every day because I just wanted to know how bad it was. Then I thought, "this is not helping you." I had to give myself permission to not watch the news. I had to forgive myself for the privilege I exercised in turning the TV off, especially regarding the horrific tragedies of George Floyd, Breonna Taylor, and Ahmaud Aubrey. There's guilt around my privilege as a black woman to unplug because it didn't happen to me. I allow myself to know enough, to be aware, to be connected, and to be praying.
And the last thing I will say is I channeled my energy. I focused it on student meetings that I had because it cycled back feelings of goodness, accomplishment, and purpose. This made me feel hope for our future.
One of the things I know about you is that this year you were focused on your writing practice. And so I'm wondering if that plays into that idea of focusing your energy or if that was something that existed before?
Thank you for mentioning that because it was another place where I focused my energy. It was on my birthday that my blog went live. I was in isolation, so I said, "OK, it is your birthday and this is your gift, to yourself." So I started my blog and I began to add some things that I had already written. As I watched the tragedies of Ahmaud Aubrey, George Floyd, Breonna Taylor, and the many others my urge to write felt like an active volcano that was seconds away from erupting. The words rushed out of me, and I was glad that I had a place to put all of my feelings of grief, sadness, and anger related to the social injustices that continue to be the reality of which I live and watch. There are posts like Black COVID and Emancipate My Liberty, that really came out of what was going on. It gave me a safe and healthy place to release what I was feeling. My writing has continued to be an outlet and healthy coping behavior during intense times. I've been writing privately since I was a child, journaling, and poetry, but I always kept it to myself. Recently, I realized that I can cultivate a sense of connectedness through sharing; allowing my words to give voice and language for others.
Absolutely it brings connection to others. Of all the extraordinary things that you've done this spring, I know another extraordinary thing that you're doing is continuing with your Ph.D. program. I was so impressed that you chose to continue that this fall. Can you tell us about it?
This is really exciting for me. My Ph.D. is in Community Engagement. One of my top five CliftonStrengths is Connectedness, as you probably gathered from this conversation. As things unfolded this past spring, I reflected more on engagement and how we can create community in difficult and divisive times. When I think about diversity, equity, inclusion, access, and social justice, it all connects to community engagement.
Something nudged me to check in on the timeline for finishing the doctoral program. Due to the many shifts in higher education because of the pandemic, I was able to enroll this fall. I am excited to leverage what I learn and research to support Sewanee student success. This relates to Kim Heizenrater's great work and ideas about peer career-coaching and networking to support the professional growth of students. She has also started a number of interdepartmental relationships to build career-readiness into several of our student resources. I am excited to contribute more to the success of Sewanee students as I pursue this degree.
I'm grateful for you being part of the Sewanee community, Rachel. I'm grateful for what you did for students this spring. That really hit home for me, right, as a parent of a current student and a recent grad, so I am especially and personally grateful. Thank you for taking the time to talk with me today! Your Sewanee colleagues will be wishing you luck as you return to your own classes this fall!
---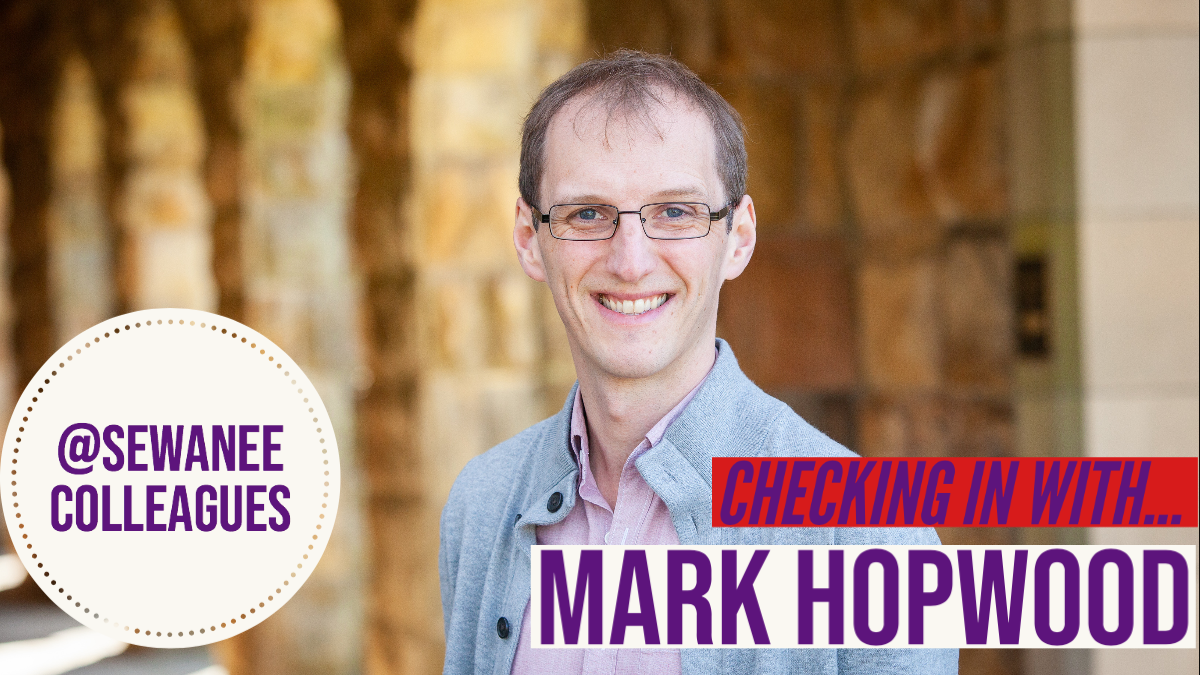 (By Bess Turner, Director of Development and Alumni Relations for the School of Theology)
Mark Hopwood is assistant professor of philosophy at Sewanee. He teaches ethics, political philosophy, and the philosophy of art (among other things), and his current research is focused on the 20th-century philosopher and novelist Iris Murdoch. Mark was born in London and grew up in Lancaster in the northwest of England.
Prior to moving to Sewanee in 2014, Mark and his wife Cassie Meyer, director of Dialogue Across Difference in the Office of Civic Engagement, lived in Chicago, where Mark received his PhD from the University of Chicago.
**This interview took place before classes were over.**
Well, I imagine things have certainly changed for you over the past few months! What classes are you teaching this semester and how have you had to adapt your teaching style since moving to remote learning?
I'm teaching three classes this semester: an introduction to philosophy called "Love, Beauty and Justice," the Philosophy of Art, and a third called Public Philosophy. That last one, Public Philosophy, is brand new. It's a civic engagement course and the whole point of the class was to have students learning about the theory and practice of public philosophy. Students would go to a variety of different sites to teach philosophy; Sewanee Elementary was one, the Grundy County Jail was another.
Inevitably, there have been some things that we could no longer do after the transition to remote learning. For example, I had students who had been preparing to teach philosophy at the county jail, but that's a project where you have to spend time building relationships. It has to be done in person and that just wasn't possible anymore. We couldn't do the same thing via Zoom.
Most of the students had to pivot to find something very quickly, to find a different public philosophy project. For some of them that meant doing the same thing they would have been doing, but remotely. A bunch of students had been planning to do a Philosophy for Children class at Sewanee Elementary, so we set up a Zoom version. And it's been amazing - the kids have been really into it. I think in some ways, the fact that they are all quarantined at home makes something like this is even more appealing than it would ordinarily be. It's been a great experience for them, and that has felt like a real bright spot where we were able to pivot and make it work.
Other students have done different things. For example, some students set up what is basically an online philosophy club. They've created a Twitter account, an Instagram account, and a Facebook group. They've created their own public philosophy for a general audience, and they've been very inventive in doing so.
We've also realized we have a real opportunity in this class to look at all of the public philosophy that has been produced by this crisis. We've been able to ask, what are philosophers doing? What does it look like to be a public intellectual or a public philosopher right now? And that's super interesting. We were able to look at the different ways in which people are reacting and what philosophers can offer at a time like this. We get to ask these questions in real-time in a way that we never would have been able to do before. Overall, it has been a real mixture of some genuine losses that we couldn't do anything about, and some amazing opportunities that we wouldn't otherwise have had.
When you say teaching philosophy to kids, like what does that look like? What kinds of topics are they discussing?
I'll give you a really simple example from one of the first sessions that we did. You tell the kids that you have a magic trick for them. You blow up a balloon and it gets nice and big. And then you tell them you're going to make this balloon not exist right in front of their eyes. You ask them whether they think you can do that, and you get different responses; it's often interesting to probe why they think you can make something cease to exist or not. Then you just hide the balloon behind your back. And, of course, they're not very impressed with that.
At that point, you ask, well, what could I do? How could I make it not exist? And some kid, at least one kid, is going to suggest you pop it. So then you pop the balloon, which everyone enjoys, but then you can ask: "who thinks I made it not exist?" At this point, you get a split in the room.
You've got the kids who think, yeah, that balloon doesn't exist anymore. But then you've got the other kids who will point to the pieces of the balloon material that you still have in your hand and say "no, it still exists. It's just different now."
It's really surprising that when you see this in action, you can get some really sophisticated discussions of metaphysics and ontology – what it means for something to exist – because the kids see the connections. They see pretty quickly that we're not just talking about balloons. We're talking about anything. What does it mean for anything to exist? In our discussion, we had some kids end up holding the position that actually nothing ever ceases to exist at all. Everything continues to exist forever, just in some different form.
Of course, this is something that the pre-Socratic philosophers were thinking about. Is everything in flux? Is everything changing all the time? Or does nothing ever really change at all? These are deep philosophical questions, but young children just naturally engage with them.
Speaking of philosophy for children, there's a really fun thing that I actually found about today. One of my students from who's been doing these online sessions wrote to me today to tell me that she created an online philosophy for children class at her church back home in Dallas and she already had 24 kids signed up for it. So she's off! And that's really what I wanted to do with this class: to give students the tools they needed to do public philosophy for themselves.
So that actually brings me to my next question, which is...relationships with students are the cornerstone of what you do if you teach. How would you say your personal relationships with those students have changed or evolved since the COVID-19 crisis began?
I think they change in different ways. In some cases, honestly, the relationship has gone from seeing each other on a regular basis to hardly seeing each other at all. There are students who are in a really hard place right now, and it's difficult for them to engage in the class in the same way. But for others, there's a much deeper relationship. You end up hearing a lot about students' lives and what they're going through. There are ways in which the situation pushes us further apart, but there are other ways in which it brings barriers down. I've certainly been surprised at how much I've missed seeing students in person and how happy I've been to see them when we've had opportunities to be on a synchronous Zoom call.
So on more of a personal note, how have you had to dig deep? What sort of personal characteristics have you had to call on in yourself in order to be successful? How have you found yourself having to stretch?
You know, I think having good relationships with the people around you has really been the biggest thing. Frankly, if I didn't have the kind of relationship I do with Cassie, we would really be struggling a lot more. We are both trying to work full-time jobs and homeschool our kids, which is a challenge a lot of people are facing right now.
In terms of students, it made a real difference that we only went remote after about two-thirds of the semester, by which time we'd already had the opportunity to build up good relationships with each other. You realize when you're teaching remotely and it's getting towards the end of the semester that your students really need to trust you. They need to believe they're going to be treated fairly and that they're still getting the education they need to be getting. Having those relationships, having been able to build that trust, feels like the most important thing.
Well, I have one last question. If you could have one superpower that would help you with your job, what would you want your superpower to be? Or maybe not just with your job, but it would just help you with your life right now?
I'm a big Hermione Granger fan, so if I could have a time turner, I think that would be it. Yeah, that would be fabulous.
Another one would be some superpower that allowed me to have better posture. This is something that I'm really struggling with - just sitting in front of a computer all of the time. I would like to have the superpower that would help me to have the posture of my 3-year-old. If you look at Iris, she just flops down on the floor and she has the posture of a yogi. So, a time turner and better posture. I'd love that!
---
---
---
---
---
---
---
---
---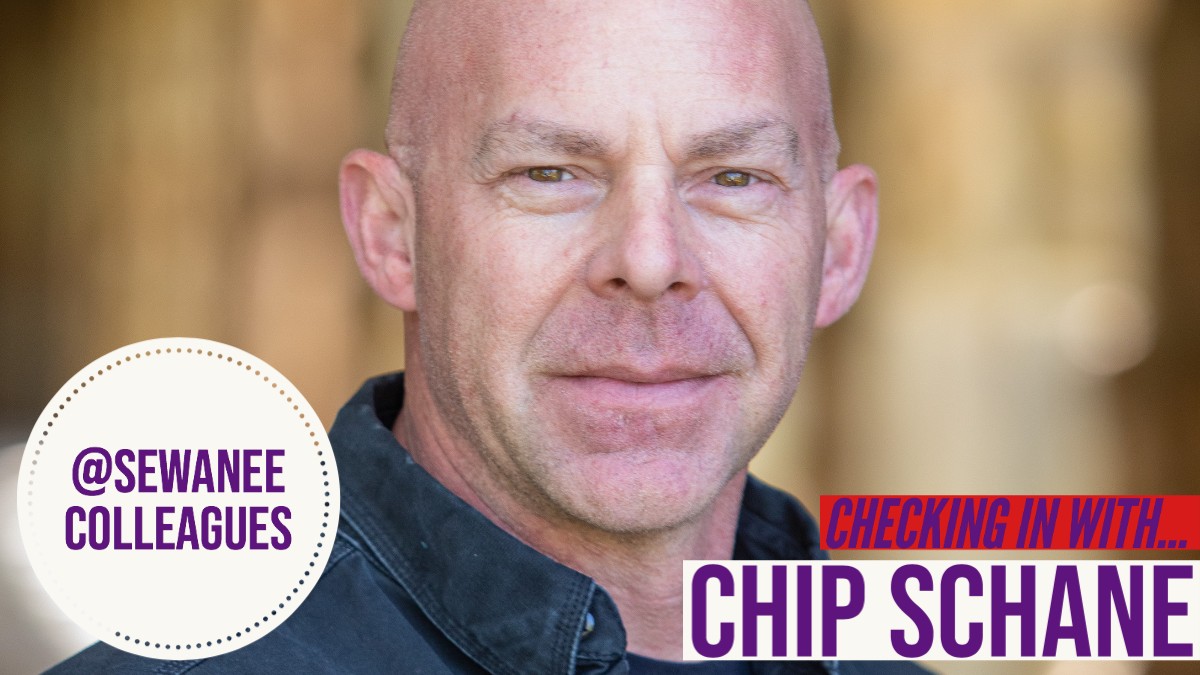 (By April Alvarez, School of Letters)
First, we should say welcome to Chip, who will begin June 1, 2020, as our Public Safety and Emergency Management Director. He will manage Sewanee's Police and Fire Departments and coordinate with Sewanee's E.M.S. Effective immediately, Schane is serving as a consultant and is part of our Emergency Management Executive Team. Chip has worked in public safety for more than 30 years, including as a federal agent with the U.S. Department of Energy. His jobs include firefighter, police officer, paramedic, and U.S. Marine, and he has written and implemented many safety courses for first responders. Chip has been the training officer for the Sewanee Volunteer Fire Department this past year.
Chip, congratulations and welcome! You're coming just as COVID-19 is challenging everyone's work. Can you talk about how it is changing operations and protocols for the fire and police departments?
So operationally we are as ready today as we were before this happened. We put a few changes in place to protect the community, to protect officers and to protect the fire department. On the fire department side on a normal day, we'd respond to quite a few alarms. Typically a crew of five or six would go into a building, deal with the problem, and reset the alarm. As things have changed, we've reduced the number of individuals going into the building to two, unless it's something serious and we need more people. They're wearing self-contained breathing apparatus so they're not coming in contact with others. If they do come in contact with somebody inside the building, they're not getting exposed and they're not exposing that individual. It's the best option as far as respiratory protection that we have. So the response is the same. We handle things exactly the same. We just happen to do it in an air pack. The police department continues to do welfare checks. The police department has masks, they have gowns, and they have gloves. Ninety-nine percent of the time they'll have gloves on. If they feel like it's something that they need to wear a mask for, they'll have a mask on. So they have a little different appearance. If the police need to make contact with you, they will knock on the door, step off the porch, and stand in the yard. They will maintain that social distancing. We're taking the CDC recommendations to heart and implementing them. Everybody's in good spirits. We have 40 firemen that are active and able to respond to whatever needs to be done. We have plans in effect for supporting Grundy county E.M.S. The E.M.S. teams are taxed. They are busy. But there they have 11 ambulances that support Grundy County and Sewanee, and coverage is good.
Student firefighters are such an important part of the Sewanee Volunteer Fire Department. How has this change affected their training? Are there still student firefighters on campus?
We did lose the majority of the students at the beginning of this. Three of the student firefighters volunteered to stay. Two of them are staying in Ayres (Residence Hall), which helps us out as far as response time. We have three community members who stay at the station voluntarily, probably 95% of the time. We're actually able to get the trucks out faster now because we have such close proximity. The incoming sophomores, who made the department about two or three days before everybody was sent home, missed the training that they would have gotten this semester. But it just pushes it back to whenever they do get here: the certification classes that they're required to take, and the training and familiarization classes that they need. We'll proceed as normal as soon as they come back. Nobody will be behind in training.
Building trust across communities is a foundational part of public safety. What's one way that you'll be working to gain trust across the fire and police departments, with your Sewanee colleagues, and with students during this very uncertain time?
It's more difficult in the current situation because nobody's here face-to-face. It's a lot easier to build trust with people when they can put a name with a face and then have a conversation, even if that conversation is about how many dogs you have or "I like your flowers in your yard" or whatever.
That was going to be my next question, LOL.
It makes it more difficult, I think. Right now the biggest thing that all of us can do who are in any sort of leadership role is to keep people as informed as possible. There's a lot of misinformation, a lot of lack of information, and a lot of emotion involved in this in this whole thing. I think that the number one thing is providing as much information as possible, that's as accurate as possible, and vetting that information to make sure that it is accurate. That's a great answer and an important one.
Last question: Do you want to share something that you do on the weekends, or a hobby or interest that we need to hear about? Do you really have dogs?
Well, I have four miniature dachshunds that are of all different colors. I also spend a fair amount of time doing home improvement projects. I enjoy being outside.
Thanks, Chip! Sounds like you're in the right place! Welcome to Sewanee.
---
---
---
---
---
---
---
---
---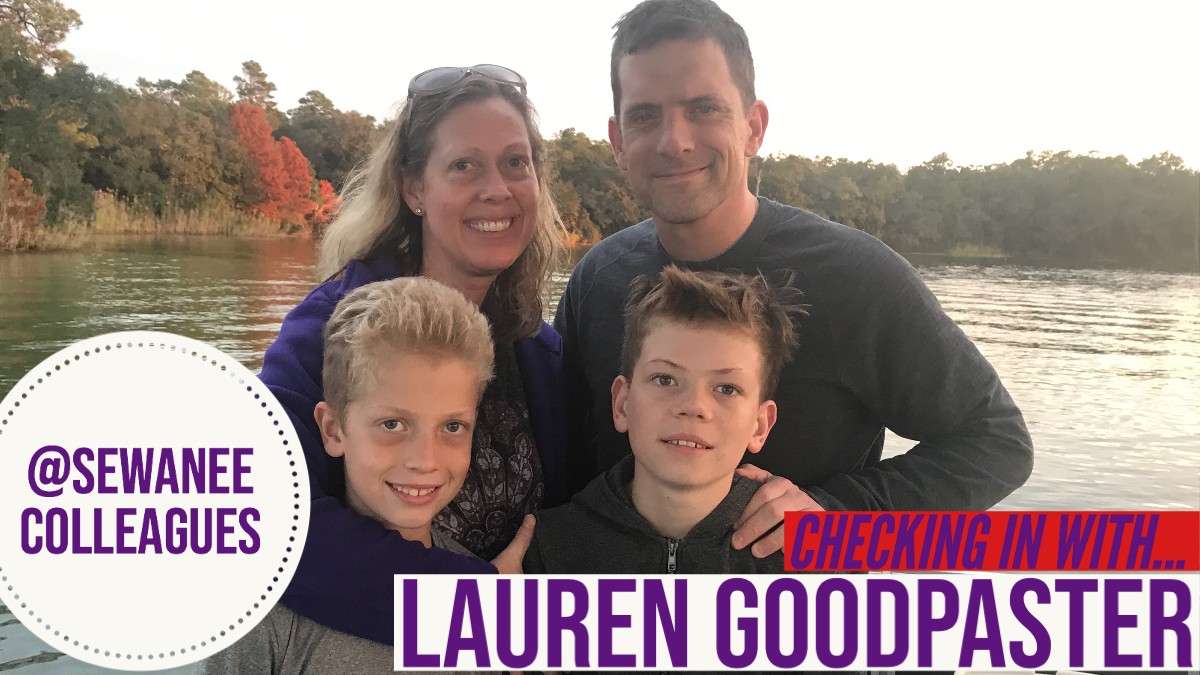 (By Bess Turner, Director of Development and Alumni Relations for the School of Theology)
Lauren Goodpaster is Assistant Dean of Campus Activities in our Student Life division. She has been in her current role for nearly two years, previously serving as Director of Student Conduct. Prior to moving to Sewanee, she served at the University of Kentucky for 10 years. Lauren and her husband David, a senior at the School of Theology, served in the U.S. Peace Corps as community health volunteers in Malawi, Africa from 2005-2007. She has also held roles as Director of Community Engagement at Rollins College and in the Office of Admission at Transylvania University.
You and your team have certainly been on the front lines of Sewanee's handling of COVID-19. Can you talk a little bit about how your job has changed from the weeks leading up to spring break when everything was "normal" to when the decision was made to move to remote learning?
You know, one thing I love about student life is that there's really not a "normal day." Every day is so different. Students are in transition all the time, so even the programs that we deliver and the students we work with differ from day to day, week to week, and year to year. I was actually preparing to go to Ecuador to lead a group of students for the Civic Engagement outreach trip when the decision was made to go online. I knew the decision was coming, but I think I was in denial. It just quickly threw us all for a loop because, of course, our immediate thought is, "Oh my God, the students...are they going to be ok? Where are they? How can we help them?" I think for anyone who works in student life, that's the immediate concern: making sure the students are ok, have the ability to thrive, and that their well-being is taken into consideration. I don't even remember the first few days because it was so hectic and chaotic. And, you know, most of our students were gone for spring break. Those that were supposed to be on the outreach trips were on campus, and a lot of them were stuck here and couldn't get home. McClurg was closed for the week because it was spring break. So I was coordinating getting them food and getting Domain Dollars put on their accounts. Initially, it was a lot of just making sure they were ok. And then coordinating with the students that could come back and get their stuff and move out and students that had nowhere to go. I think it was just hard because this was such a monumental change. So not being able to be together as a community was really difficult. And, of course, it still is.
In terms of how my work has changed, it moved from thinking ahead and planning - thinking about programming and development - to survival. It moved to making sure students had a place to sleep, had food to eat, and were safe. At that point, it was all about everyone coming together just trying to figure it out and make it work. It didn't matter who you were, what title you had, or what role you played on campus. I think it was really just about all of us coming together as a community of people who love our students and love each other - wanting to help and take care of each other. We always partner with Residential Life anyway, but they've been rock stars and were very much on the front lines. I've been working probably most closely with them. I think there are 1,006 or so residential rooms on campus. Our Res Life staff, along with student life volunteers and others, had to go into every room to see if the student had moved out completely. We had to assess every room on campus in a matter of a couple of days. And then we had to go through the requests for students who wanted to stay here, some of whom were already here over break, and some who were not here. Should we let them come back, given their home situation? Some students don't have internet at home or don't have a safe home to go to. Then there were many international students who couldn't go home. And those were hard decisions, you know? You're making a decision about someone's life and where they're going to live in this time of crisis.
Then we had to work to get students' essential belongings shipped to them. We've been packaging and labeling and shipping and working with Sandy Smart (at the SPO) and working with the downtown post office. I have to give a shout-out to Peter Povey and the music department because we have shipped musical instruments that are worth between $5,000-$10,000. Those had to be very intricately packaged up. We had to come up with makeshift bubble wrap to ship these violins and violas and guitars. We've shipped flutes and other things for students. A lot of medication. A couple little trinkets. Somebody had lost their grandmother and had something very special from their grandmother in their room. And a lot of academic materials. So every Tuesday and Thursday, I go to the post office. Sometimes my car only has two or three boxes, sometimes it is stuffed full of boxes.
I've got an incredible team who is still trying to do everything they can to keep students engaged. John (Benson) and Daniel (Fortner) with the SOP (Sewanee Outing Program) are doing Zoom interviews for PRE (August pre-orientation for new students) student leaders. Of course, nobody knows what August will or won't look like. But, you know, they're moving forward as if PRE will happen. I've got Colin (Nelson-Pinkston) working with Greek life. They just held elections remotely. Sam Young is putting out applications for the Tigers Entertainment Board, which is our programming board. Of course, Barbara Banks is in touch with her Posse students nonstop. She's continuing to mentor them and help them along. So I've got this incredible group of people who are still doing so much even though we know we're not together anymore.
The Provost has asked me to head up a retention group which will deal with what's next. I'm going to be pulling a team together to figure out how we can keep our students engaged and what they are needing and wanting from us right now. I'm going to be working with the staff team and some students to put together some fun, really meaningful, inspiring, and engaging remote programming for students. I'm also very nervous because this is such unchartered territory. I have no idea how to engage students like this because the work that I've done for 15-20 years has been very much in person. So I'm excited. I mean, I'm really excited.
So thinking about you personally, are there specific characteristics within yourself that you've had to call on that maybe are unexpected? Are there ways that you've had to dig deep in yourself?
Yeah, I think that's a really good question. I think where I thrive is just face-to-face relationship building and compassion and loving on people. That's what I think I was made to do. So it's really hard to not have the students in my office or to not treat a student to a cup of coffee at Stirling's and hear their ideas about how they want to make Sewanee a better place. And it's hard. You know, we gathered on Sunday nights at 9 o'clock for our Ecuador team meetings. I would pour candy in the middle of the floor and we would just sit on the floor in our sweat pants and just get to know each other. That's just so much a part of who I am...living in the moment with people. And for me, it's so hard to live in the moment when you depend on technology. So that's been difficult. It's something that I am going to have to dig deep and probably be more intentional about because spontaneous gatherings just can't happen right now.
If you could have one superpower that would help you with your job, what would it be?
Oh, gosh - that's really hard. I think I would want the superpower to create a never-ending coffee drip near me to give me never-ending time and energy...just to get it all done. I don't know if you're feeling this way, but I always feel like I've got to be doing more. I've always been that kind of person. I always put a lot of pressure on myself. But especially now.
So one last question: I understand you have a new puppy. Tell us about her.
Oh, what a fun question. So first, I'll tell you about our old dog. Really quickly. Snoop Dog was his name. And David and I got him in Malawi when we were in the Peace Corps. He kind of found us...or we found each other. Snoop Dog was named by a little boy named Simon in the village who didn't speak any English. Snoop was with us for about fifteen years, and we lost him in February. We never had a plan to get a puppy. Our thought was, oh, this summer we'll get an older dog that's already trained. And then my dear friend and colleague, Jo Gressly, decided to foster a puppy for about a week or two. I met that sweet little puppy and I just fell in love with it. I started taking pictures of her and texting them to David. And that was pretty much it. So we decided not to tell the boys. Originally, the dog's name was Sugar Bear. In the Goodpaster household, that name probably wouldn't fly. Jo had decided on Bambino, so we went with Bam! And that fits the Goodpaster personality and it fits this dog's personality. And as a side note, Bam Adebayo is a former UK basketball player and was Zac's absolute favorite player. He loved Bam Adebayo. And so for me, it was just perfect. So Bam's her name. We've had her two weeks now. I'm still working on house training, but she's just so darn cute that, you know, it doesn't matter. She's just brought so much like happiness and joy to the house. You know, in times of stress and trouble - with kids stressing with school and husband stressing with seminary graduation and getting a job, she has just brought so much puppy love and joy to our family.