We're checking in with Sewanee employees about changes and challenges in their jobs at this time.
MARK HOPWOOD, Philosophy professor (JUNE 2020)
Chip Schane, Chief Safety Officer (May 2020)
Lauren Goodpaster, Assistant Dean of Campus Activities (April 2020)
---
---
---
---
---
---
---
---
---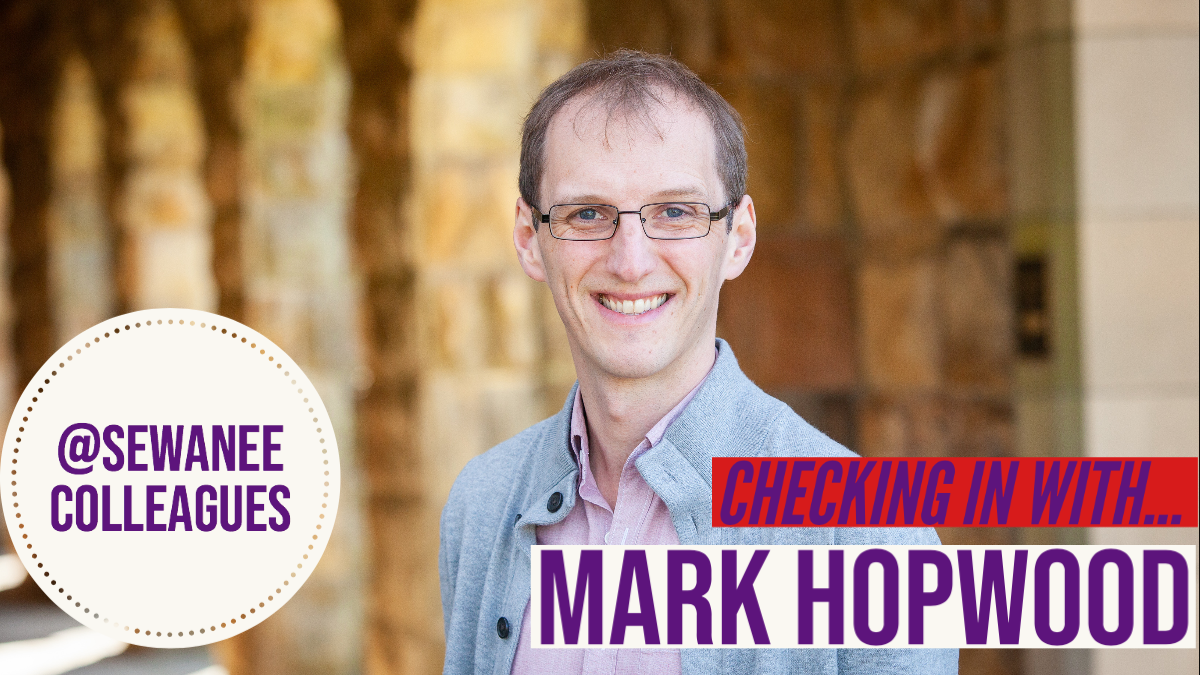 (By Bess Turner, Director of Development and Alumni Relations for the School of Theology)
Mark Hopwood is assistant professor of philosophy at Sewanee. He teaches ethics, political philosophy, and the philosophy of art (among other things), and his current research is focused on the 20th-century philosopher and novelist Iris Murdoch. Mark was born in London and grew up in Lancaster in the northwest of England.
Prior to moving to Sewanee in 2014, Mark and his wife Cassie Meyer, director of Dialogue Across Difference in the Office of Civic Engagement, lived in Chicago, where Mark received his PhD from the University of Chicago.
**This interview took place before classes were over.**
Well, I imagine things have certainly changed for you over the past few months! What classes are you teaching this semester and how have you had to adapt your teaching style since moving to remote learning?
I'm teaching three classes this semester: an introduction to philosophy called "Love, Beauty and Justice," the Philosophy of Art, and a third called Public Philosophy. That last one, Public Philosophy, is brand new. It's a civic engagement course and the whole point of the class was to have students learning about the theory and practice of public philosophy. Students would go to a variety of different sites to teach philosophy; Sewanee Elementary was one, the Grundy County Jail was another.
Inevitably, there have been some things that we could no longer do after the transition to remote learning. For example, I had students who had been preparing to teach philosophy at the county jail, but that's a project where you have to spend time building relationships. It has to be done in person and that just wasn't possible anymore. We couldn't do the same thing via Zoom.
Most of the students had to pivot to find something very quickly, to find a different public philosophy project. For some of them that meant doing the same thing they would have been doing, but remotely. A bunch of students had been planning to do a Philosophy for Children class at Sewanee Elementary, so we set up a Zoom version. And it's been amazing - the kids have been really into it. I think in some ways, the fact that they are all quarantined at home makes something like this is even more appealing than it would ordinarily be. It's been a great experience for them, and that has felt like a real bright spot where we were able to pivot and make it work.
Other students have done different things. For example, some students set up what is basically an online philosophy club. They've created a Twitter account, an Instagram account, and a Facebook group. They've created their own public philosophy for a general audience, and they've been very inventive in doing so.
We've also realized we have a real opportunity in this class to look at all of the public philosophy that has been produced by this crisis. We've been able to ask, what are philosophers doing? What does it look like to be a public intellectual or a public philosopher right now? And that's super interesting. We were able to look at the different ways in which people are reacting and what philosophers can offer at a time like this. We get to ask these questions in real-time in a way that we never would have been able to do before. Overall, it has been a real mixture of some genuine losses that we couldn't do anything about, and some amazing opportunities that we wouldn't otherwise have had.
When you say teaching philosophy to kids, like what does that look like? What kinds of topics are they discussing?
I'll give you a really simple example from one of the first sessions that we did. You tell the kids that you have a magic trick for them. You blow up a balloon and it gets nice and big. And then you tell them you're going to make this balloon not exist right in front of their eyes. You ask them whether they think you can do that, and you get different responses; it's often interesting to probe why they think you can make something cease to exist or not. Then you just hide the balloon behind your back. And, of course, they're not very impressed with that.
At that point, you ask, well, what could I do? How could I make it not exist? And some kid, at least one kid, is going to suggest you pop it. So then you pop the balloon, which everyone enjoys, but then you can ask: "who thinks I made it not exist?" At this point, you get a split in the room.
You've got the kids who think, yeah, that balloon doesn't exist anymore. But then you've got the other kids who will point to the pieces of the balloon material that you still have in your hand and say "no, it still exists. It's just different now."
It's really surprising that when you see this in action, you can get some really sophisticated discussions of metaphysics and ontology – what it means for something to exist – because the kids see the connections. They see pretty quickly that we're not just talking about balloons. We're talking about anything. What does it mean for anything to exist? In our discussion, we had some kids end up holding the position that actually nothing ever ceases to exist at all. Everything continues to exist forever, just in some different form.
Of course, this is something that the pre-Socratic philosophers were thinking about. Is everything in flux? Is everything changing all the time? Or does nothing ever really change at all? These are deep philosophical questions, but young children just naturally engage with them.
Speaking of philosophy for children, there's a really fun thing that I actually found about today. One of my students from who's been doing these online sessions wrote to me today to tell me that she created an online philosophy for children class at her church back home in Dallas and she already had 24 kids signed up for it. So she's off! And that's really what I wanted to do with this class: to give students the tools they needed to do public philosophy for themselves.
So that actually brings me to my next question, which is...relationships with students are the cornerstone of what you do if you teach. How would you say your personal relationships with those students have changed or evolved since the COVID-19 crisis began?
I think they change in different ways. In some cases, honestly, the relationship has gone from seeing each other on a regular basis to hardly seeing each other at all. There are students who are in a really hard place right now, and it's difficult for them to engage in the class in the same way. But for others, there's a much deeper relationship. You end up hearing a lot about students' lives and what they're going through. There are ways in which the situation pushes us further apart, but there are other ways in which it brings barriers down. I've certainly been surprised at how much I've missed seeing students in person and how happy I've been to see them when we've had opportunities to be on a synchronous Zoom call.
So on more of a personal note, how have you had to dig deep? What sort of personal characteristics have you had to call on in yourself in order to be successful? How have you found yourself having to stretch?
You know, I think having good relationships with the people around you has really been the biggest thing. Frankly, if I didn't have the kind of relationship I do with Cassie, we would really be struggling a lot more. We are both trying to work full-time jobs and homeschool our kids, which is a challenge a lot of people are facing right now.
In terms of students, it made a real difference that we only went remote after about two-thirds of the semester, by which time we'd already had the opportunity to build up good relationships with each other. You realize when you're teaching remotely and it's getting towards the end of the semester that your students really need to trust you. They need to believe they're going to be treated fairly and that they're still getting the education they need to be getting. Having those relationships, having been able to build that trust, feels like the most important thing.
Well, I have one last question. If you could have one superpower that would help you with your job, what would you want your superpower to be? Or maybe not just with your job, but it would just help you with your life right now?
I'm a big Hermione Granger fan, so if I could have a time turner, I think that would be it. Yeah, that would be fabulous.
Another one would be some superpower that allowed me to have better posture. This is something that I'm really struggling with - just sitting in front of a computer all of the time. I would like to have the superpower that would help me to have the posture of my 3-year-old. If you look at Iris, she just flops down on the floor and she has the posture of a yogi. So, a time turner and better posture. I'd love that!
---
---
---
---
---
---
---
---
---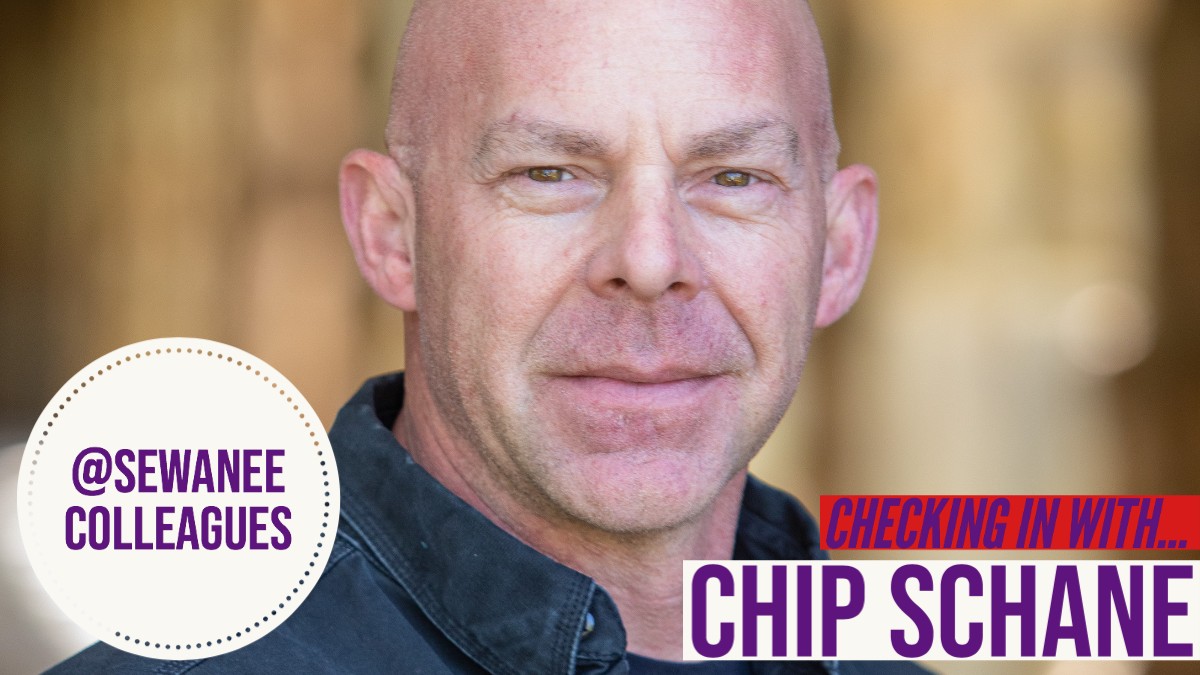 (By April Alvarez, School of Letters)
First, we should say welcome to Chip, who will begin June 1, 2020, as our Public Safety and Emergency Management Director. He will manage Sewanee's Police and Fire Departments and coordinate with Sewanee's E.M.S. Effective immediately, Schane is serving as a consultant and is part of our Emergency Management Executive Team. Chip has worked in public safety for more than 30 years, including as a federal agent with the U.S. Department of Energy. His jobs include firefighter, police officer, paramedic, and U.S. Marine, and he has written and implemented many safety courses for first responders. Chip has been the training officer for the Sewanee Volunteer Fire Department this past year.
Chip, congratulations and welcome! You're coming just as COVID-19 is challenging everyone's work. Can you talk about how it is changing operations and protocols for the fire and police departments?
So operationally we are as ready today as we were before this happened. We put a few changes in place to protect the community, to protect officers and to protect the fire department. On the fire department side on a normal day, we'd respond to quite a few alarms. Typically a crew of five or six would go into a building, deal with the problem, and reset the alarm. As things have changed, we've reduced the number of individuals going into the building to two, unless it's something serious and we need more people. They're wearing self-contained breathing apparatus so they're not coming in contact with others. If they do come in contact with somebody inside the building, they're not getting exposed and they're not exposing that individual. It's the best option as far as respiratory protection that we have. So the response is the same. We handle things exactly the same. We just happen to do it in an air pack. The police department continues to do welfare checks. The police department has masks, they have gowns, and they have gloves. Ninety-nine percent of the time they'll have gloves on. If they feel like it's something that they need to wear a mask for, they'll have a mask on. So they have a little different appearance. If the police need to make contact with you, they will knock on the door, step off the porch, and stand in the yard. They will maintain that social distancing. We're taking the CDC recommendations to heart and implementing them. Everybody's in good spirits. We have 40 firemen that are active and able to respond to whatever needs to be done. We have plans in effect for supporting Grundy county E.M.S. The E.M.S. teams are taxed. They are busy. But there they have 11 ambulances that support Grundy County and Sewanee, and coverage is good.
Student firefighters are such an important part of the Sewanee Volunteer Fire Department. How has this change affected their training? Are there still student firefighters on campus?
We did lose the majority of the students at the beginning of this. Three of the student firefighters volunteered to stay. Two of them are staying in Ayres (Residence Hall), which helps us out as far as response time. We have three community members who stay at the station voluntarily, probably 95% of the time. We're actually able to get the trucks out faster now because we have such close proximity. The incoming sophomores, who made the department about two or three days before everybody was sent home, missed the training that they would have gotten this semester. But it just pushes it back to whenever they do get here: the certification classes that they're required to take, and the training and familiarization classes that they need. We'll proceed as normal as soon as they come back. Nobody will be behind in training.
Building trust across communities is a foundational part of public safety. What's one way that you'll be working to gain trust across the fire and police departments, with your Sewanee colleagues, and with students during this very uncertain time?
It's more difficult in the current situation because nobody's here face-to-face. It's a lot easier to build trust with people when they can put a name with a face and then have a conversation, even if that conversation is about how many dogs you have or "I like your flowers in your yard" or whatever.
That was going to be my next question, LOL.
It makes it more difficult, I think. Right now the biggest thing that all of us can do who are in any sort of leadership role is to keep people as informed as possible. There's a lot of misinformation, a lot of lack of information, and a lot of emotion involved in this in this whole thing. I think that the number one thing is providing as much information as possible, that's as accurate as possible, and vetting that information to make sure that it is accurate. That's a great answer and an important one.
Last question: Do you want to share something that you do on the weekends, or a hobby or interest that we need to hear about? Do you really have dogs?
Well, I have four miniature dachshunds that are of all different colors. I also spend a fair amount of time doing home improvement projects. I enjoy being outside.
Thanks, Chip! Sounds like you're in the right place! Welcome to Sewanee.
---
---
---
---
---
---
---
---
---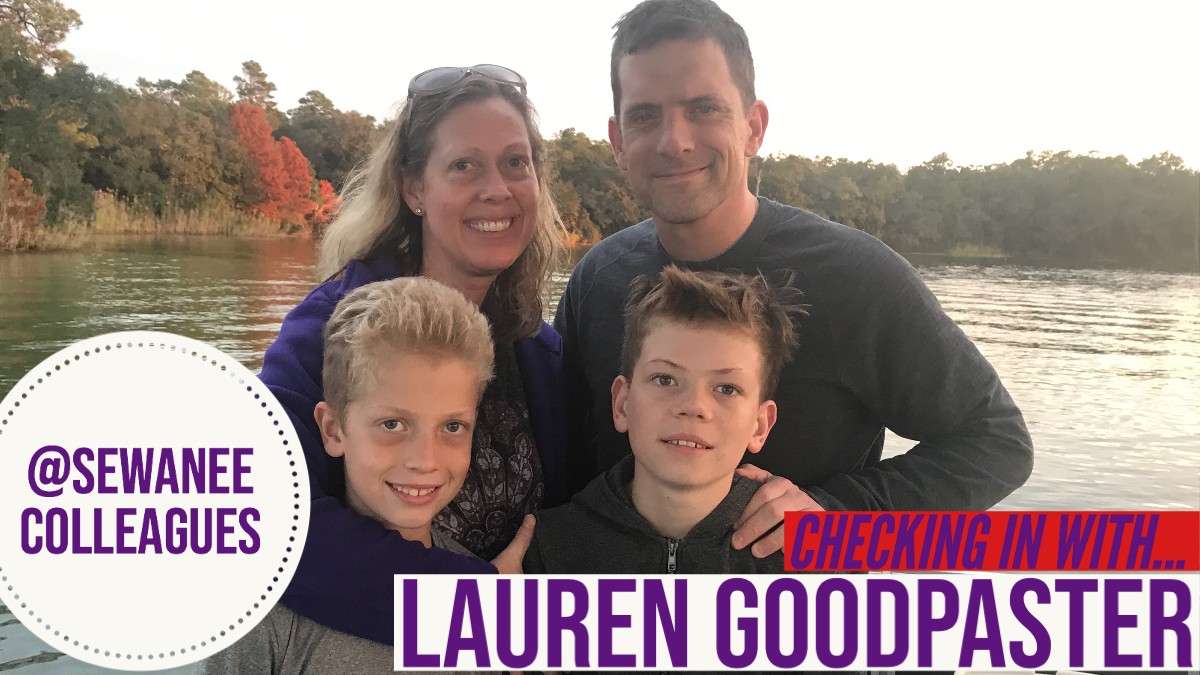 (By Bess Turner, Director of Development and Alumni Relations for the School of Theology)
Lauren Goodpaster is Assistant Dean of Campus Activities in our Student Life division. She has been in her current role for nearly two years, previously serving as Director of Student Conduct. Prior to moving to Sewanee, she served at the University of Kentucky for 10 years. Lauren and her husband David, a senior at the School of Theology, served in the U.S. Peace Corps as community health volunteers in Malawi, Africa from 2005-2007. She has also held roles as Director of Community Engagement at Rollins College and in the Office of Admission at Transylvania University.
You and your team have certainly been on the front lines of Sewanee's handling of COVID-19. Can you talk a little bit about how your job has changed from the weeks leading up to spring break when everything was "normal" to when the decision was made to move to remote learning?
You know, one thing I love about student life is that there's really not a "normal day." Every day is so different. Students are in transition all the time, so even the programs that we deliver and the students we work with differ from day to day, week to week, and year to year. I was actually preparing to go to Ecuador to lead a group of students for the Civic Engagement outreach trip when the decision was made to go online. I knew the decision was coming, but I think I was in denial. It just quickly threw us all for a loop because, of course, our immediate thought is, "Oh my God, the students...are they going to be ok? Where are they? How can we help them?" I think for anyone who works in student life, that's the immediate concern: making sure the students are ok, have the ability to thrive, and that their well-being is taken into consideration. I don't even remember the first few days because it was so hectic and chaotic. And, you know, most of our students were gone for spring break. Those that were supposed to be on the outreach trips were on campus, and a lot of them were stuck here and couldn't get home. McClurg was closed for the week because it was spring break. So I was coordinating getting them food and getting Domain Dollars put on their accounts. Initially, it was a lot of just making sure they were ok. And then coordinating with the students that could come back and get their stuff and move out and students that had nowhere to go. I think it was just hard because this was such a monumental change. So not being able to be together as a community was really difficult. And, of course, it still is.
In terms of how my work has changed, it moved from thinking ahead and planning - thinking about programming and development - to survival. It moved to making sure students had a place to sleep, had food to eat, and were safe. At that point, it was all about everyone coming together just trying to figure it out and make it work. It didn't matter who you were, what title you had, or what role you played on campus. I think it was really just about all of us coming together as a community of people who love our students and love each other - wanting to help and take care of each other. We always partner with Residential Life anyway, but they've been rock stars and were very much on the front lines. I've been working probably most closely with them. I think there are 1,006 or so residential rooms on campus. Our Res Life staff, along with student life volunteers and others, had to go into every room to see if the student had moved out completely. We had to assess every room on campus in a matter of a couple of days. And then we had to go through the requests for students who wanted to stay here, some of whom were already here over break, and some who were not here. Should we let them come back, given their home situation? Some students don't have internet at home or don't have a safe home to go to. Then there were many international students who couldn't go home. And those were hard decisions, you know? You're making a decision about someone's life and where they're going to live in this time of crisis.
Then we had to work to get students' essential belongings shipped to them. We've been packaging and labeling and shipping and working with Sandy Smart (at the SPO) and working with the downtown post office. I have to give a shout-out to Peter Povey and the music department because we have shipped musical instruments that are worth between $5,000-$10,000. Those had to be very intricately packaged up. We had to come up with makeshift bubble wrap to ship these violins and violas and guitars. We've shipped flutes and other things for students. A lot of medication. A couple little trinkets. Somebody had lost their grandmother and had something very special from their grandmother in their room. And a lot of academic materials. So every Tuesday and Thursday, I go to the post office. Sometimes my car only has two or three boxes, sometimes it is stuffed full of boxes.
I've got an incredible team who is still trying to do everything they can to keep students engaged. John (Benson) and Daniel (Fortner) with the SOP (Sewanee Outing Program) are doing Zoom interviews for PRE (August pre-orientation for new students) student leaders. Of course, nobody knows what August will or won't look like. But, you know, they're moving forward as if PRE will happen. I've got Colin (Nelson-Pinkston) working with Greek life. They just held elections remotely. Sam Young is putting out applications for the Tigers Entertainment Board, which is our programming board. Of course, Barbara Banks is in touch with her Posse students nonstop. She's continuing to mentor them and help them along. So I've got this incredible group of people who are still doing so much even though we know we're not together anymore.
The Provost has asked me to head up a retention group which will deal with what's next. I'm going to be pulling a team together to figure out how we can keep our students engaged and what they are needing and wanting from us right now. I'm going to be working with the staff team and some students to put together some fun, really meaningful, inspiring, and engaging remote programming for students. I'm also very nervous because this is such unchartered territory. I have no idea how to engage students like this because the work that I've done for 15-20 years has been very much in person. So I'm excited. I mean, I'm really excited.
So thinking about you personally, are there specific characteristics within yourself that you've had to call on that maybe are unexpected? Are there ways that you've had to dig deep in yourself?
Yeah, I think that's a really good question. I think where I thrive is just face-to-face relationship building and compassion and loving on people. That's what I think I was made to do. So it's really hard to not have the students in my office or to not treat a student to a cup of coffee at Stirling's and hear their ideas about how they want to make Sewanee a better place. And it's hard. You know, we gathered on Sunday nights at 9 o'clock for our Ecuador team meetings. I would pour candy in the middle of the floor and we would just sit on the floor in our sweat pants and just get to know each other. That's just so much a part of who I am...living in the moment with people. And for me, it's so hard to live in the moment when you depend on technology. So that's been difficult. It's something that I am going to have to dig deep and probably be more intentional about because spontaneous gatherings just can't happen right now.
If you could have one superpower that would help you with your job, what would it be?
Oh, gosh - that's really hard. I think I would want the superpower to create a never-ending coffee drip near me to give me never-ending time and energy...just to get it all done. I don't know if you're feeling this way, but I always feel like I've got to be doing more. I've always been that kind of person. I always put a lot of pressure on myself. But especially now.
So one last question: I understand you have a new puppy. Tell us about her.
Oh, what a fun question. So first, I'll tell you about our old dog. Really quickly. Snoop Dog was his name. And David and I got him in Malawi when we were in the Peace Corps. He kind of found us...or we found each other. Snoop Dog was named by a little boy named Simon in the village who didn't speak any English. Snoop was with us for about fifteen years, and we lost him in February. We never had a plan to get a puppy. Our thought was, oh, this summer we'll get an older dog that's already trained. And then my dear friend and colleague, Jo Gressly, decided to foster a puppy for about a week or two. I met that sweet little puppy and I just fell in love with it. I started taking pictures of her and texting them to David. And that was pretty much it. So we decided not to tell the boys. Originally, the dog's name was Sugar Bear. In the Goodpaster household, that name probably wouldn't fly. Jo had decided on Bambino, so we went with Bam! And that fits the Goodpaster personality and it fits this dog's personality. And as a side note, Bam Adebayo is a former UK basketball player and was Zac's absolute favorite player. He loved Bam Adebayo. And so for me, it was just perfect. So Bam's her name. We've had her two weeks now. I'm still working on house training, but she's just so darn cute that, you know, it doesn't matter. She's just brought so much like happiness and joy to the house. You know, in times of stress and trouble - with kids stressing with school and husband stressing with seminary graduation and getting a job, she has just brought so much puppy love and joy to our family.