In a continuing effort to make an excellent college education more accessible for more of the nation's best students, the University of the South is expanding its financial aid program.
The University of the South is expanding its financial aid program to meet the full need of admitted students who qualify for financial aid, starting with the domestic and international first-year students who arrive in fall 2020 (the future Class of 2024). The University's Board of Regents has made a unanimous commitment that no later than fall 2026, the University will have returned to meeting the full need of all of its undergraduate students.
"We have been determined for quite some time to restore Sewanee's historic commitment to meeting 100 percent of our students' demonstrated financial need," said Vice-Chancellor John McCardell. "Over the years, and by a variety of actions, we have shown a dedication to keeping the cost of a top-quality college education as affordable and predictable as possible. I am delighted that our efforts will culminate in meeting full financial need for the Class of 2024."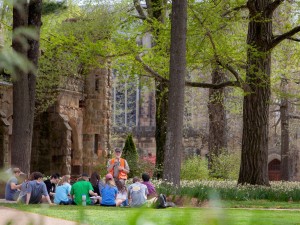 In the state of Tennessee, the only other institution that meets full need is Vanderbilt University; Sewanee will be one of a select few residential liberal arts colleges in the Southeast able to make this claim.
Under the program, students who are admitted will have their family contribution determined based on FAFSA (Free Application for Federal Student Aid) and CSS Profile (College Scholarship Service) applications. The difference between what the family can pay and the total cost of a year at Sewanee, which is considered a student's full need, will be made up by some combination of scholarships, employment opportunities, and federal student loans. Full need will continue to be met for all four years provided students maintain satisfactory academic progress.
Lee Ann Backlund, vice president for enrollment planning, says the expanded financial aid will not only make an excellent education more affordable, it will allow Sewanee to attract and retain the very strongest students. "It demonstrates our commitment to access and affordability for top students from all backgrounds," said Backlund.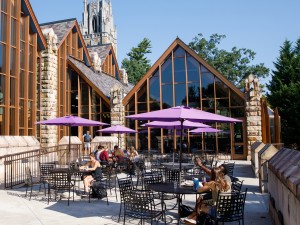 "Our goal is to accept the most talented students for whom Sewanee is the best choice, and then provide the financial aid that makes it possible for them to enroll here." - Lee Ann Backlund
The University's commitment to meet the full financial need of incoming students adds to other initiatives that will enhance both the student experience at Sewanee and outcomes following graduation. A new Wellness Commons will open in early 2020 and focus on student health and well-being. It will house the University Wellness Center, a fitness facility and accompanying programs, and the Sewanee Outing Program, along with a mini bookstore to offer some campus life essentials.
Planning continues for a new social or gathering commons on the site of Thompson Union, whose location offers opportunities for creating a dynamic and student-centered facility. Broad and deep input from the entire campus community is being gathered, and programming priorities for the space are being explored. Construction might begin in January 2021 for this new commons, which will enhance and diversify the types of social interaction among members of the Sewanee community.
A new location and even more enhancements are planned for the Career Center—an office that is already helping Sewanee achieve this remarkable record: 98 percent of the most recent graduating class are employed, in grad school, or participating in a fellowship or service commitment within six months of graduation.