SPRING 2021 WEBINAR SERIES
Our spring webinar series has featured a variety of speakers and topics exploring how we live in right relationship with all of creation while responding to the theological, ecological and cultural challenges of our time. In February, author and minister T. Wilson Dickinson, talked about The Green Good News. Our March webinar featured Norman Wirzba, Gilbert T. Rowe Distinguished Professor of Theology at Duke University, speaking on The Future of Food. In April Elizabeth Carrillo, OSB shared insights on Benedictine spirituality and creation care, and in May Nick Ripatrazone, culture editor for Image Journal shared highlights from his forthcoming book Wild Belief: Poets and Prophets in the Wilderness. Our June webinar, "What if the World Really Sang? Reimagining the Creation Story" is the final offering in this series and features Center Director Robin Gottfried who will introduce his new book, The Audacious Great Singing School Adventure: A Fable.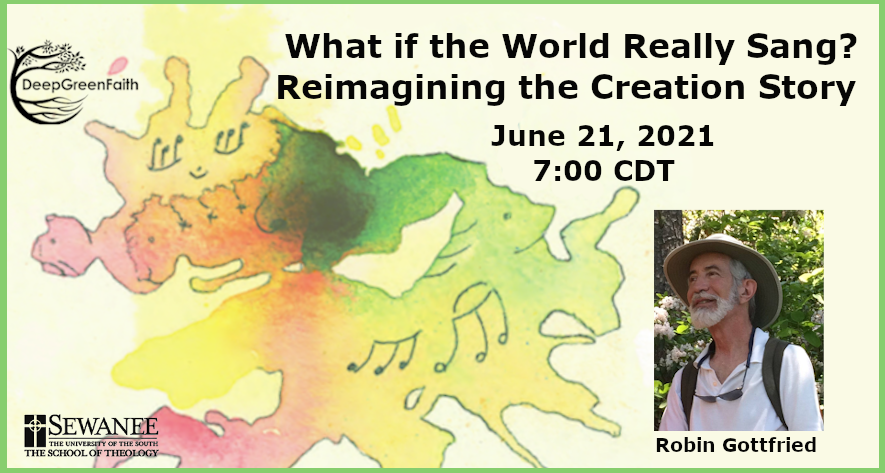 What is God's creation story? Does talking about the "creative God" as opposed to the "creator God" provide us a more fruitful way to understand God and creation? Does music somehow pull us into the divine? "What if the World Really Sang? Reimagining the Creation Story," the last webinar in the University's Center for Religion and Environment's spring series, will explore these and related themes in the context of Director Robin Gottfried's new book, The Audacious Great Singing School Adventure: A Fable. After his presentation Dr. Becky Wright (Professor of Old Testament), Jerry Cappel (Province IV Environmental Network Coordinator for the Episcopal Church) and Mary Foster (MTS from Duke Divinity and dancer) will engage Robin in an informal discussion followed by Q&A from the audience.
Robin Gottfried is the director of the Center for Religion and Environment. Long known for his passion for environmental economics and sustainable development, he has conducted research on land use change and forest policy, as well as the economic impacts of development and other economic activity in the U.S., Costa Rica, and elsewhere. Gottfried helped spearhead the creation of Sewanee's environmental studies program and served as its first chair. Gottfried also helped start the College's Landscape Analysis (GIS) Lab. He is the author of Economics, Ecology and the Roots of Western Faith: Perspectives from the Garden, Living in an Icon: A Program for Growing Closer to Creation and to God, and numerous articles on land use change, forest policy, and sustainable development as well as articles addressing the interface of social science, ecotheology and spirituality. Robin blogs on religion and environment, loves to hike, and plays classical, Appalachian and Latin American music. rEGISTER NOW.
summer online Course offering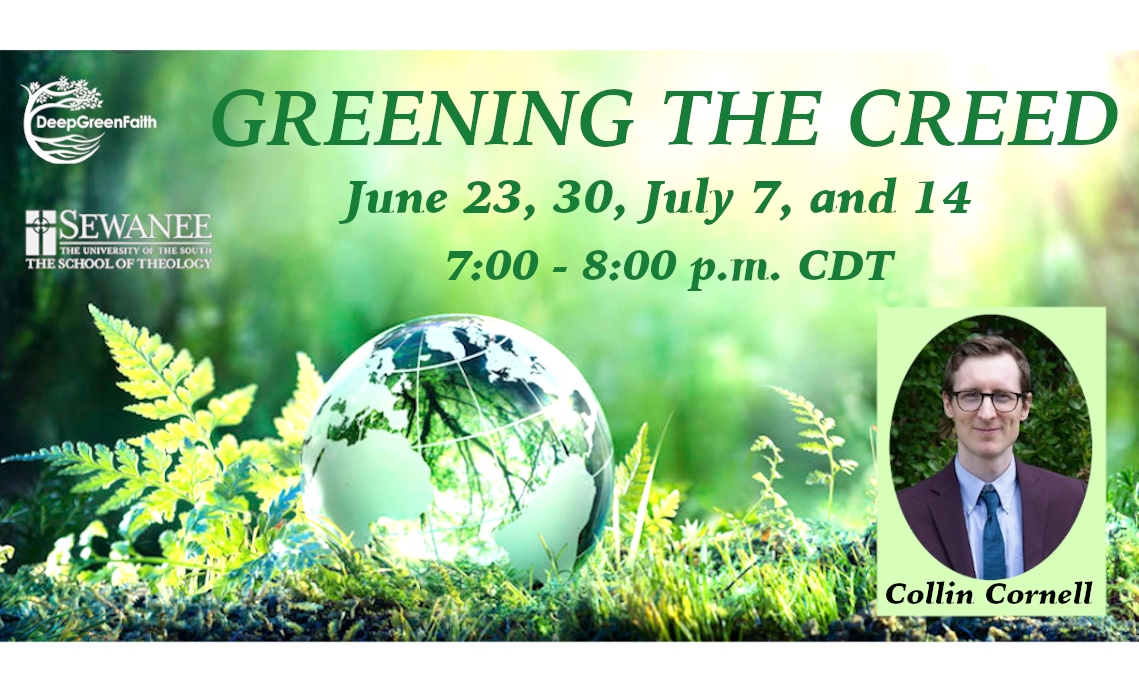 This course explores the ecological significance of the Apostles' Creed. Each of its four class sessions brings a key article of the faith into deep relationship with earth—natural environments and the nonhuman creatures that live within them. It is intended as a catechetical tool for forming earth-inclusive Christians. In addition to lectures, it also features facilitated discussion and "homework" in the form of reflection and prayer.
Collin Cornell is Visiting Assistant Professor of Biblical Studies for the School of Theology at the University of the South (Sewanee). He is by vocation a teacher and writer. He loves preparing seminary students for various forms of lifelong Christian ministry, especially through instruction in Bible and biblical languages (Greek, Hebrew, and Aramaic, all of which he has taught at Sewanee). click here for more details and how to register