The University of the South celebrates its rich, and muli-faceted collaboration with The Sullivan Foundation. Founded in memory and celebration of the commitment to service of Algernon Sydney Sullivan, the foundation's mission is to "honor, support, and educate emerging servant leaders at colleges and universities across the American South."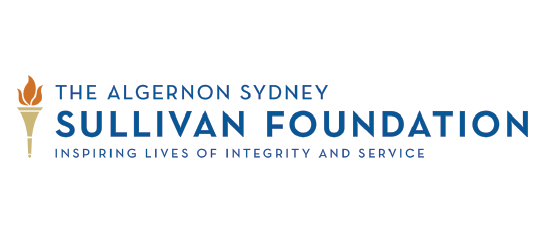 Since 1937, the Sullivan Foundation has worked with the University of the South to award the Algernon Sydney Sullivan Award to undergraduates who exhibit Sullivan's commitment to "service above self" in their time at Sewanee: "This award seeks to perpetuate the excellence of character and humanitarian service of Algernon Sydney Sullivan by recognizing and honoring such qualities in others. Sewanee presents the Algernon Sydney Sullivan Award during Commencement to recognize excellence of character and service to humanity. It is given to the undergraduate senior who exhibits Sullivan's ideals of heart, mind, and conduct as evidenced by their generous and unselfish service to others. The Algernon Sydney Sullivan Award is the highest honor bestowed upon an undergraduate."
In support of Sewanee students, faculty, and staff to lead change on their campuses and within surrounding communities, the Sullivan Foundation has created a Sullivan endowment to support students, faculty, and staff to participate in a wide range of exciting programs including retreats, summits, field trips, and fellowships.
Students interested in participating in these programs should contact the Office of Civic Engagement Coordinator, Jo Gressly: jkgressl@sewanee.edu
The most recent, exciting initiative from Sullivan in support of Sewanee's mission of preparing the next generation of service leaders is Sewanee's invitation to be part of the Sullivan Scholarship program. At Sewanee, Sullivan scholarships are awarded to incoming freshmen students, accepted in the Bonner Leaders Service Internship Program, and are renewable for four years of studies. The Sullivan Scholarships are based on the students' personal character, integrity, and service to others and to their communities.